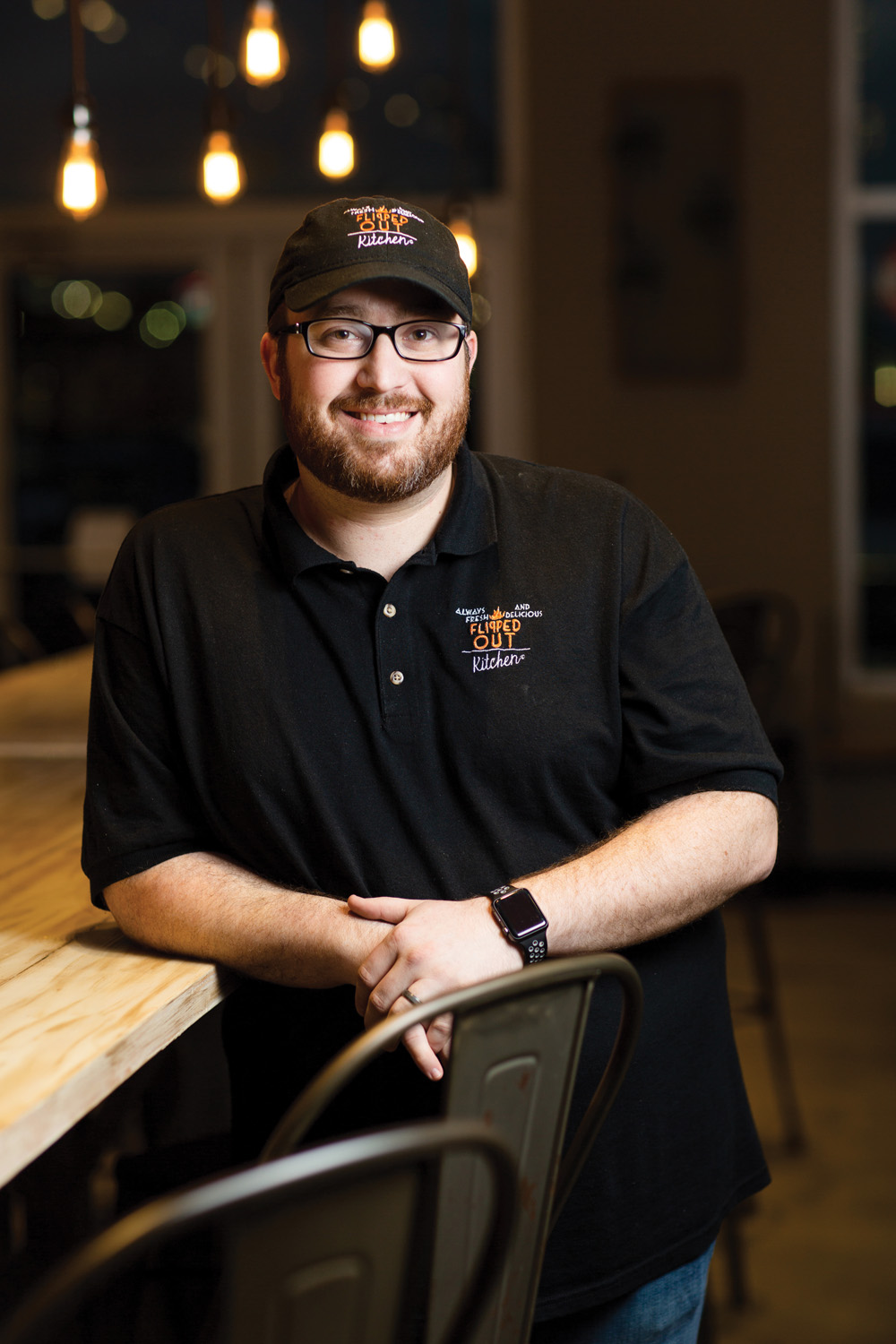 For years, as he sat at a desk job crunching numbers, Jaron Tipton dreamed of owning a restaurant. He wanted to create a place that was approachable and affordable, yet offered high-quality options.
"I wanted to bring something new to the area that offered full-service quality at a fast-casual price," Tipton says. "I envisioned a build-your-own concept with an open kitchen but with hearty, delicious, diverse options."
As he researched possibilities, Tipton decided to design the restaurant around flash-sauteing, a cooking method that allows for preparation of an array of pasta and rice bowls at lightning speed. In January 2018, Flipped Out Kitchen opened its doors.
Customers can choose from a curated House Creations menu or build their own bowls: selecting their proteins, vegetables, bases (several pasta, potato, rice and salad options), sauces, toppings, herbs and spices. For hot dishes, everything is put into a large skillet and tossed repeatedly over high heat before being flipped out of the pan into a large bowl. "That's where the name 'Flipped Out Kitchen' came from," Tipton says.
Picky eaters, rejoice! Even the House Creations options, such as chicken Alfredo or the Crazy Cajun, are completely customizable. The food here feels more like home cooking than fancy restaurant food, and that's a good thing.
"A lot of people come in and order off the menu their first time, and then they customize and get more adventurous when they come back again," Tipton says. "With all the different ingredient options, there are literally thousands of combinations to try. We have everything from Cajun to Asian."
The atmosphere at Flipped Out Kitchen is casual and offers counter service only, but large, high-backed booths provide privacy for date nights or family meals, and a huge table in the front of the restaurant is perfect for large gatherings.
Flipped Out Kitchen is definitely WeMo's hottest new fast-casual restaurant and offers large portions, fresh ingredients, quick service and affordable pricing. Show up hungry and get ready to experience something new.
On the Menu
Classic Chicken Alfredo
Broccoli florets and whole cloves of roasted garlic mingle with penne pasta, grilled chicken and sauteed yellow onions in plenty of creamy Alfredo sauce.
Little Italy
Italy meets the Gulf Coast in this delicious saute bowl that stars andouille sausage, penne pasta and marinara sauce, along with grilled chicken, bell peppers, yellow onions, mushrooms, roasted garlic cloves, Italian seasonings and grated Parmesan.

Seaside
Excellent low-carb options on the menu include the Seaside, a pan-seared salmon fillet served over a bed of sauteed spinach, yellow squash, baby carrots, grape tomatoes, mushrooms and yellow onions. It's topped with a light butter sauce, lemon juice, sea salt and black pepper.
Sirloin Caesar
A bed of romaine lettuce (or spring mix when romaine isn't available), grape tomatoes, cucumber slices and scallions is topped with thinly sliced sirloin steak sauteed in a Southwest seasoning. It's finished off with an excellent Caesar dressing, croutons and grated Parmesan.
Flipped Out Kitchen • Daily 11 a.m. – 9 p.m. • 7765 Airport Blvd., Suite 120 • 375-1733