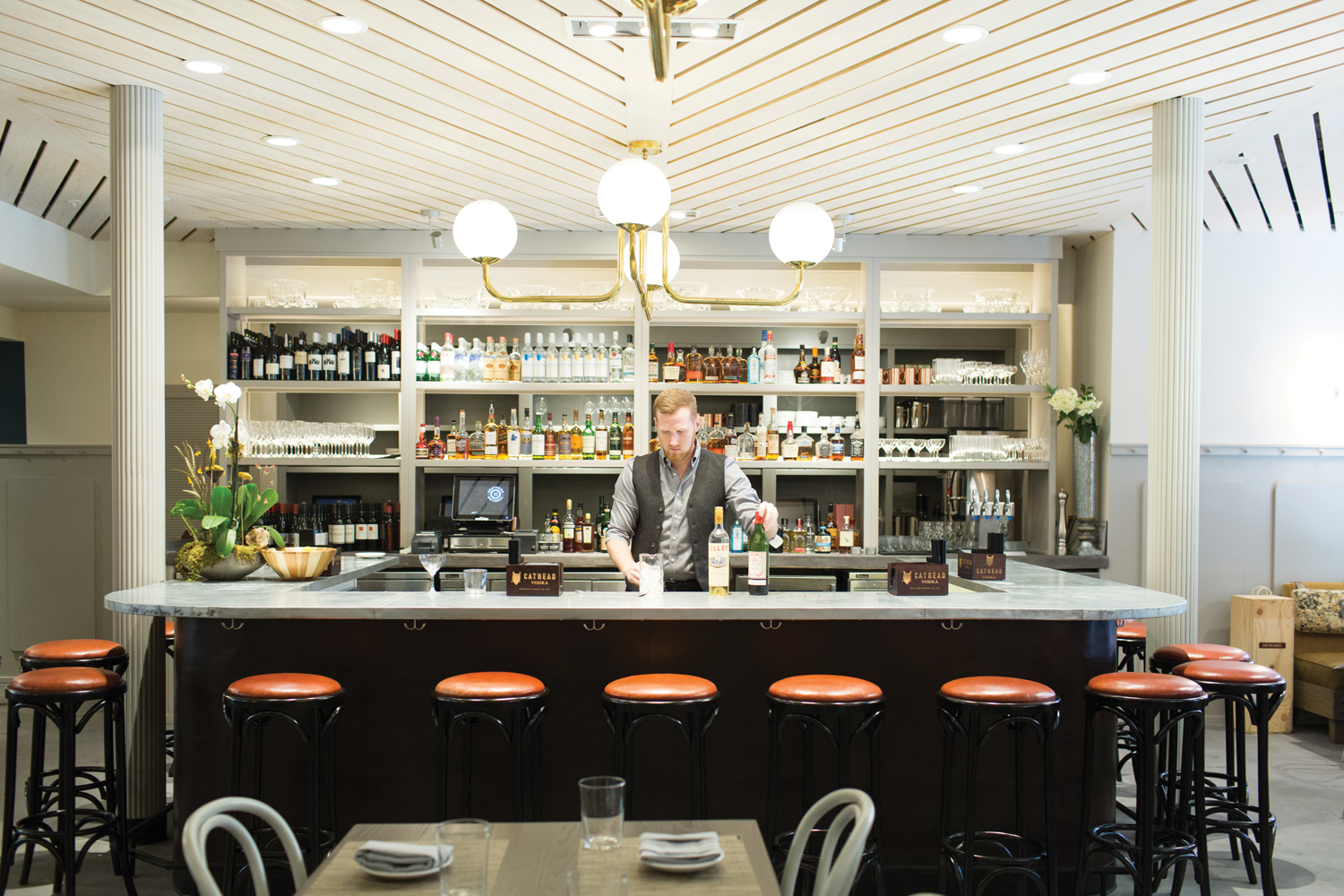 Restaurateur Reggie Washington and Chef Duane Nutter have poured their hearts and souls into Southern National, a much-anticipated restaurant in downtown Mobile that was almost three years in the making. The food and decor live up to the expectations of local foodies who have been following the pair since their days at One Flew South, a groundbreaking James Beard Award finalist restaurant in the Hartsfield-Jackson Atlanta Airport.
Washington and Nutter have created a menu with Southern roots and worldly flourishes, and Southern National has the decor to match. Most of the furnishings were made by local artisans, but the look is "big city bistro with high style." Caramel-colored barstools and smooth gray bentwood chairs invite diners in, and a covered outdoor patio beckons you to linger.
The U-shaped bar is the centerpiece of the comfortably chic dining room designed by Atlanta-based Smith Hanes Studio. The bar sports a sleek zinc top with brass rivets and a collection of spirits promises cool handcrafted cocktails.
When MB stopped by, Beverage Director Will Jones was busy squeezing baskets of fresh citrus in preparation for the night's service. The unassuming but knowledgeable Jones offers a fresh take on an array of old school cocktails, and you won't go wrong with any of them.
Southern National will began taking reservations in December with a brunch offering to follow shortly thereafter. Native son Washington is proud to bring his talented culinary team back home to cook for his fellow Mobilians. He and Chef Nutter have recruited an experienced fine dining staff from larger markets and, at the same time, hired and trained local cooks on the ways to run the house when the expectation is perfection.
Southern National has set their bar pretty high, but they plan to hit it every time.
On the Menu
Cathead Honeysuckle Vodka-Cured Salmon
Pictured above left, a bold pink horseradish cream beet puree is swiped across the plate and topped with micro greens, pickled and raw cucumbers, yellow beets, arugula, pickled red onion and a light vinaigrette. A tender piece of house-cured salmon sits alongside, the perfect starter to whet your appetite for the entrees to come.
Grilled Okra and Shishito Peppers
Unexpectedly satisfying, this dish features smoky grilled okra and peppers laid atop cilantro-whipped goat cheese topped with a drizzle of light teriyaki vinaigrette.
Mussels and Collard Greens
Finely sliced shiitake mushrooms, tomatoes and diced local collards are steamed with a bowl full of mussels in a delicate seafood broth that you could drink by the cupful if it were offered.
Crispy Fried Lobster Tail
Perfectly fried, tender strips of lobster, pictured above right, balance atop a bed of "underused vegetables" like rutabaga, red peas and bok choy. A drizzle of cilantro cream sauce and a few pieces of lump blue crabmeat finish the dish.
Southern National • 4:30 p.m. – 10 p.m. T – Sa. • 360 Dauphin St. 308-2387
Average entree price: $28