The romantic idea of heirloom wedding gowns seems like a tradition reserved for novels and fairy tales. Oftentimes, they remain simply that – ideas never brought to fruition. Instead, most people associate discovering their "dream dress" with boutiques, glasses of champagne and $5, 000 price tags. But what if the dress you've imagined yourself donning on your wedding day also happened to be the one destined to be yours, the one chock-full of nostalgia and meaning? For 26-year-old Emily Collins Moore, this is exactly what she found.
Emily's grandmother, Euber Nell Roberts, got engaged to her sweetheart, William Montgomery Collins, in the summer of 1953. Like any bride, she immediately began planning her wedding, picking a date, selecting a venue, sending out invitations. All went as planned. When it came to choosing her wedding dress, though, Euber's mother had an interesting idea. Euber remembers the moment when her mother called on her and her two sisters and asked them the question that started it all: "Would you girls like to wear the same wedding dress?" Although Euber's two sisters were not yet engaged, they were all close in age, and the family expected that their marriages would not be too far behind. "That idea appealed to us, " Euber Roberts, now Euber Collins, explains. "So we all went shopping together." 
As hard as it may be to imagine three sisters agreeing on the same wedding dress, Euber says the process was easier than she had anticipated. "I don't remember it being difficult at all. We weren't allowed to disagree!" she explains with a gentle laugh. "We knew what we wanted. We wanted long sleeves and a pretty train, so this dress was good." The sisters found their dream dress at Ullman's Ladies Shop in Anniston, Alabama, and each of the three did, in fact, wear it down the aisle on her big day.
The dress' story doesn't end there though. More than 60 years and six brides later, the dress remains, anxiously waiting to adorn the next bride. "I love the idea that my two sisters, one cousin, three nieces, daughter and now my granddaughter have pledged their love forever to their mates in the dress, " Euber remarks.
Emily Collins Moore and grandmother Euber Roberts Collins hold their family wedding dress that has spanned three generations and adorned nine different brides. "Oh, it's a treasure, " Euber says. Emily Collins Moore, above right, makes the ninth bride (and counting!) to wear the dress in 2012.

Inside the gown, ribbons with their names and the years of their marriages are embroidered as their "something blue."
But Emily almost didn't choose the family heirloom for her wedding. When her grandmother called to offer the gown, not only had Emily already decided on a dress, but the idea of a hand-me-down garment did not appeal to her much. "When I heard it was a family dress, I thought, 'Ugh, OK, I'll go put on this dress, '" she says in mock disdain. To her own surprise and her grandmother's delight, the fitting did not go as expected. 
"Instantly she seemed to liked it … she seemed to!" Euber remembers. Emily affirms her grandmother, "Yeah, I did!"
After a few alterations, the dress fit Emily perfectly. "When I wore it, they had to add a good six inches on the bottom, " Emily states. It seems like a major alteration, but that isn't the only one the dress has endured. "I am amazed it's still together, really, " Euber says. "Never did we dream that so many brides of all shapes and sizes would walk down the aisle in that dress."
Somehow, the gown found a way to fit and illuminate nine different brides, and each time, it appeared to be tailor-made for each woman wearing it. But looking beautiful is not the gown's only parting gift: Every bride who has worn the dress is still happily married, which Euber believes adds to the dress' allure. "Everybody's going to want to wear my dress!" she says with a big laugh. "It has magic!"
With many potential brides still in the family, the dress is sure to work its magic once more, and Euber couldn't be happier about it. "I have a great-niece who says she wants to wear it, but I have a feeling she may have to be the last one because the dress is so fragile, " she explains softly.
"Maybe people will start taking it apart and wearing different bits and pieces, " Emily suggests, and Euber replies that she has heard of people doing that, and she can barely hide her excitement at the thought that the dress, or parts of it, might make the trip down the aisle for many years to come.
"It's just a great little treasure and an heirloom, " Euber says. "I think the dress will be around for a long time."
Former Brides to Wear the Dress
1. Euber Roberts Collins       2. Doris Ann Brock       3. Peggy Ray Roberts       4. Faye Dora Roberts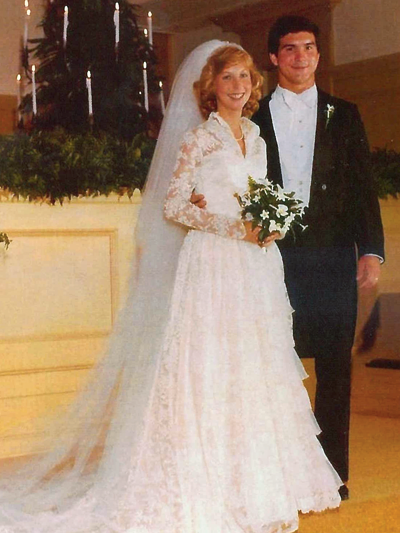 5. Margaret Euline Williams   6. Katherine Ann Williams    7. Mary Katherine Collins   8. Pamela Adele Williams
---
photos by Chad Riley