Pete Blohme's newest outpost provides classic Gulf Coast dining at the former Lake Forest Yacht Club.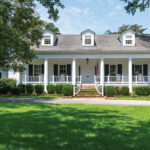 Mobile's mid-century traditionalist extraordinaire remained true to the architecture of the past as it was being destroyed all around the city.
Walk the halls of the Mobile Museum of Art for a day with new Executive Director Jon Carfagno as he transforms the museum's mission and ignites a fresh energy.
Mobile musician, artist and podcaster Abe Partridge talks family, faith and snakes in a rare moment off the road.
An Alabama native's debut novel, set in Fairhope, celebrates the joy of rediscovering home and the preservation of things we hold dear.
The story of Baldwin County's simple superfood is a winding, complex journey that spans from planters to harvesters, scientists to chefs. In honor of the peak of their harvest in the month of September, MB takes a deep dive into all facets of this amazing tuber.
Search over 340 restaurants throughout Mobile Bay to find the perfect location for your next breakfast, lunch or night out.