Mobile Bay Magazine Staff
MB makes local holiday shopping easy with dozens of unique ideas for everyone on your list.
Lessons in culinary terminology that every Southern cook should know.
Taylor and Kevin will tie the knot at Chickasaw Methodist Church on April 6, 2024.
Explore the 18 best places in our hometown to get back to nature.
Join author Judy Culbreth in a celebration of her new book, "Bedford Garden Club Originals: New York's Eloise Luquer and Delia Marble."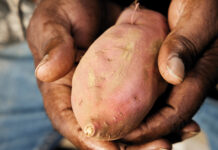 The story of Baldwin County's simple superfood is a winding, complex journey that spans from planters to harvesters, scientists to chefs. In honor of the peak of their harvest in the month of September, MB takes a deep dive into all facets of this amazing tuber.
In honor of our first-ever history-themed issue, MB asked Mobile Bay-area historians and researchers to share unusual, amazing or almost-forgotten stories that make up our rich history.
Summer is here and these seven boutique hotels within driving distance are calling your name.
School may not officially be out yet, but the warm temps are here and we are ready for some major F.U.N. It's easy to feel like a kid again with this list of the coolest ways to kick summer vacation off with a splash!
Mark your calendars with this month's top local events you won't want to miss.