Mobile Bay Magazine Staff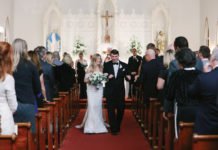 Catherine Anne Towns and Zachry Wadsworth Turner were united in marriage at Sacred Heart Chapel in Fairhope, Alabama, on Dec. 29, 2018.
CEO/President, Stewart Steelwood Investments, dba "The Stewart Lodges"
Elizabeth Jane Teel and David Marshall Hibberts were united in marriage at the First Baptist Church in Opelika, Alabama, on March 17, 2018.
When Chappell Brady moved to Mobile, she recognized that a common concern with local ladies was a lack of shopping. Coincidentally, opening a ladies' boutique had always been one of her dreams. The stars aligned, and Brady opened her happy place, Hemline, in 2012, where she loves the sweet customers and, of course, the clothes.
Cindy Zebryk has been the No. 1 agent for Coldwell Banker for the past five years, joining the company only six years ago. The Fairhope native has 27 years of experience in the real estate industry, and she knows the local market like the back of her hand.
As we mark the official beginning of hurricane season on June 1, check out a list of 27 hurricane survival tips from our September 1995 issue, following Hurricane Erin.
Mary Alice Shreve and Cory Michael Cain were married at Spring Hill Presbyterian Church on Nov. 3, 2018.
The Dauphin Island Sea Lab Foundation's annual fundraiser at Bluegill featured delicious seafood, great music and an exciting silent auction.
Caroline Eileen Mañas and Peter Nikolas Saway were united in marriage at the Cathedral Basilica of the Immaculate Conception on Oct. 27, 2018.
Deborah Michelle Faught and Richard Lee Cullum exchanged vows underneath Mobile's grand oak trees in Washington Square Park on April 28, 2018.