Mobile Bay Magazine Staff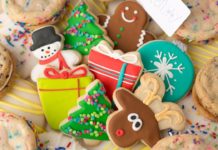 Although yuletide will certainly be different in 2020, "different" doesn't have to be a downer. Here are 20 fab ideas to bring on the joy and make this a holiday season to remember.
Your Thanksgiving feast won't be complete without this classic finale.
A one-pot dish with a flavorful kick
As you make your way to the bottom of the glass, the splendid sweetness of the cocktail will inevitably beg you to imbibe one more.
Serve with apple butter, for dipping, or vanilla ice cream for an extra decadent fall treat.
Kick dinner up a notch with this flavorful soup recipe from Chef Arwen Rice.
Chloe and Lerone tied the knot in New Orleans on November 10, 2019.
Sally and Travis were united in marriage at Sacred Heart Catholic Church on May 23, 2020.
Tully and Drew were united in marriage at St. Joseph Chapel on December 14, 2019.
Hartley & Glenn tied the knot at Government Street Presbyterian Church on March 14, 2020.