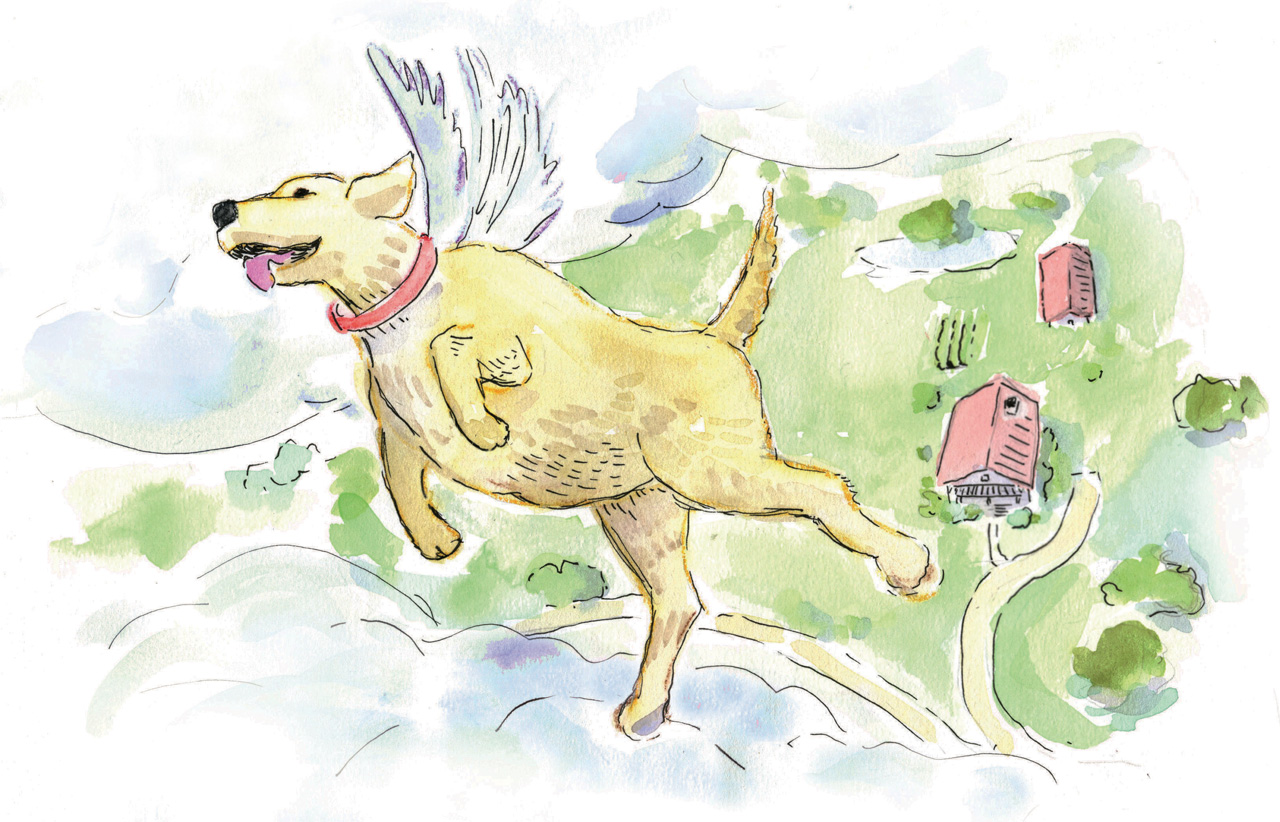 A beautiful creature crossed the River Jordan, surely leaping large and high into the sweet, black water. Known as Zoey Lyons-Walcott, age 12 (human years), 100-plus pounds, she made her journey one recent night from the darkness and coolness of the crawl space under her human house. The possibility of foul play is currently being investigated, as one of Zoey's friends has received a contemporaneous serpent sting on his cheek, and strange barking was heard from her crawl space location on the evening of her demise.
Zoey was a highly bred (four figures) blond Labrador retriever, raised originally in downtown Fairhope by Mike and Kelley Lyons, who loved her dearly. For the first two years of Zoey's life, she shared their human bed, lived the life of a queen and knew no other way of living. Mike trained her extensively as a boat dog, and she knew how to climb a ladder out of the water into the boat and fetch the end of a mooring line. She also felt very comfortable boarding any boat that pulled up to the dock and greatly enjoyed all boat rides. In keeping with her breeding, Mike also trained Zoey as a gun dog, and her fanatic, incessant barking after the first shot later in life was legendary. She also confided to friends who would listen that Mike had killed only 18 ducks the entire time she knew him.
Zoey posed and was photographed many times in her youth, and her natural good looks, breeding and sweet disposition made her an obvious choice for canine modeling. However, several years after she came to live with the Lyonses, her life changed dramatically when she was placed at Big House Farms and adopted by the Walcott family. This was a difficult decision for her first owners, and was based on complex urban and maternal changes that were occurring in their human life at that time. All three of them grieved for many years after her move. But it wasn't all bad news.
In her new life, Zoey was the queen of a harem of three mixed-breed adoptees. She lived outdoors, free-range on 40 acres; her only responsibilities being not to run away, bite the children or tear up things. She excelled in all of this, growing fat in her later days with memories of her boat training, hand-signaled retrieving and modeling fading away, along with her trim waistline. Her life returned, however, on those occasional days when Mike visited; lost lovers reunited, usually only for a few moments but enough to keep her dreams alive 'til the next time he came.
Zoey leaves to cherish her memories three canine companions: Nellie Hall (her best friend, a small, female, black mixed-breed from Citronelle), Scout Hall (a large, brown, male Lab-like mixed-breed, also from Citronelle) and Anthony "Andy" Walcott (a medium, blonde, dingo-like male with beady eyes), as well as three human siblings, ages 12 to 18. A service of canine interment was held at the farm, presided over by her youngest human sibling, a young man greatly experienced, unfortunately, in these matters. In lieu of chew toys, the family requested that memorial gifts be made to the local shelter.
"Rest in peace, sweet darling, for surely we shall meet again."