ABOVE In one of the guest bedrooms, a wall of white built-ins provides plenty of display space for beautiful baubles and family photos.
Celia Pfeiffer moved into her Dilston Place townhouse 10 years ago. Since then, the interior style has gone from very colorful and playful to a more sophisticated, all-white look, highlighted by hints of gold and subtle accents of color. "It was a complete overhaul as far as decorating goes, " Pfeiffer says. "Over the years I've learned what I want. My friend and interior designer Trini Bryant helped me put my vision together. I took one look at her style and knew she'd be the perfect one to help me accomplish it."
ABOVE Manicured urns and a mint door welcome guests at this Spring Hill condo.
Once her decor makeover plan was in place, Pfeiffer spent a year turning her dream into a reality. The now French-inspired space is filled with eclectic antiques, a mix of paintings from different artists, and lots of crisp white paint and furniture to create a calming effect.
The abundance of natural light that flows through the two-story, 2, 000-square-foot condo accentuates the peaceful atmosphere. "To be within the confines of a relatively small space, the area brings in lots of light. The size of the French doors and windows in the bedroom really helps, too, " she adds.
With the condo just how she wants it, Pfeiffer plans to stay put for years to come. "The three bedrooms and three baths allow plenty of room for more and more grandchildren as my family expands. And, it's in the perfect, most convenient location. I would only move for water, " she jokes. Although very pleased with the way her style makeover turned out, Pfeiffer admits her tastes are constantly changing and evolving. "It's my hobby. I'm always thinking, 'What can I do next?' Maybe real cedar shutters for the exterior!"
ABOVE White on white keeps the look bright. A large chandelier, originally meant to hang in the dining room, found a home in the sitting room. 
ABOVE The large chandelier has been finished in distressed gray with white showing through and accented with gold tassels.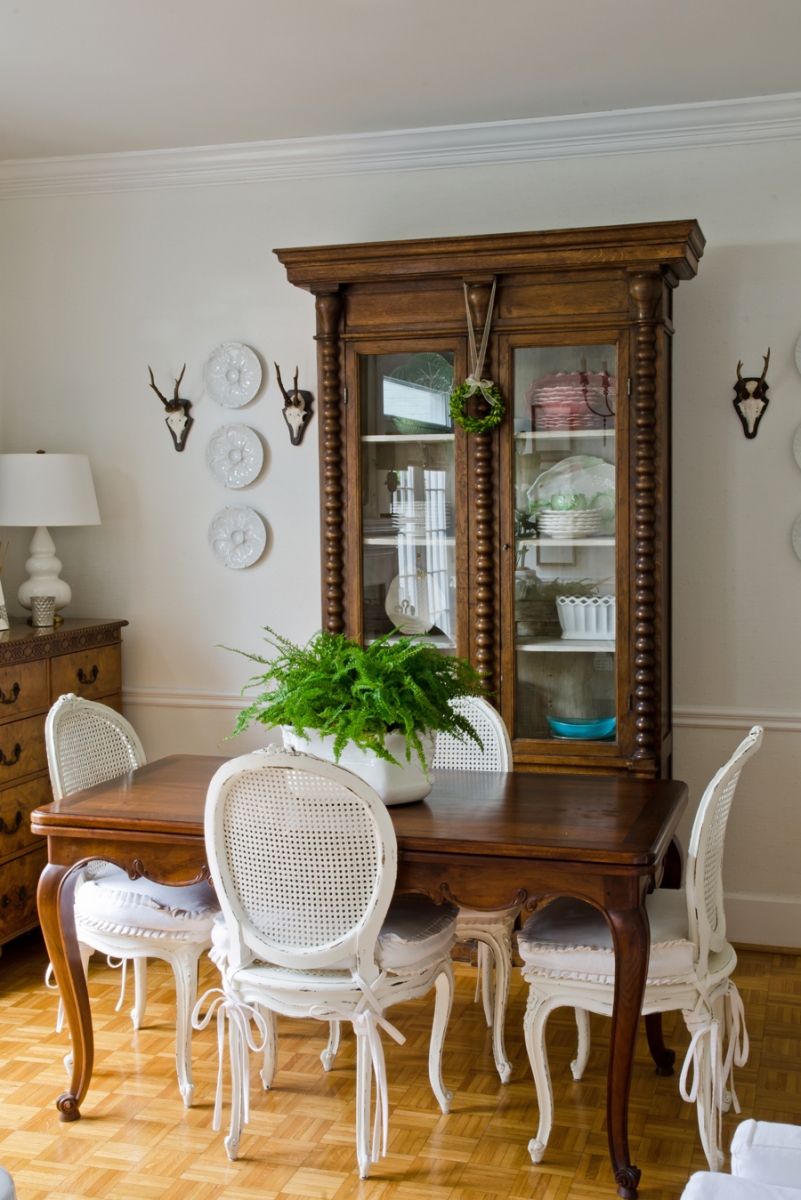 ABOVE LEFT Pfeiffer's dining room chairs from Olde Mobile Antiques just might be the most interesting finds in her entire place. "I was told they are from Lucille Ball's New York apartment." Originally black, Pfeiffer had them painted white and distressed to match the overall aesthetic.
ABOVE RIGHT The home's crisp, airy atmosphere overflows into the kitchen equipped with white cabinetry and ivory ceramic pieces.
ABOVE A local ironworker custom made the master bed 20 years ago. To give it an updated look, Pfeiffer added pure white handsewn bedding. The pine chest is from Atchison Imports. 
ABOVE Vintage and reproduction accessories in shades of gold and white add interest.
---
Text by Vanessa Reyner • Photos by Summer Ennis