I don't come from a family of outdoorsy people. On my third grade Girl Scout campout, my dad packed a box fan for the tent because he couldn't hack it without AC. On family camping trips, my mom always kept her Wi-Fi hotspot available for whatever internet needs may have arisen. I spent many of those same excursions during my younger years hiding inside the RV where the snacks and TV lived.
Despite these inauspicious beginnings, lately I have yearned for the great outdoors. Perhaps this could be a side effect of living in an area so rich in natural adventures to be had. Whatever the reason, I jumped at the chance to spend the night at the primitive campsite, or "outpost, " at the Hugh S. Branyon Backcountry Trail at Gulf State Park. Ready for a weekend away, my husband, a few friends and I packed up and headed out to Orange Beach for the first weekend of April. For like-minded explorers (experienced and non), here is our story. 
What is glamping?
Combining the words "glamourous" and "camping, " the trend refers to any camping escapade with a few extra perks. Anything from tricked-out cabins to small, refurbished campers to roomy canvas tents awaiting your arrival fits the bill. Glamping allows green outdoorsmen to experience a new place with a few extra amenities to make the journey even more awesome. 
Getting There
To get to the campground, we had to hike in a mile from our car. We had slight misgivings about this trek until we saw the path. We breathed a collective sigh of relief when we realized the entire path is shaded, not to mention paved. Even walking at a leisurely pace, carrying most of our supplies on our backs or in a wagon, we arrived in about 25 minutes. If we had had bikes, we probably could have made it in half that time. Along the way, we passed many other trail walkers and bikers enjoying the gorgeous, breezy day. On more than one occasion, they asked if we were camping at "those cool tents down the road, " their voices filled with intrigue. 
Exploring the Digs
We arrived, and three canvas tents stood proudly in the sandy hideaway. Raised about two feet off the ground on wooden platforms, each tent was equipped with four (fairly comfy) cots. Definitely way better than sleeping on top of tree roots. Having been to a few other parks in the region, I was pleasantly surprised at the privacy these tents afforded us. Rather than sleeping a few yards away from several other families, or along a road with dozens of other guests, these were set back about 50 yards off the hiking trail. We occupied the Bonanza and the Alamo, which are closer to each other and share a fire pit. The third tent, the Duke, is another 30 yards or so back for even more isolation. Another family hung out there during our trip, though we rarely even heard them. 
Roughing It In Style
What is "glamping" without a handful of amenities that would otherwise be impossible for traditional tent camping? Here, authenticity meets convenience with a well water pump and sink and pre-chopped wood for your campfire (50 cents per block). Having spent hours attempting to coax roaring flames from wet or inadequate wood on other trips, I can attest that this was a godsend. We were glad to see that there were housed restrooms (excluding showers, which are planned to make an appearance summer 2016) down the trail about a third of a mile.
The biggest surprise of all was that the site is solar-powered. Panels hidden behind the rugged yet cozy tents allowed for a strong LED light on the inside for after the sunset (an added bonus since LED lights don't attract mosquitos). A handful of outlets are available for keeping a cell phone charged (yes — there is signal!) or even plugging in a small fan in the summertime heat. 
The campfire ring seemed straight out of a movie. Halved logs served as benches around a ring with a metal cooking grate that's perfect for sausages or toast (check out some of our favorite fireside meals online at mobilebaymag.com). After dark, the setup was perfect for roasting marshmallows and keeping warm as the temps dropped for possibly the final time this season. Smoke kept the bugs at bay for a bit, until we shifted inside the screened-in tent to continue visiting. As we laughed and ate, the noise of distant traffic drifted away. A calm settled upon us. Mission accomplished.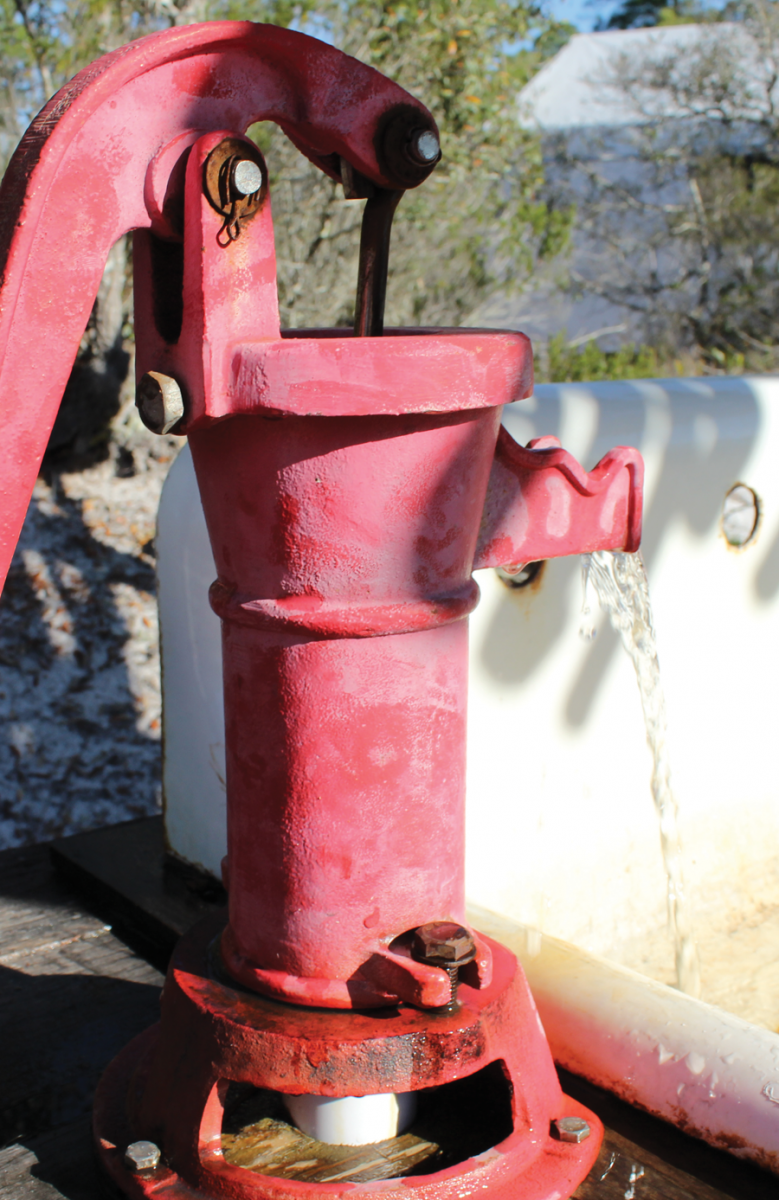 Essentials to Pack
Bug spray

Sunscreen

Hats

Comfy clothes

Good walking shoes

Sleeping bags + travel pillow

Matches (or some other 

campfire-starting instrument)

Water – lots and lots of it

Food

A small, metal cook pot

Utensils 

Cast-iron skillet (if you have a wagon, this is a great tool to bring – if not, it's not 

worth the extra weight)

Trash bags (whatever you bring in, you must bring out)
Camping Meal Ideas
Quinoa or rice with canned chicken (get a multi-spice shaker for an extra decadent campfire meal)

Bacon and eggs for breakfast (or dinner, or whenever you want)

Sausage and sauerkraut with hot dog buns

Fish fillets with salt, pepper and lemon, then covered with foil to cook (great meal from a cast iron skillet)

Canned sardines for snacks

Fresh fruit – grapes, satsumas, bananas, clementines and strawberries are our faves​

S'mores – lots and lots of s'mores
Plan Your Own Trip

    
On paper, these sites may still seem intimidating to casual or novice campers. In actuality, though, they're a great way for newbies to get their feet wet. 
Book a site. Call 948-7275 (between 8 a.m. and 5 p.m.) or visit backcountrytrail.com to make a reservation.One tent accommodates four people, but you may bring your own additional tent to fit up to six. Rates start at $50. 
Check the weather and get prepared. Plentiful breezes throughout our stay kept us from getting overheated, but don't leave home without hats and sunscreen. Because of the bright white sand and scarce cloud cover, most of us got a little pink even under the tent awnings. Also, load up plenty of H20. Although the folks at the Backcountry Trail believe the well water to be clean, they warn it may not be suitable for drinking. Also, use bottled water for teeth brushing and cooking, or boil the well water for at least 90 seconds before adding food to ensure it is safe. For more must-have supplies, refer to the list at right.
Make the most of your stay. When you camp at the outposts, you also have access to the other park amenities, such as the fishing pier, beach pavilion, general store, pool, butterfly garden, boulder park and the many quiet nearby hiking trails (all paved). With only 24 hours to delve into this place,  we only got to hit some of the highlights. But this is just the start. Needless to say, we'll be making a return trip soon.
---
text and photos by CHELSEA WALLACE ADAMS