Katelyn Pace Simpson and Austin Taylor Hubbard were united in marriage at Ashland Place United Methodist Church on December 6, 2014. The Rev. Charles H. Hale, Jr. officiated. The bride is the daughter of Mr. and Mrs. Rhett D. Simpson of Mobile. She is the granddaughter of the late Mr. and Mrs. John William Pace III, Mr. and Mrs. Hugh Milton Simpson and Ms. Cecilia Dupree Simpson. The groom is the son of Mr. and Mrs. Jair Shane Hubbard of Homewood, Alabama. He is the grandson of Mr. and Mrs. William Collins Knight, Jr. of Mountain Brook, Alabama; Mr. Donald Theo Hubbard, of Birmingham; and Mrs. Celia Moyers Hubbard of Cullman, Alabama.
Given in marriage by her parents and escorted by her father, the bride wore a stunning, strapless gown designed by Monique Lhuillier. The blush gown featured a delicate print within the silk asymmetrical design, accented with a custom "Homa" beaded belt at the bride's waist. For the wedding ceremony she wore an off the shoulder English net tulle wrap draped around the bodice. She also wore an heirloom cathedral-length Brussels veil. The bride carried a European-style nosegay bouquet of white peonies and garden roses, based with fresh white hydrangea, created by Dennis Harris of Zimlich The Florist.  
Maggie DeLaney served as maid of honor. Brennan Simpson Barrineau and Cameron Simpson Ankersen, sisters of the bride, and Kristen Hiott McWilliams served as matrons of honor. Bridemaids included Mary Frances Colley, Morgan Christine Meeks and Stephanie Danielle Rector, of Birmingham; Amy Elizabeth Leachman and Victoria Ann Fragakis, of Atlanta; Lanier Smith Hoyt, of Houston; Lauren Elizabeth Pavlik, of West Palm Beach, Florida; and Leigh Kellen Cozart of Charlotte. Anna Mason Barrineau and Sadie Mixon Ankersen, nieces of the bride, served as flower girls.
Jair Shane Hubbard, father of groom, and William Timberlake Hubbard, brother of the groom, served as best men. Groomsmen included David Cunningham, of Roswell, Georgia; Robby Price, of Lawrence, Kansas; David (Beau) Dean, Jr., Michael Hurst and Alex Hyde, all of Vestavia Hills, Alabama; William Cole, Daniel Hayes, Brannon Paulk, Alan Quenelle, Hunter Revis and Bradley Wilson, all of Homewood, Alabama. William DeWitt Barrineau, nephew of the bride, served as ring bearer.
Organist Jenny Slay, vocalist Amy True and trumpeter, Donald Morris performed an array of beautiful music during the ceremony. Photographer Jeff Tesney and Videographer Ron White captured the events of this special night for the bride and groom.
Following the ceremony, guests were entertained at the reception held at the Bragg-Mitchell Mansion. Guests danced to the Musical Fantasy band. The couple shared their first dance to "If I Could Build My Whole World Around You" by Marvin Gay and Tammi Terrell. The winter wonderland décor found throughout the antebellum home and tent was created by Dennis Harris of Zimlich the Florist. The front doors of the Bragg-Mitchell Mansion were embellished with floral catch points and enhanced with "ferry berry" lights. A large white-washed willow branch chandelier with silver accents and embellished with complementing flowers and lights suspended over the center of the dance floor. Guests danced under a canopy of large Mobile oak trees decorated with chandeliers, market lights and ferry berry lights. Guests dined on delicious Southern favorites, such as shrimp with sherry cream sauce and smoked Gouda cheese grits, grilled oysters with garlic butter, grilled Conecuh sausage, pork tenderloin, bacon-wrapped duck bites, and mini crab cakes, all prepared by Bay Gourmet. Cakes by Judi served a delicious four- tiered, buttercream-iced cake with lemon, cream cheese and strawberry fillings. Guests also enjoyed a late-night snack of hamburger sliders and baseball-designed ice cream sandwiches by Ellen Jay.
On Friday evening the groom's parent hosted an after-rehearsal dinner party at Space 301 for the wedding party, family and friends. The couple celebrated their new life together on a honeymoon to the Bahamas. They now reside in St. Augustine, Florida.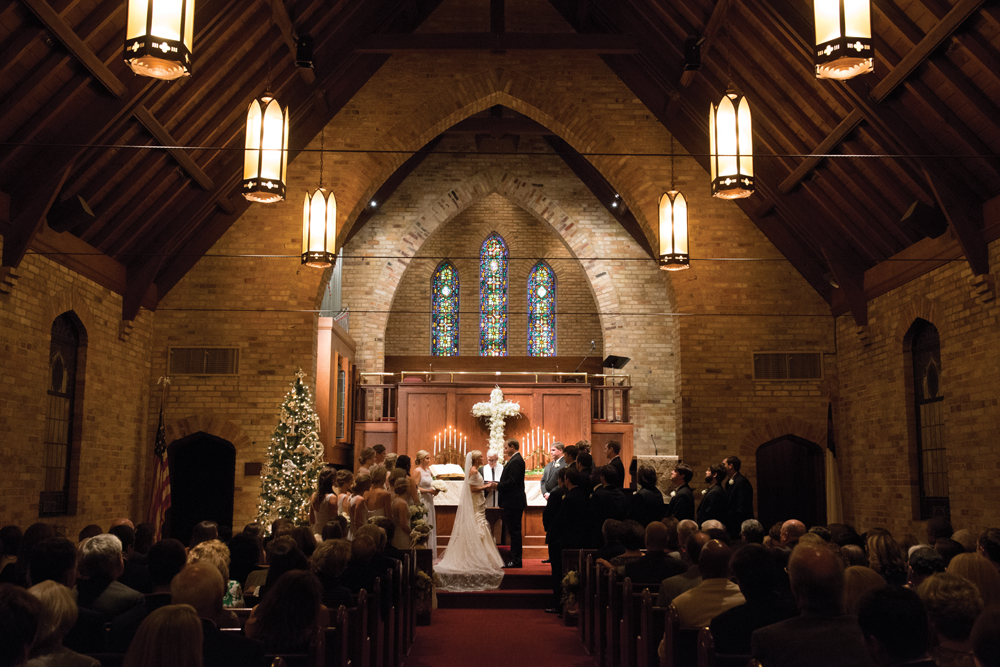 ---
Photos by Jeff Tesney