There's something therapeutic about simultaneously bonding with family and nature. Janice and Roger Setzler, selected their 568-acre lot in Chatom, Alabama, based on its calm, secluded lake and its bountiful population of game. There, they would build a country retreat for themselves and their extended family to enjoy together for years to come. Luckily, they knew just the designer who could make it happen. The creative and insightful Mobile interior designer for the project would be their daughter Natalie Roe.
The Setzlers' goal was to craft a nurturing and active homestead for their three daughters and their families: Natalie and her husband Stephen, Erin and her husband Ben, and Rachel and her husband Hollis, plus their five grandchildren. Now that the place is complete, the family gathers there frequently. Janice and Roger enjoy spending time doting over the little ones as they walk the grounds, their three dogs following them. These precious family moments inspired the name of the casually sophisticated getaway: Lakeshore. It was chosen in remembrance of the Mississippi cabin where Roger's father taught his grandchildren to hunt, harvest, fish and enjoy the warmth of family.
ABOVE LEFT A high vaulted ceiling makes for an impressive entryway into the home. The beautiful wooden door features many large windows to allow for views of nature to reach those inside.
 
ABOVE "She captured the rustic essence of her ancestral home by selecting … exposed rafter tails, stone and windows that emphasize the beautiful views." 
 
Indoor-Outdoor Living
Natalie was entrusted with translating her family's wishes and ideals into a lasting space — a responsibility that she embraced earnestly. She drew the architectural plans, focusing on how the spaces would function. Her goal, first and foremost, was to bring nature indoors.
The vernacular camp style served as Natalie's inspiration as she designed the A-frame home. The home is larger than her grandfather's Jackson, Mississippi, cabin and contains modern amenities including high ceilings and large windows. But she captured the rustic essence of her ancestral home by selecting a metal roof, stained siding, exposed rafter tails, stone and windows that emphasize the beautiful views. 
The designer was also able to furnish the hunting camp from scratch. She explains, "I focused on simple lines and colors so there is no competition between the interior and the exterior of the house and surroundings. The east-facing wall consists mainly of windows and a large screened porch overlooking the lake, " Natalie says. Her father wanted to sit six people at the kitchen bar, and her mother wanted to seeboth the lake and anyone coming up the gravel driveway. These objectives led her to create the long yet narrow layout of the house.
In the open kitchen, above, Roger can chat with his wife as she prepares the dove, turkey, duck or venison that were hunted by her family during designated seasons. "I didn't want the inside to be 'busy'. I wanted the focus to be on the views, " Natalie says. Grandchildren have room to gather and help prepare pheasant casserole and carrot cake. The cuisine is creative and fresh, just like the room's neutral interior palette. A small fire almost always crackles in the nearby fireplace. 
To achieve a light, airy atmosphere in the main room, Roe designed a vaulted ceiling, crafted of reclaimed wood from historic barns.
The interior designer's father also wanted each bedroom to have a view. Guest bedrooms and closets have flexible layouts to grow with the family. Clever custom details geared toward her children, nieces and nephews make the home extra personal. The young children lodge with their friends in a bunk room with custom beds. In an upstairs bathroom, Natalie has built a baby changing surface into the countertop and a stool into a reinforced drawer. 
ABOVE Erin Setzler Kennemer, homeowner Janice Setzler and interior designer Natalie Roe prepare lunch for the rest of the crowd. 
 
ABOVE LEFT Roger and Janice relax with a glass of wine on the screened porch, awaiting the sunset over the property's picturesque lake. 
ABOVE RIGHT Bennett Roe shows off his catch at Lakeshore, the perfect family sanctuary for creating memories.
 
Stewardship of Natural Surroundings
From those bedroom windows, guests can admire gardens thoughtfully planted by Natalie's mother. Natalie recalls that Janice "selected plants that can withstand heat, require little maintenance, complement the natural surroundings and bring pops of color throughout the year." Southern plantings thrive, among them azalea, rhododendron and hydrangea. Gardenia were placed near the exterior doors because of their sweet, welcoming scent. A trellis of confederate jasmine was added to one side of the home, literally connecting architectural and landscape design. Indoors, Janice arranges sunflowers in a white vintage pitcher; her children and grandchildren enjoy picking them while out on nature walks.
As the dew settles each morning during hunting season, adults gather to collect their equipment from custom-made wooden lockers. Sometimes an older child joins them. They walk or ride out to deer stands or to reeds to hunt wood duck.
Meanwhile, younger children are taken on nature walks where they learn the names of plants and animals. It is important to Roger that they learn to be stewards of the land. They romp, for sure, but also learn helpful lessons. For example, their grandfather teaches them to release the largest bass so that they may breed and provide a sustainable population. He plants pine saplings with his grandsons. Along the lake's edge, together they plant reeds in order to provide the egrets, hawks and geese there with a thriving habitat. Like his father, Roger is a responsible hunter, a Southerner who respects the land and maintains his homestead. These are values that he demonstrates to his grandchildren. 
Lakeshore is more than a verdant piece of land hosting a beautiful house: It is a testimony to the creative vision of Natalie Roe, a designer who was inspired by her family's traditions to create a haven where fond memories are made together.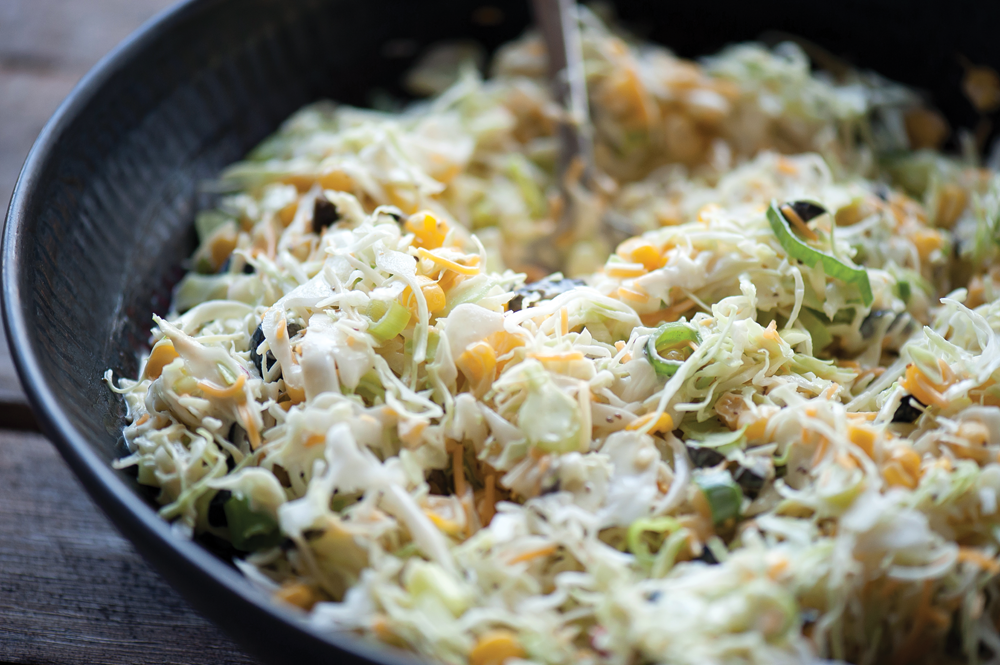 Aunt Vivian's Slaw
3 cups chopped cabbage
1/2 cup chopped green onion
1/4 cup grated cheddar cheese
2 tablespoons chopped black olives
1/2 (11-ounce) can Green Giant's Mexicorn
1 cup mayonnaise
2 tablespoons white vinegar
2 tablespoons sugar
2 tablespoons mustard
1 teaspoon celery seed
1. Mix cabbage, onion, cheese, olives and corn. Cover and chill.
2. Mix together remaining ingredients to make dressing.
3. When ready to serve, combine the dressing with the vegetables. Serves 10.
Quick Rolls
2 cups self-rising flour
1/4 cup mayonnaise
1 cup milk or buttermilk
cheddar or parmesan cheese,  grated, if desired
dill, if desired
1. Preheat oven to 450 degrees. 
2. Combine all ingredients, mixing well. (May add cheese or dill, if desired).
3. Spoon into lightly greased 2-inch muffin pans. 
4. Bake for 10 minutes or until golden brown. Makes 1 dozen rolls.
Pheasant Casserole 
"This is a great dish for company because, after the baking time, you can just turn off the oven and let it warm until ready to serve, " says Natalie Roe. "This also improves the flavor."
1 (6-ounce) box Uncle Ben's Wild Rice Mix 
12 ounces pork sausage
1 large onion, finely chopped
8 ounces sliced mushrooms
8 ounces chopped water chestnuts
juice of 1/2 lemon
1/4 cup flour
1/4 cup melted butter
1/2 cup milk
1 3/4 cup chicken broth
1 teaspoon salt
pepper, to taste
2 cups deboned pheasant (or turkey or chicken)
1/2 cup slivered, toasted almonds
1. Preheat oven to 350 degrees. Cook rice according to package directions.
2. Remove casings from sausage and sauté sausage. Drain off some of the grease. Sauté onion and mushrooms in sausage grease. When nearly done, add water chestnuts. Squeeze lemon juice over mixture.
3. Make a white sauce with the flour, butter, milk, chicken broth, salt and pepper, stirring with a whisk. Lightly mix together the rice, sausage, mushroom mixture and pheasant. Pour white sauce over all, and mix again. 
4. Pour into greased casserole dish, and bake for at least 1 hour or until casserole is browned on top and bubbling. Sprinkle with toasted almonds before serving. Serves 6. 
Carrot Cake
When preparing her mom's famous carrot cake, Natalie makes 1 1/2 times the icing recipe. She then frosts the layer cake as needed and passes the remainder of the icing when serving.
2 cups sugar
1 1/2 cups oil
4 eggs, beaten
2 cups all-purpose flour
1 teaspoon salt
2 teaspoons baking soda
2 teaspoons cinnamon
1/2 cup chopped nuts, if desired
3 cups grated carrots
Cream Cheese Icing (see below)
1. Preheat oven to 350 degrees. Mix sugar, oil and beaten eggs together. Sift flour, salt, soda and cinnamon together. 
2. Slowly add flour mixture to egg mixture, about 1/4 of the mixture at a time, then fold in nuts and carrots. 
3. Bake in slightly oiled tube pan for 55 to 60 minutes or in a 13-by-9-by-2-inch pan at 300 degrees for 60 to 70 minutes. (Natalie bakes in three round cake pans until toothpick inserted in center comes out clean.) 
4. Cool and ice with Cream Cheese Icing. Serves 12. 
Cream Cheese Icing
1 stick butter, room temperature
1 (8-ounce) package cream cheese, room temperature
1 box confectioners' sugar
2 teaspoons vanilla extract
1. Cream the butter and the cream cheese together well. 
2. Add sugar and vanilla and beat well.
---
text by Jordan Barkin • photos by Perri Farlow