If love is expressed by giving time and creative energy, the Riggin family felt especially loved the day of Rebecca's wedding. When the narthex doors to the sanctuary opened, the scene took their breath away. The sanctuary was stunning. The worship space was lovingly adorned by the St. Paul's Episcopal Church Flower Guild.
With her father as celebrant, Mary Rebecca Riggin and Jay Robert Pierce Epps exchanged wedding vows before the altar where a fan of lilies, pale yellow roses, cream status and bright yellow spheres sprang from a generous spray of navy centered white anemones. The newly married couple glided down the aisle lined with gilded candle torches, each appointed with a spray of yellow roses and status.
The day before the wedding, flower guild members Judy Campbell, Pam Moore and Carol McMurphy helped each bridesmaid, amidst giggles and awe, assemble her own bouquet at the church. Against their midnight blue dupioni silk dresses, the yellows, creams and flecks of bright green flowers popped. Groomsmen's boutonnieres stemmed from a coil of rope attached to a bolt to honor Jay's love of mechanics.
The Bragg-Mitchell Mansion was the perfect setting for this Southern wedding reception. Sisters Patty Parnell and Pam Moore, along with friends from the flower guild, had every table, nook,  cranny and fountain filled with flowers. Lynn Stewart and her staff's behind-the-scenes hospitality at the Bragg-Mitchell allowed all to bask in the joy and magic of the evening. Photographer Jeff Tesney captured that magic and joy in his beautiful photographs.
Guests from California, Colorado, Massachusetts, Maryland, Texas, Tennessee, North Carolina and all across the state of Alabama enjoyed the pure Mobile charm of Clifton Morrissette's delightful menu. Fresh seafood, grilled and fried, served on trays, in a boat or right off the grill satisfied all. Whether seated on the front porch or dancing under the market lights, guests enjoyed a variety of creative flavors from grilled fresh tomato and cheese to smoky beef tenderloin. His skilled and professional staff seemed to anticipate every need.
Flour Girls created the wedding cake, which rested atop a tree stump to signify the couple's love for the outdoors. The groom's cake was a melt-in-your-mouth peanut butter cheesecake with a chocolate crust. Key lime cupcakes were served by the Horner sisters and the Bixler sisters. The girls also handed out small silver bells at the end of the evening to send the couple off with blessings for a joyful life.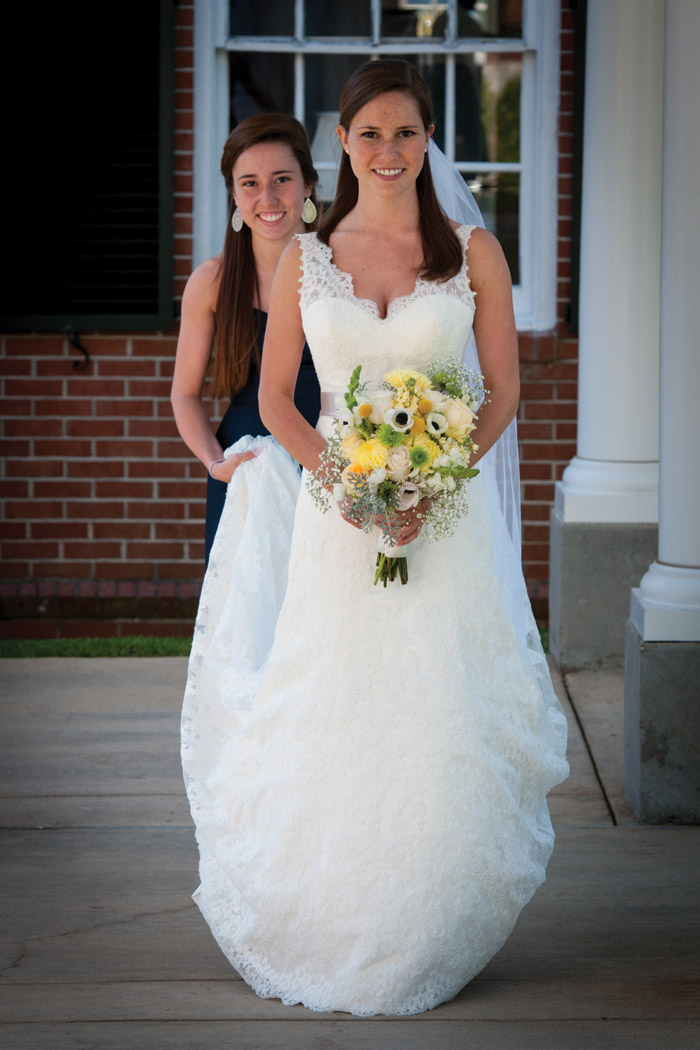 ---