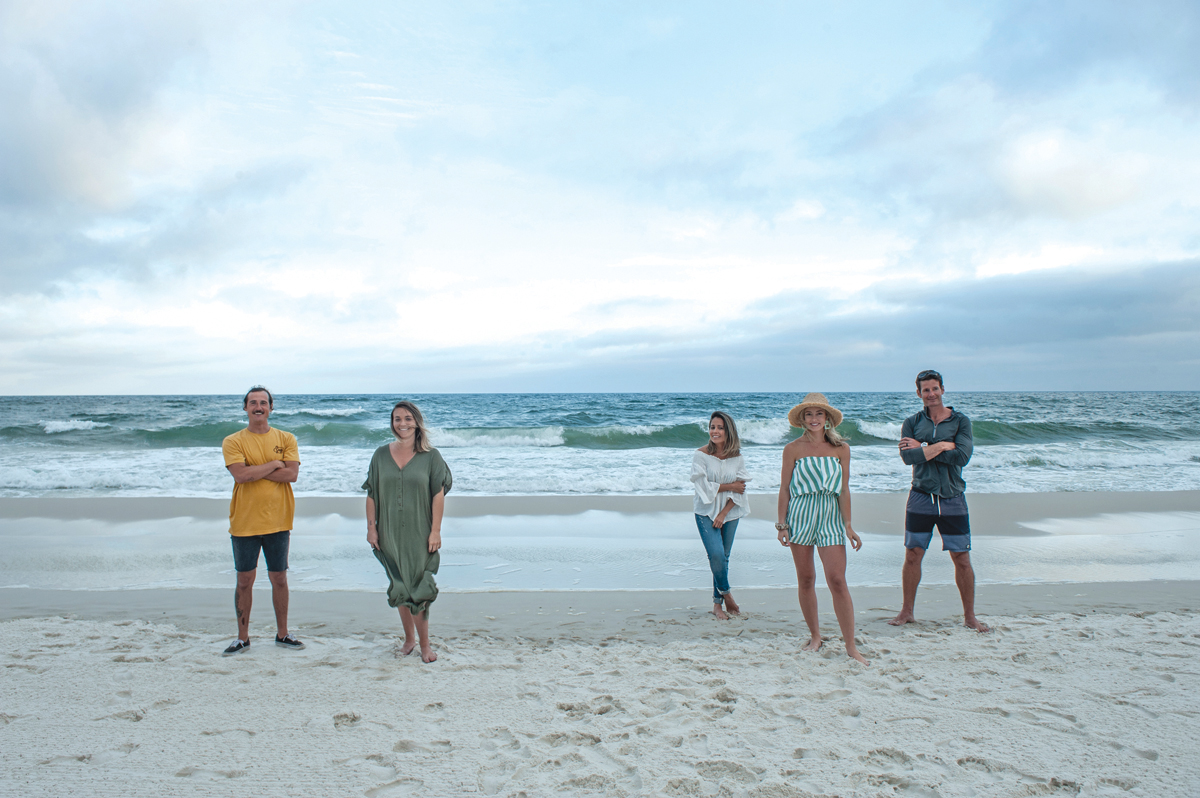 Madelynn Mann gazes out over the sun-kissed marsh. She's just unlocked her shop for the day, but she's not in a rush to begin dressing mannequins or updating racks. Instead, she takes a few moments to center herself and to chat about her pup, Rover, an English cream golden retriever. "He's my shop dog, and he's a ladies' man," she says with a laugh.
Back inside, Madelynn tells of her lifelong love of the fashion industry, something that, along with working in other boutiques, inspired her to start her own business. Located in the lower level of Glow Yoga, Pieces Boutique has been open for just over a year, offering swimsuits and beach-ready clothing and accessories. "There's a really happy vibe here," she says through a pearly white grin. "Pieces [Boutique] definitely belongs on the beach." And so does Madelynn.
Six years ago, her morning view was quite different. An Iowa native, she moved south right out of high school. Sweaters, boots and snow have given way to sundresses, flip-flops and sugar-white sand. "My sister and I spent many childhood summers here visiting our granny," Madelynn says, explaining how she gravitated toward Gulf Shores. "It was like our second home."
Home, Sweet Beach Home
Located along 32 miles of powdery coastline, Gulf Shores is home to almost 12,000 full-time residents, according to data available in 2017. The family-friendly town packs 223 annual days of sunshine and enough saltwater catches to satiate a hard-core "seafoodie's" appetite. Pedestrian- and bike-friendly streets boast shops slathered with colorful murals, and kitschy kitchens offer a plethora of unpretentious bites.
Perhaps the real draw to the state's fourth fastest-growing city — besides the brilliant sunrises and sunsets, of course — is the detectable congeniality among locals, particularly business owners. The city's motto, "Small Town, Big Beach," rings true for Madelynn. "I love that it's a small town," she says, "but the Southern hospitality is my favorite part."
Hospitality is what initially connected Madelynn to another entrepreneur, Nathalie Sousa, during a pop-up event at the yoga studio. The two became fast friends. Like Madelynn, Nathalie, a native Brazilian, knows there is something special about Gulf Shores. "I first came here as a temporary worker at a local resort," she says. "I fell in love with the area, so I decided to stay, go to college and make America home." That was 20 years ago.
Over the course of those two decades, Nathalie traveled throughout the country but couldn't escape the pull back to the Gulf. "The beach is my sanctuary," says the avid runner and natural food chef. "It's my favorite place to pray, relax, exercise and clear my mind." Press & Co., of which Nathalie is the owner, also tops the list of her favorite places. The juice and wellness company's mission goes beyond just providing healthful cleanses and supplements. "My passion is helping others become healthier," she says.
Nathalie knows she's not alone in her quest; she has husband-and-wife team, Kale and Saidy Troha, by her side. After the doors to the Trohas' store, Foam Coffee, are locked, Nathalie can be found inside the industrial kitchen, pressing, bottling and refrigerating her organic fruit- and vegetable-based beverages. "Foam Coffee is definitely the best coffee shop in town, and I'm not just saying that because the owners have become my close friends or because you can find Press & Co. juices there," she says, gratefully. "You honestly can't find better coffee or a more relaxed, cool vibe anywhere around."
On Beach Time
Watching them, it's easy to see where Foam Coffee gets its chill quality. Saidy, whose countenance shines with a beachy glow, coolly rings up a regular's mid-day espresso. Kale stands alongside her, casually carrying on a conversation while the drink is brewed. They are about as easy-going and down-to-earth as one might imagine minimalistic, coffee-brewers-by-the-beach to be.
Now both seated at a roomy table, Saidy, a self-described behind-the-scenes person, admits she initially didn't know much about business ownership. Of her early days at the Art Institute in Chicago, the Gulf Shores native says, "All I knew was that I loved coffee shops. My plan was to move home and design them." As co-owner, she finds herself a little more front-and-center than she originally envisioned.
Kale on the other hand, an Elberta native, seems quite comfortable in the spotlight. His years of competitive skimboarding explain his confident, surfer-like style and demeanor. Thanks to his mother's affinity for the beach, Kale's family moved to Gulf Shores in the mid-'90s. He and Saidy met years later at Shrimp Festival, and not long after, the two married in Bali. They've been serving caffeinated joy one cup at a time to residents and vacationers for the past two years.
Between honeymooning in the Indonesian islands and traveling all over the east and west coasts — either for competitions or coffee bean sourcing — the couple has seen their fair share of shorelines. "I don't take our beach for granted," Saidy says when asked about Gulf Shores. Eddie Henry, owner of Results Gym, doesn't take the beach for granted either. "Nothing clears my head and relaxes me more than moving water," says the Cleveland, Ohio, native.
Fit for the Beach
Over the past 15 years, Results Gym has developed into a comprehensive training facility that incorporates everything Eddie has learned in his profession — from nutrition to weight training and all points in between. "I don't have a very stressful job," he says, "but if it has been a long day, the water melts away all of my worries."
One thing Eddie doesn't worry about much is commuting around Gulf Shores. "One of my earlier dreams was to be able to exist conveniently without the use of a car," he says. It's now a reality: the proximity from his home to work, school and the beach is only one mile. "Work is so much better if you ride a bike there."
During free time, he, his wife and two daughters can often be found volleying a ball on a sand court (Eddie coaches beach volleyball). "All of my hobbies are centered around the beach," he says, shielding his eyes from the late-afternoon sun. "That's what I love most about living here."
"Here" is where he moved after college, even after spending the first few post-collegiate months traveling to places such as Hawaii and Central and South America. Much like Madelynn and Nathalie, Eddie was always drawn back to the Gulf. Upon making Gulf Shores his home, he opened his first gym in 2002. "I always knew I would live and work near a beach someday," Eddie says. "The location is amazing."
Beach Reunion
It's nearing sunset when the group gathers on the public stretch of beach just west of The Hangout. The scene is reminiscent of a family reunion — laughter, hugs, excited chatter and quick updates. There are no strangers here; they all know one another. That's the nature of being a business owner in a "small town." But the relationships cultivated amongst the group are perhaps most special to one in particular.
"Each person here has been instrumental in developing my business," Nathalie says, her eyes shiny with tears. "I met Eddie years ago, back before I was ready to settle down and focus on a healthy lifestyle," she says, now with a sheepish smile. She and Eddie, by way of Results Gym, "go way back." More recent is her relationship with Madelynn, a friend on whom she can rely, and with the Trohas, without whom she'd have no kitchen workspace.
Although Nathalie's specific connection to each business owner is unique, the others have similar stories. Stories of how they met at chamber of commerce events or during pop-up sales or catching waves. With such sincere camaraderie and support among the group, it's easy to wonder, does the adage, "A bad day at the beach is better than a good day at the office," apply when you work at the beach? The answer really doesn't matter, especially when you work near friends.