One of today's hottest trends in home décor is Pantone's 2014 Color of the Year: Radiant Orchid. "An enchanting harmony of fuchsia, purple and pink undertones, Radiant Orchid inspires confidence and emanates great joy, love and health. It is a captivating purple, one that draws you in with its beguiling charm, " says the company. Take a look at these ways to incorporate the lively color throughout your home with these inspiring options.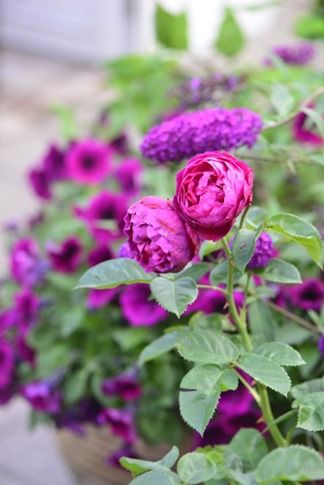 FRAGRANT FLORALS
Include a punch of purple in any room of the house with a beautiful arrangement of flowers. Peonies such as these stand alone and make a strong style statement without great expense or commitment. Accentuate purple hues with a sea glass or turquoise container. A cut crystal vase is an elegant choice for formal rooms or an intriguing juxtaposition for more casual spaces. Varieties such as "Candy Stripe, " a blossom that boasts abstractly brush-painted shades of orchid and white, and "Attar of Roses, " a solidly colored, richly ruffled blossom are exceptional choices.
Old Tyme Feed • 19580 S Greeno Road, Fairhope • 928-1156
POPS OF COLOR
A few bold accessories layered throughout a neutral room help create a playful contrast. The versatility of the hue allows you to pair it with warm colors like red and orange, as seen in the rug shown above, for a bright space or cool colors like blue and green for a more soothing feel.
Atchison Home • 921 Dauphin Street • 438-4800
HEALING POWER
Make cold and flu season a bit less dreary with this Broksonic Hybrid Ultrasonic Humidifier & Diffuser in the cheerful color of choice.
TABLE MATTERS
Tablescapes set with the gorgeous Anna Weatherley "Orchid" pattern are pretty, feminine and can be elegantly traditional or modern depending upon personal style. Play up tradition and complete the look with formal crystal and monogrammed linen napkins. For a contemporary take, pair with brown rattan chargers to create an earthy, casual atmosphere.
Zundel's • 3670 Dauphin Street • 334-8300
PURPLE HAZE
This room designed by Lindsey Coral Harper displays a fully committed color crush with raspberry lacquered bookcases and trim (don't forget to notice the rug!). Teamed with navy, white and silver, the effect is both breathtaking and boldly modern. I love the fabric chosen for the window treatments—the radiant orchid paint job works beautifully in this room and should a change of heart come round, the space can be easily reinvented without changing anything else. Stunning and smart design, my favorite! 
Find Valspar Pantone Universe paint at a Lowe's store near you.
WORK OF ART
For art lovers, dedicate some wall space to the color of the year. Mobile artist Sarah Otts' painting "Seek" covers the tonal range from wisps of blush to bursts of violet. The varied color palette and studied abstract stroke of this piece lend staying power beyond the year of Radiant Orchid. sarahotts.com
Lyons Share • 330 De La Mare Street • Fairhope • 928.2507
---
Text by Leighton Mosteller