Sarah Catherine Wright and Russell Douglas Goode were united in the Sacrament of Holy Matrimony at half past 6 o'clock in the evening on April 27, 2013 at the Cathedral Basillica of the Immaculate Conception. Father Steve Williams officiated. The bride is the daughter of Mr. and Mrs. Phillip Curtis Wright.
The wedding festivities began on Friday morning as the bridesmaids joined the bride for a luncheon, manicures and pedicures in Blakely Cottage at the Fort Condé Inn in downtown Mobile. The wedding party relaxed Friday afternoon amongst the charm of large elderberry trees, brick streets and quaint cottages.
Following the wedding rehearsal Friday evening, the Excelsior Band led the bride and groom, wedding party and family in a parade to the Mobile Carnival Museum for an after-rehearsal dinner celebration. The groom's mother, Susan Romine Goode, and Martin Abroms hosted the after-rehearsal party. Clifton Morrissette catered the event.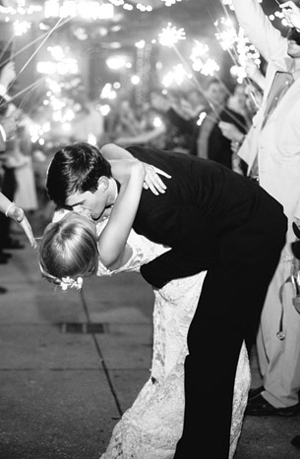 Given in marriage by her father, the bride wore a custom dress of imported French Alençon lace and tea-dyed silk designed and created by the mother of the bride. Her grandmother handmade the cathedral-length veil of the same lace. The bride chose her childhood friend, Alysia Girod Cramblitt, as her matron of honor. She was also attended by Kellie Boyles Eggl, Valerie Hope Goode, Kathleen Marie Guy, Kelly Colleen Keith, Melissa Girod Rew, Jennifer Girod Scott, Natalie Lanee Sessions and Holly Roselyn Smith. Flower girls Catherine Joanne Allen and Alya Elizabeth Romine joined the bride at the altar. The bride gave her attendants hand-carved Cornelian shell cameo pendants and bracelets from Torre del Greco, Italy, which were worn during the wedding ceremony.
The groom chose his grandfather, Mack Henry Romine, and childhood friend, Dustin Bryant Quillen, as his best men. The groom was also attended by Andrew Todd Romine, Curtis Austin Wright, Phillip Johnson Peterson, Derrick Wade Rogers, Thad Dean Perry, Aaron Kyle Mates and Neal Mukul Kumar. Ring bearers John Reginald Allen IV and Hunter Cody Romine joined the groom at the altar.
At the first public appearance as Dr. and Mrs. Russell Douglas Goode, they shared their first dance to "Our Love is Here to Stay" to kick off a night of celebration with The Tip Tops at the Courtyard Manor. The bride's five-tiered cake was created by Couture Cakes, and the groom's cake was a peanut butter dobash cake by Pollman's Bake Shop. Clifton Morrissette provided catering for the wedding reception.
Kellen Jacob Photography was there to capture the magical evening. The bride and her attendants' hair was done by Lisa Graham of Coiffure Chic and their makeup was by J. Edward. Donna Swan transformed the manor into a magnificent French garden.
Sarah and Russell celebrated their new life together on a honeymoon on Providenciales Island in the Turks and Caicos and currently reside in Mobile. 
---