Just a hop, skip and a jump away from Bay Minette, rests scenic Stockton. The quaint little town may seem insignificant on a map, but it is an idyllic spot for those seeking to escape the city and enjoy breathtaking views of Delta landscapes and wildlife. Here, you can relax on a pier overlooking the picturesque Tensaw River, hunt and fish to your heart's content, enjoy a fresh country feast, attend a historic church's morning service, or ride a four-wheeler till the cows come home.
Eating Like a Local
To begin your excursion, fuel up at the Stagecoach Café. A day in Stockton should involve no fewer than two trips to the eatery: one at lunch and one at dinner. The charming family-style restaurant's menu, which features fresh Gulf seafood and hearty country classics like crispy, succulent fried chicken, is as diverse as the people who take the nearby I-65 North exit simply to dine here.
"Eating at Stagecoach is a tradition, " says Janie Paul, who manages the place that has been open since the early '90s. "People stop in on their way to the beach or a football game. We have some customers who drive here seven days a week from Mobile to eat."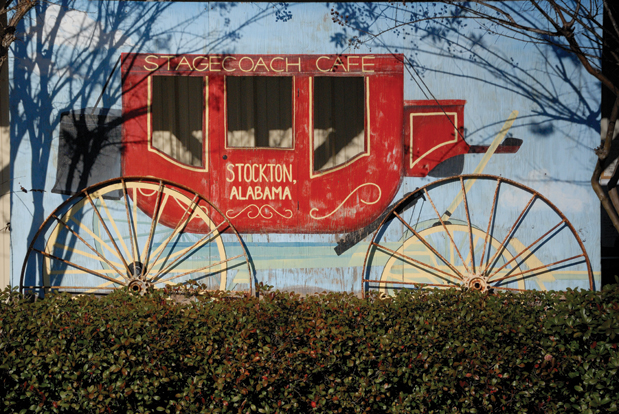 Regulars have been flocking to the Stagecoach Café ever since the classic meat-and-three eatery opened back in the 1990s. The restaurant gets its name from the old stagecoach stop that once called Stockton home.
 
Boredom isn't an option on this menu. If you're really hungry, tackle the buffet, which will satisfy even the most Herculean of appetites. It offers nothing but fresh heaps of home-style meats and vegetables, like fried pork chops, delicate sweet potato soufflé and tasty squash fritters, all piping hot under a giant covered wagon. Save room for coffee and desserts, such as creamy buttermilk pie (regular or chocolate), peach cobbler hot from the oven, or a homemade brownie topped with ice cream and chocolate sauce.
Hospitable servers donning T-shirts that proclaim "Let us spoil you!" make lighthearted conversation with guests while topping off their glasses of sweet tea. Customers mingle around the country-style tables and red plaid tablecloths discussing the latest town happenings. Others sway in the front porch rocking chairs, visiting before they go their separate ways.
Stagecoach Café • 52860 State Highway 59. 580-0608.
Taking in the Sights
After lunch, it's time to tour the town. The Baldwin County Bicentennial Park is a 367-acre area on state Highway 225 that holds mini-museums exhibiting what Native American and settler life was like in that area in the 18th and 19th centuries. Small houses with antiques and artifacts on display offer families a unique opportunity to learn about the county's history, and the park has plenty of play space for energetic youngsters. Each April, the park is home to the annual Old Time Country Festival, featuring quilting showcases, early model tractor displays, chainsaw woodcarving, blacksmith demonstrations, a petting zoo, farmers' market and plenty of good, old-fashioned small-town charm.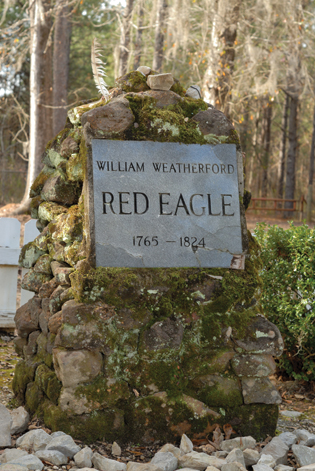 LEFT History buffs will enjoy a visit to see the grave of William Weatherfod and historic Fort Mims. 
RIGHT A 19th-century country store is one of the many charming historic structures that make a trip to Stockton an adventure back in time.
 
History buffs, don't leave without a pit stop at Fort Mims, the replica of the fortification where a bloody battle ensued during the Creek War that resulted in the deaths of hundreds of settlers, militiamen and Native Americans. There, visitors may learn about fort life or share a picnic at covered wooden tables. This summer marks the 200th anniversary of the attack, and a commemoration and living history reenactment with cannons, skirmishes and encampments will take place on August 29, in Tensaw, 12 miles north of Stockton.
Other possible stops on your journey include the Kennedy Mill, Alabama's first sawmill, opened by Joshua Kennedy in 1811; and the Bottle Creek Indian Mounds, a Mississippian town site that dates to  circa 1100 to 1400.
Baldwin County Bicentennial Park • 51233 State Highway 225
Fort Mims State Historic Site • County Road 80. 533-9024.
Exploring the Great Outdoors
Stockton also provides a bounty of unspoiled land with quiet respites for hunting, not to mention lots of accessible riverfront for fishing and other activities. Those who pine for water recreation can get their fill at any one of multiple boat landings: Live Oak Landing, Lower Bryant Landing, Holly Creek Landing, Dixie Landing and Hubbard's Landing, as well as others. For fitness fiends, the popular new Delta Dash 5-K obstacle course race challenges participants to test their toughness and endurance in the rigors of a mud crawl, creek wading, mega slip-and-slide and more, from Lower Bryant Landing through the local wild.
LEFT Each December, the Stockton Civic Club organizes a homes tour, where beauties like this Antebellum house go on display.
RIGHT From canoeing to horseback riding, Stockton offers endless options to lovers of the outdoors.
 
More leisurely outdoorsmen will enjoy paddling along a segment of the Bartram Canoe Trail, named for botanist William Bartram's route where he charted the flora and fauna throughout the South in the late 1700s. There are even opportunities for camping out under the stars along the waterway's raised platforms. The Baldwin County Commission also plans on developing Live Oak Landing, which is especially scenic, into a handsome campsite for gaming, boating and camping enthusiasts.
"You come here to be outdoors, " Paul says. "If I had a day off in Stockton, I would sit on my pier and stare at the water." 
Delta Dash • deltadash.org
Bartram Canoe Trail • outdooralabama.com
LITTLE-KNOWN FACTS
• Stockton is home to the oldest barn in Alabama at Morris Farm, where the 12th Regiment of the Confederate Army supposedly shod their horses.
• One of the "Friday the 13th" movies was filmed here.
• The Ellicott Line, which was the first Southern boundary of the U.S. and served as the divider between Spanish and U.S. territories, runs right through town.
---
text by Daniela Werner • photos by Kathy Hicks