When Lynn and Jason Cooper bought their Fairhope house as a newly married couple, their immediate goal was to create a great-looking haven enjoyable for years to come. They were first attracted to the layout of the residence – a ranch-style floor plan married to modern architectural details – and then to the spacious living room. They knew almost instantly that this was the place they'd call home. A real estate agent herself, Lynn could see beyond the magenta and green paint that bathed the walls at the time and could visualize what it would become.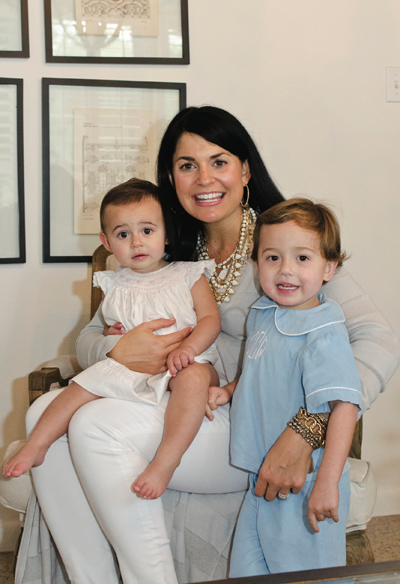 Lynn and her children, Maddie and Cain.
After purchasing the house, Lynn and Jason spent most of their time in the large, naturally illuminated living room. Fast-forward to seven years and two young children later, the family "lives in" the den just off the kitchen. Lynn's wise renovation decisions – opening a wall to create more counter space and bar seating, adding cabinets and a pantry for storage, changing a spice pantry into a wet bar and more – have helped the couple utilize the spaces well through varied stages of life. Today, the flow of the kitchen and den allows her to keep a watchful eye on the little ones while cooking dinner.
Following her instincts and shepherded by Boxwood Home and Garden owner Fran Cobb, Lynn invested in statement pieces of art for the children's rooms, which ultimately steered the design. For son Cain's bedroom, Lynn commissioned local artist Amanda Hendrich for the painting "Birds on a Wire." The artist's palette incorporated shades of blue and gray for the boy's space.
In daughter Maddie's nursery, a ballerina painting,
"She Dances, " by Houston artist Rachel Schwind, served as inspiration. The art is sophisticated enough to extend to Maddie's adolescent years and beyond. Accents, such as pillows and other accessories, accommodate a span in ages as well. As young ones develop their own opinions on decor, these items are easily edited.
"Our home isn't a huge space, so as a general design rule, we had to think of accessible, functional solutions for the children that were also aesthetically pleasing for us, " Lynn says. Intentional elements, such as a unifying neutral palette, smart organization in the kids' rooms, hidden storage in the hall, concrete counter tops and terrazzo flooring help keep messiness at bay. Grasscloth wall coverings in the high-traffic hall and foyer and cork wallpaper with metallic detail in a powder room keep adult style and family function on a level playing field.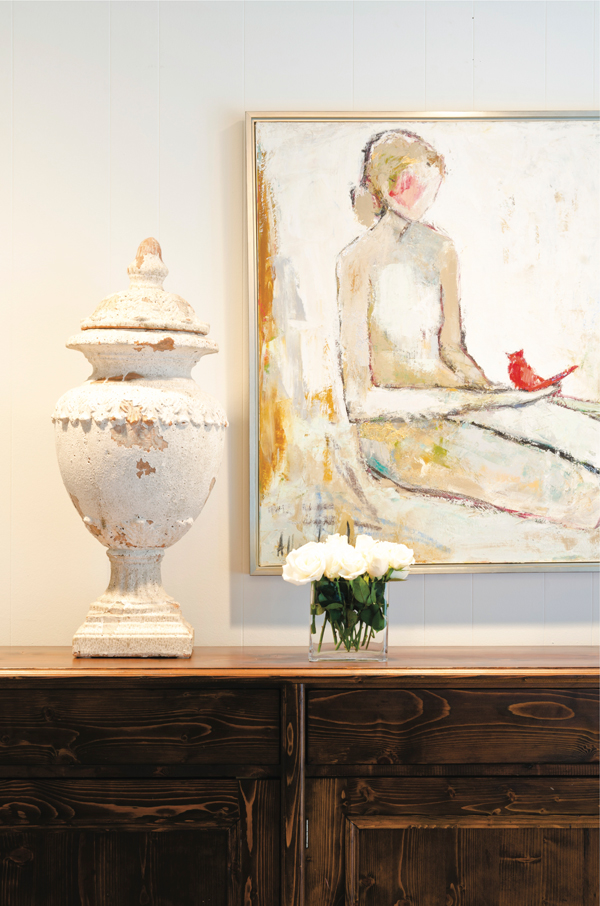 ABOVE LEFT Fran's advice to invest well and forgo clutter reads perfectly in this vignette. A large urn compliments the textured painting "Take Flight" by artist Amanda Hendrich.
ABOVE RIGHT Slipcovers are a chic, inexpensive way to repurpose furniture.
Pointers from the Designer
Fran Cobb deftly helped Lynn pull rooms together with designer style while respecting a young family's budget. Here, Fran offers tips for achieving similar polish in your own home.
1. Embrace pleather. "In Lynn's dining room we recovered the chairs with pleather, because it looks chic, is very economical and wipes clean, " Cobb says. Another material to try is marine vinyl.
2. Simplify with slipcovers. White canvas is an uncomplicated way to achieve a relaxed look. Not to mention, slipcovers are easy to keep clean and reasonably priced.
3. Choose a neutral palette. "Lynn really designed much of her home herself; she has great taste. The neutral palette she naturally gravitates toward allows bolder accessories to really pop, " Cobb says.
4. Invest in great art. "Using art to anchor rooms is an excellent place to start. Allocate other monies toward throw pillows, " Cobb adds. You can easily change the look of a room by moving or changing pillows and accessories, and it's much more affordable than replacing furniture.
5. Use what you have. Lacquering old furniture with white paint creates a crisp, clean look. The high shine gives traditional pieces a modern edge.
6. Clear the clutter. "Fran helped me realize that you don't need a lot of stuff, " Lynn says. Invest well in a few nice things, and let the absence of knick-knacks in every nook bring calm to your home.
ABOVE Lynn's dining room is light and airy. The elegant yet comfortable furnishings allow for either casual or formal entertaining.
ABOVE AND BELOW LEFT The kitchen and wet bar are aesthetically pleasing, as well as worry-free with the children, thanks to custom concrete countertops and terrazzo flooring. The countertops, concrete mixed with gray paint and then sealed, are stain-proof, heat resistant and lend a cool, utilitarian vibe. Now entertaining is a cinch as traffic flows smoothly while guests gather in the den or on the patio.
ABOVE RIGHT The consistent decor of Lynn's well-planned home office makes for a beautiful and functional workspace. A bold, abstract canvas adds a refreshing jolt of color.
ABOVE Note the placement of art and accessories throughout the house. Coupling a sentimental accessory with a touch of nature infuses both elegance and calm within each room.
ABOVE In Maddie's room, a classic, white iron crib, a modern, silver branch-inspired side table and a plush, geometric-printed, upholstered glider exemplify how beautiful blending styles can be. Soft ivory drapes and a cushy white throw contribute instant refinement.
ABOVE LEFT Books and accessories, such as a ceramic cross and bunny figurine, complete the sophisticated look.
ABOVE RIGHT Lynn collected graceful, mature furnishings for Maddie's bedroom. A contemporary chest, an elegant scalloped headboard and an ivory shag area rug will transition the space as she grows up.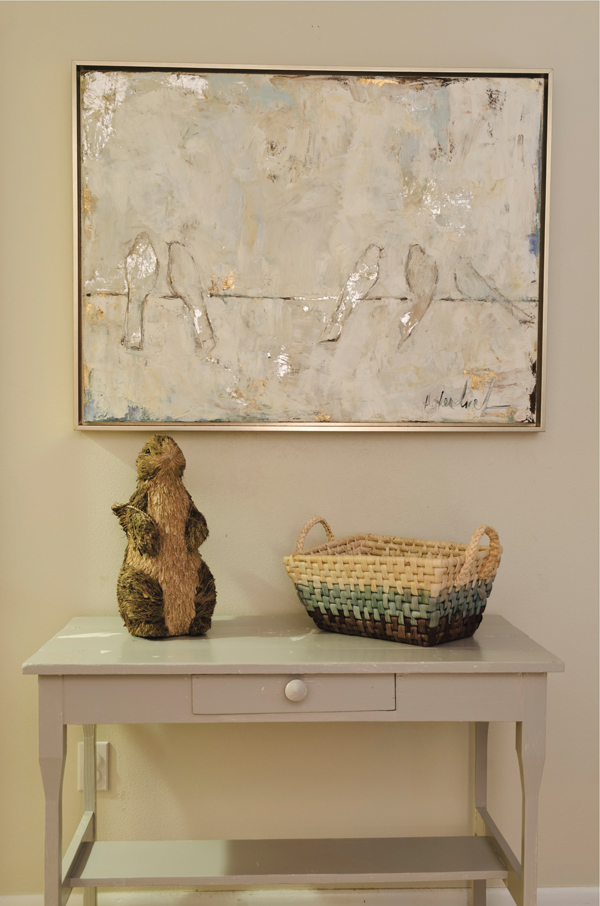 ABOVE Statement art pieces add sophistication, even in the children's rooms. In Cain's space, soothing neutral tones of gray, white and bisque lend an approachable, serene air, while the use of refined tones of pastel blue and monogrammed linens personalize it for a little boy.