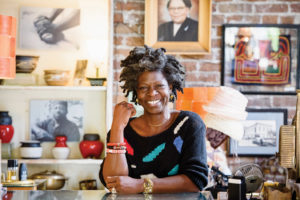 There is much to see at the corner of Conti and Joachim streets, especially at lunchtime. That's when the concrete junction bustles with the corporate-types, hungry for open air and food, and less-hurried window shoppers, looking to ogle, linger and satiate their desire for a good deal. From behind the authentic 1800s National Cash Register, tucked inside BackFlash Antiques, storeowner Charlana Thomas Quiovers has a front-row view.
The doors to the store are propped open, and riding in on the coattails of a cool breeze saunters a hipster type with short, dark hair, somewhat conspicuous and clearly on a mission. "I'm told you're the one around here to ask," the mysterious woman says to an equally hip Charlana. She's on the prowl for a man's bolo and '80s vintage wear.
It is clear Charlana has each piece of inventory mentally cataloged and mapped, as she makes a beeline to one of the many display cases teeming with bejeweled relics of yesteryear. Out comes a variety of corded neckpieces, and the woman — who later reveals herself as a costume designer for the upcoming movie, "Arkansas" —  chooses one she thinks befits actor Vince Vaughn's cinematic role.
This isn't the first time Charlana has been sought out for her vintage flair — or her first brush with celebrity. In 2016, music icon Lenny Kravitz visited her shop and left with clothing and jewelry as unique as he.
Although there are plenty of racks to scour, BackFlash isn't just a clothing store. There's furniture, dinnerware, turntables, typewriters, tchotchkes and really just too much to list. Charlana has spent the majority of her life cultivating the selection.
FLASHBACK
"I wanted to be a mad scientist when I grew up," Charlana says. She's got a very convincing cackle to prove it. Enamored by all things science — and realizing "mad scientist" positions weren't readily available — Charlana tried her hand in the medical field. But nursing wasn't quite her niche. She later found work with an aviation company, doing wire diagram schematics. Despite being laid off, she still wasn't convinced her love of vintage, a niggling she'd felt since her teens, would sustain her. The general attitude of the late '90s was that you couldn't make a career doing the thing you loved.
And Charlana knew her passion was vintage. Perhaps her affinity started as a child at her maternal grandmother's home, when she would lie in bed under heavy quilts, listening to the fire roar in the hearth. It was only after her grandmother's death that Charlana's mother discovered her daughter's interest. "My mom said she would have saved all of my grandmother's old stuff if she had known," she remembers, poignantly.
FLASH OF GENIUS
When asked to describe herself, Charlana laughs, but even a casual observer could discern her tenacity, a trait she no doubt got from her parents — two of the first black schoolteachers in Mobile. Although she worried that antiques could not financially support her, Charlana tested the market in barbershops, selling vintage men's clothing. Her first sale was a leather jacket, sold to the tune of $55. She was hooked but still not convinced it was a smart career choice.
Looking to gain confidence, Charlana moved to Tampa, a place where she says she felt no pressure to get a "real job." While working in a thrift store, she honed her gift for curating. But she knew there was more, saying there was a time when she felt God say, "You're going to have your own store, and it's going to have lots of colors."
BACK TO BUSINESS
"I know I'm not here by chance," Charlana says, as she watches the costume designer add to her mounting pile of '80s garb. "It was God's plan." And part of that plan includes loving people. "I'm an introvert, so I'm in my own headspace a lot," she explains, "but God put people in my path, and I'm here to show them love."
As more customers drift in, some eye the entryway sign that proclaims, "If you're reading this, I love you." Charlana says some people just stop in to reciprocate the sentiment, but sometimes she does a lot of listening. People just want to be heard.
And the best place for it? The store with lots of colors at the corner of Conti and Joachim streets.