Photo by Elise Poche
1. Ribs from J. Rodgers Barbecue
J. Rodgers Barbecue has been a Saraland staple for more than 22 years. The big fat two-rib barbecue plate with sides and bread for $8 is one reason why. J. Rodgers Barbecue • 1444 Industrial Parkway,  Saraland. 
Photo by Blair Merrills
2. Brisket Nachos from Cotton State BBQ
No one does brisket quite like Cotton State. Pile it on top of nachos if you're feeling extra dangerous.
Cotton State BBQ • 101 N Conception St.
Photos by Todd Douglas, Elise Poche
3. Fried Chicken from Mama's on Dauphin
Mama's delicious chicken sits overnight in a brine containing garlic, bay leaves and seasoning salt before being tossed in a spectacular seasoned flour mix. To try this little piece of heaven, head to Mama's on Mondays and Wednesdays. Mama's on Dauphin • 220 Dauphin St.
4. Spaghetti with Meatballs from Roma Cafe
This isn't your grandma's spaghetti and meatballs…it's so, so much better. Order yours and dine al fresco at Roma's large outdoor dining space. Roma Cafe • 7134 Airport Blvd. 
Photo by Blair Merrills
5. Chicken Pad Thai from Von's Bistro
A slightly fiery version of the classic dish with sticky sweet rice noodles, heaps of egg, a generous sprinkling of bean sprouts and a smattering of crushed peanuts. Top yours with chicken, beef, shrimp or crab. Von's Bistro • 69 Saint Michael St.
Photo by Nicole Quinn
6. The Full Monte' Burger from Montego's 
A pound and a half of Angus beef, crowned with a host of toppings, including bacon, cheese and a slice of grilled, marinated pineapple. Bonus points if you finish the whole thing. Montego's Cafe and Caribbean Bar • 225 Dauphin St. and 6601 Airport Blvd.
Photos by Elise Poche
7. Shrimp and Scallop Geonese from Via Emilia
Jumbo shrimp and scallops swim with fresh pasta,  lemon, butter, pesto and diced tomato in a crisp pinot grigio sauce. Yummmm. Via Emilia • 5901 Old Shell Rd.
8. Gumbo over Cheese Grits from Cream & Sugar
Order these "soon to be famous" grits for breakfast, lunch or both. They're that good. Cream & Sugar Cafe • 351 George St.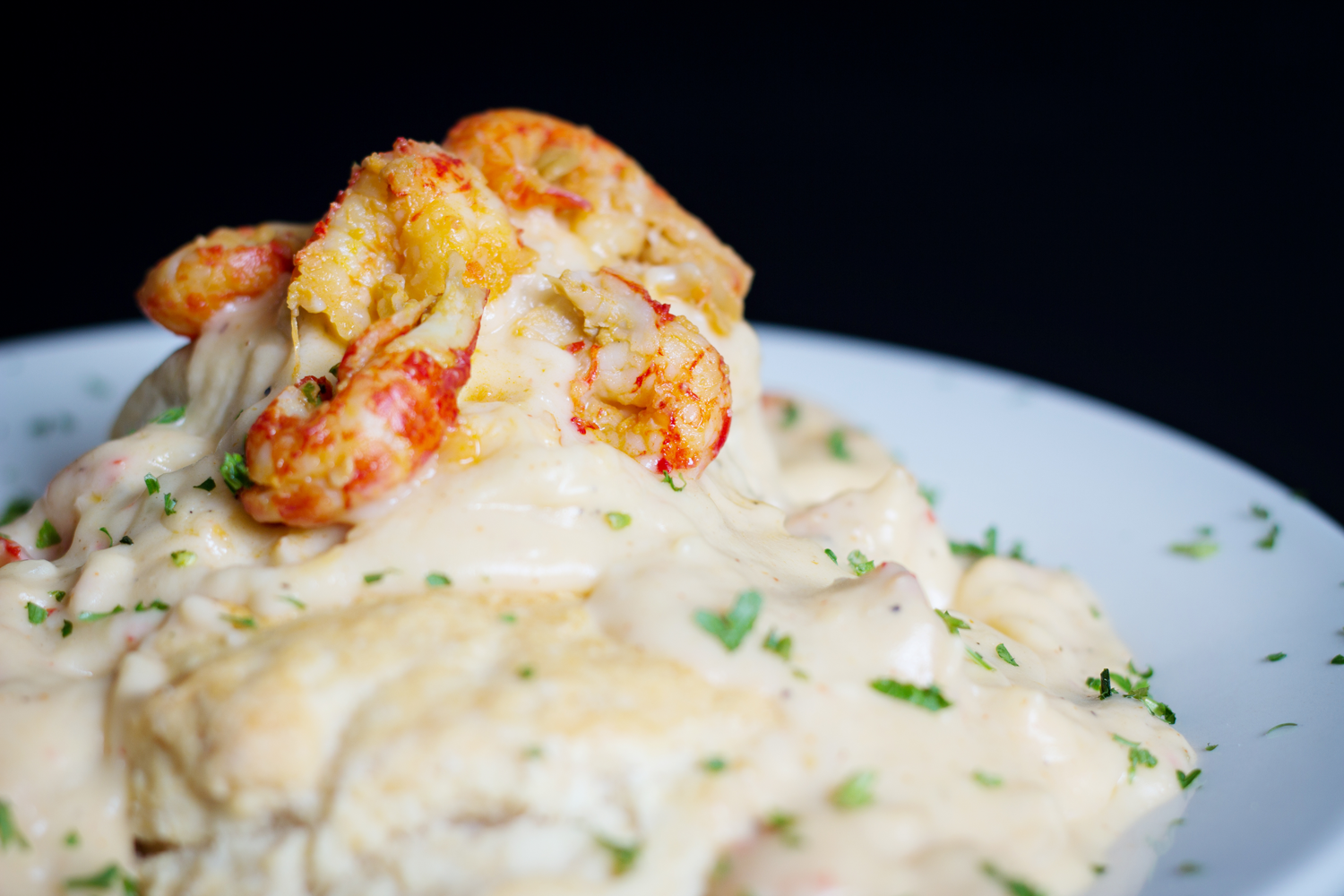 Photo by Nicole Quinn
9. Crawfish Gravy from R Bistro
A lovely warm biscuit topped with R Bistro's signature crawfish gravy is a dream come true for any Southern gourmand. R Bistro & Pastry • 334 Fairhope Ave., Fairhope.
Photo by Blair Merrills
10. Baked Avocado from Five
Half of a warm avocado is stuffed with a savory, crunchy combo of shrimp, bacon and crispy tempura drizzled with creamy, spicy aioli and Asian-influenced soy reduction. Five • 609 Dauphin St.