Photo by Elise Poché 
1. DISTRICT SALAD
Fresh spinach, kale, cabbage, carrots, cucumbers, tomatoes, avocado and onions are generously sprinkled with crunchy sunflower and pumpkin seeds and served with a lovely, creamy,  sprightly mustard vinaigrette. Adding a topping of Gulf shrimp is a no-brainer.
Warehouse Bakery & Donuts • 759 Nichols Ave., Fairhope. 928-7223
Photos by Elise Poché, Jeff and Meggan Haller 
2. TWITTY PANINI 
Warm turkey is topped with thick, crisp bacon, avocado slices, melted Swiss cheese and ranch dressing on grilled, pressed wheat bread. This sandwich is hearty, delicious and ideal for a quick lunch near the Grand. 
Two Sisters Bakery & Deli • 19452 Scenic Hwy 98,  Fairhope. 517-0622 
3. MARDI GRAS DOG
Let the good times roll with a 10" all beef dog on a fresh baked roll with sweet relish, diced purple onion, comeback sauce, sriracha sauce and peppadews.
Old 27 Grill • 19992 State Hwy 181, Fairhope. 281-2663 
Photo by Elise Poché 
4. SEARED TUNA TACO
Seared sushi-grade tuna shares a flour tortilla with wasabi crema and fried jalapeños, a heavenly combination that seriously brings the heat. A final drizzling of tomata edamame salsa and this taco is table-ready.
Dragonfly Foodbar • 7 S. Church St., Fairhope. 990-5722
Photos by Elise Poché 
5. BBQ GULF SHRIMP
Sautéed shrimp, served in a Creole butter sauce with a side of grilled French bread, is the perfect appetizer or light lunch bite. Pair with a cocktail and enjoy the view.
Cobalt • 28099 Perdido Beach Blvd., Orange Beach. 923-5300
6. SESAME SEARED TUNA SALAD
This popular dish features a sesame-seed-coated 6-ounce filet of yellowfin tuna that is seared and served over a bed of mixed greens and tossed with dried cranberries, toasted sunflower seeds and a gingered soy vinaigrette. The flavor-packed salad is topped with crispy glass noodles, making it look as good as it tastes.
Cosmo's Restaurant and Bar • 25753 Canal Rd., Orange Beach. 948-9663
Photo by Elizabeth Gelineau 
7. MORE IN THAN OUT BURGER
This burger is served "double double animal style" with two mustard-seared patties of natural Wagyu beef. The meat is topped with homemade Anchor Steam Beer mustard, tomato jam, caramelized onion jam, American cheese, shredded hydroponic iceberg lettuce and a Thousand Island-style sauce. Add a buttery grilled challah bun, locally made of course, and you have a serious winner.
Anchor Bar & Grill • 4575 S Wilson Blvd., Orange Beach. 200-0250
Photos by Nicole Quinn,  Elise Poché 
​8. SEARED JUMBO SCALLOPS
Golden, lightly crisp seared jumbo scallops are paired with tasty roasted cauliflower and shards of red onion in a satiny browned butter with a delightful lick of freshness from a mint- and parsley-laced ginger herb salad.
Fisher's at Orange Beach Marina • 27075 Marina Rd., Orange Beach. 981-7305
9. BUSHWACKER
​Trying to put the Pirate's Cove bushwacker into words is nearly impossible. All we'll say is alcohol and ice cream is a sinfully divine combination.  
Pirate's Cove • 6664 County Rd. 94, Josephine.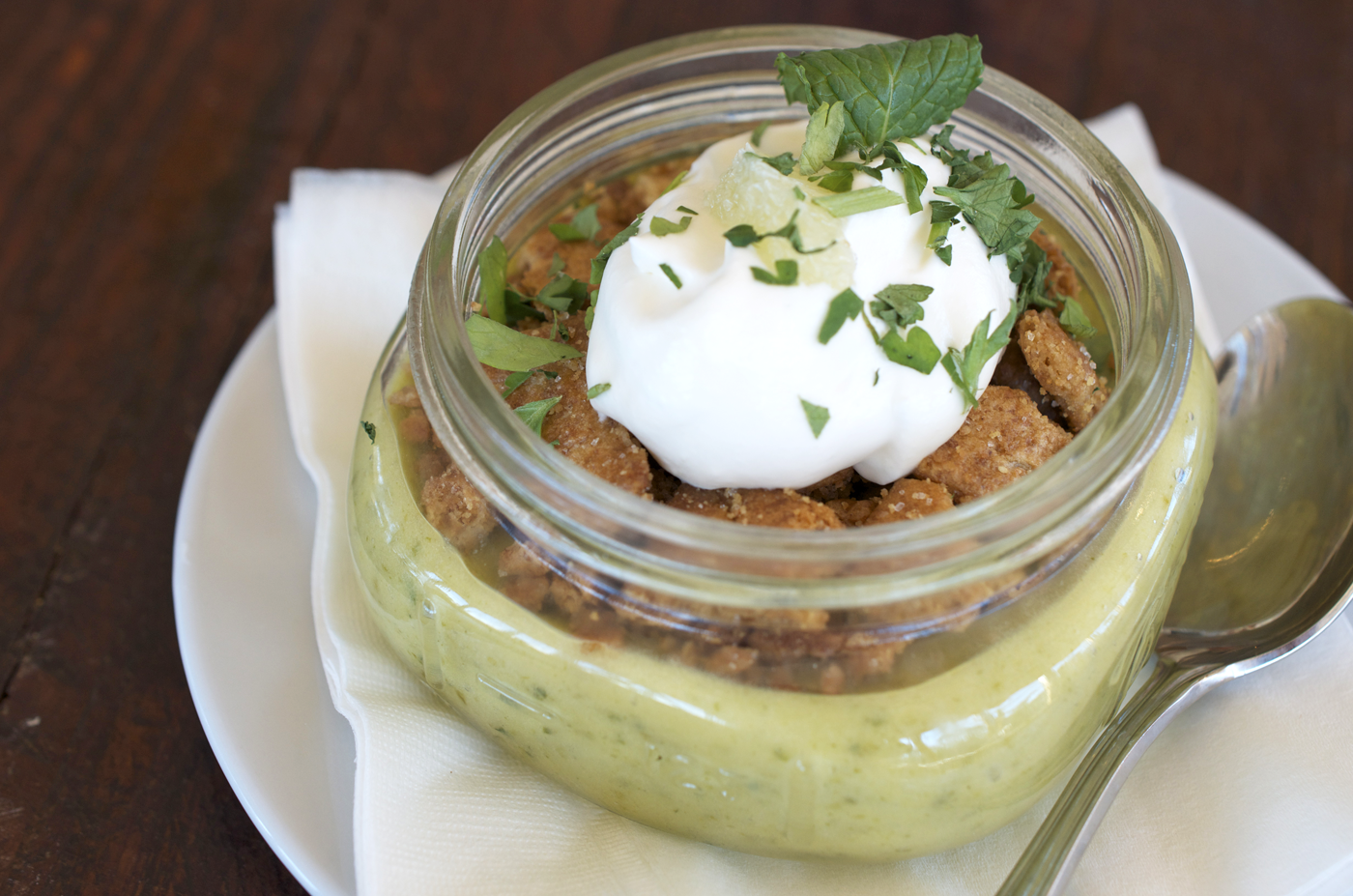 Photo by Blair Merrills 
10. MASON-DIXON LIME CURD
In this deconstructed Key lime pie, tangy, creamy lime curd is served in a jar with crushed graham cracker crumbs and fresh whipped cream. Dessert calories don't count on vacation, right? 
Sunset Pointe • (Inside Fly Creek Marina) 831 N Section St., Fairhope. 990-7766
---