ABOVE The Smith family gathers on the front stoop, surrounded by flocked wreaths, poinsettias and garland. Pictured are Page and Richard Smith, Skinner, 4, Hollins, 5, and Redford, 1. Santa will be bringing presents to new baby boy Sterling (not pictured) this Christmas.
Page and Richard Smith's Christmas tree was sort of pitiful their first year of marriage. Page always decorated her family's home as a teenager when the holidays rolled around, but that first year in her own home slipped by without much fanfare. She set out to change that by their next anniversary, collecting Christopher Radko ornaments to fill the family tree. Every year, she buys a new one for the family as well as a Radko birthday ornament for her oldest daughter Hollins, whose birthday falls during the holidays. "One day when she has her own home, she will have a collection of beautiful ornaments to decorate her first tree, " Page says.
Page is resourceful and creative, opting to make almost everything that decorates her house with her own hands. During those early years of marriage, she pilfered her husband's collection of deer antlers and found greenery and feathers to fill the tree and mantle. These days, the house overflows with gilded touches here and there, stuffed pheasants and shimmering ornaments. Her Radko collection has outgrown the 10-foot-tall tree so much that she has had to move on to a new collection: nativities. "I love to decorate for every holiday, but Christmas really takes the cake." She begins decorating early and has as many as six trees throughout the house. Each child has a tree in their room with a unique theme. Hollins has a hot pink Candy Land-themed tree, while younger brother Skinner's features shotgun shells and a plaid skirt: "A real traditional Southern boy theme." There is a more casual tree in the family room covered with the kid's art, and a tabletop tree in the foyer that has handprints in clay from all four of the children's milestone ages.
Page frames a picture of the kids with the man in red from the Grand Hotel's Breakfast with Santa every year to bring back Christmas memories of this growing family — they have added a new baby boy since last December! Santa will have a few more presents to leave under the Radko tree this year.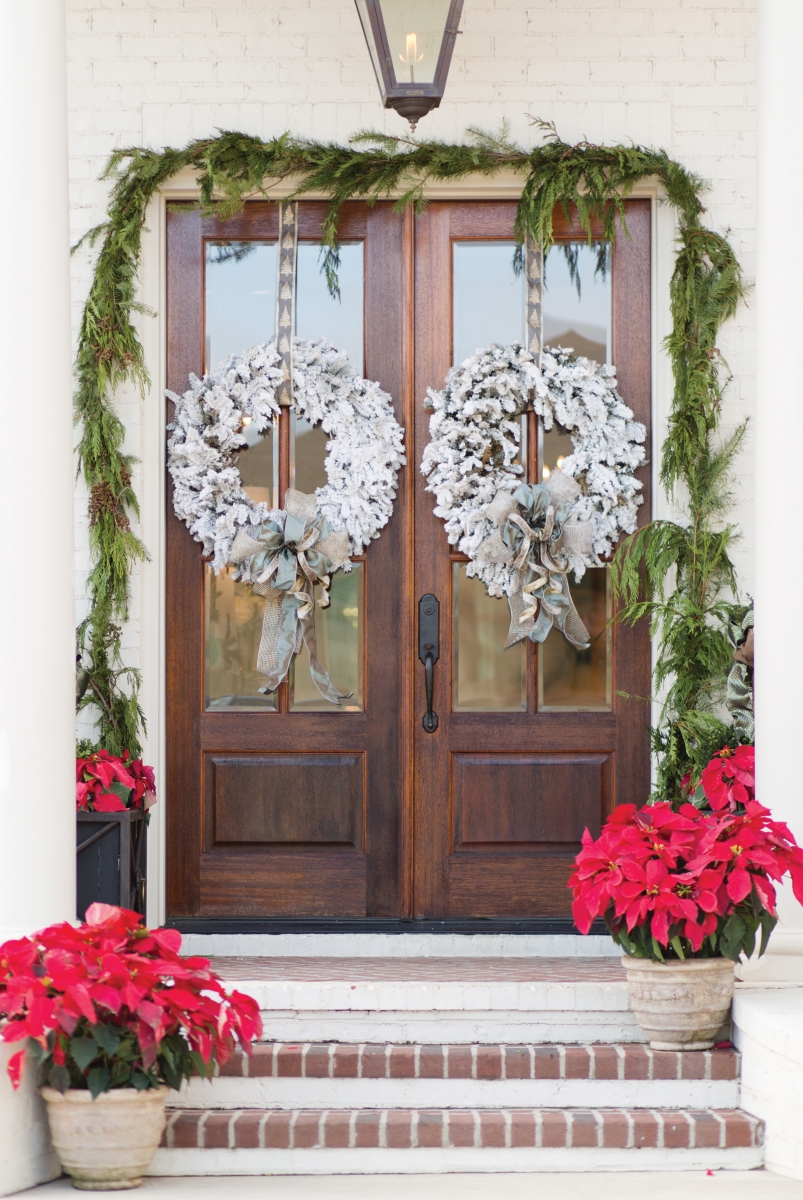 ABOVE A pair of flocked wreaths on the front doors of the Smith home welcomes guests with holiday cheer. The bows were created by Wildflowers in downtown Fairhope.
ABOVE Every time Page declared she was finished donning the flocked tree, she came back and added another layer of holiday treasures. Pheasant feathers, real deer antlers, fresh-picked greenery and ribbons were all hand-wired onto floral stakes and arranged perfectly inside the boughs of the tree. Page plans a gift wrap scheme each year so that all the presents under the tree are perfection.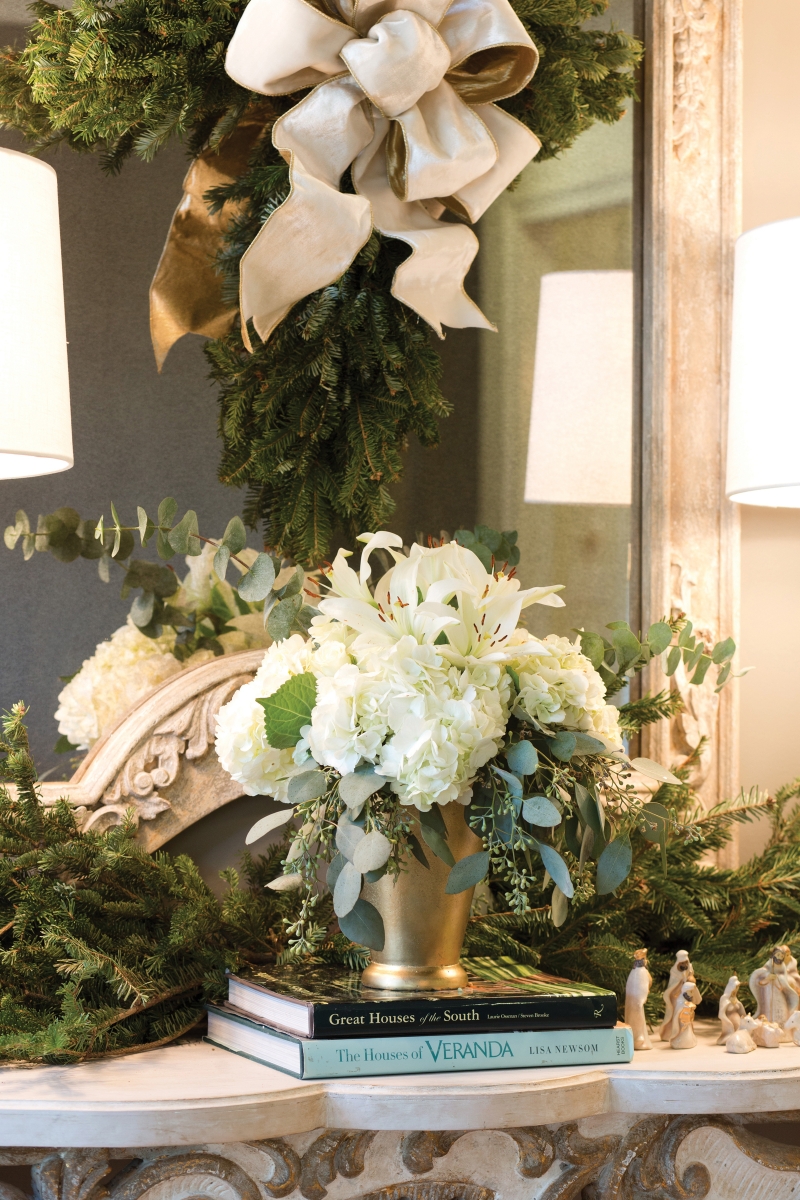 ABOVE The entryway console displays a fresh greenery cross from Fish River Christmas Trees. Page wires together fresh boughs to make her garlands by hand.
ABOVE A delicate nativity scene is tucked amongst the evergreen.
ABOVE The neutral backdrop of the Smith's French Country home makes the perfect canvas for holiday decor. Page fashioned the garland atop the fireplace mantle by hand with greenery she gathered at a Christmas tree lot. It is accented with real deer antlers, pheasant feathers and pinecones Page spray painted gold. Magnolia leaves are a classic Southern decorating go-to.
Resources
Christmas Round the Corner • 398 Fairhope Ave., Fairhope. 928-8822
Fish River Trees • 13982 Woodhaven Dairy Road E., Summerdale. 988-8114
Hazel's • 26751 US HWY 98, Daphne. 626-9939
Wildflowers • 50 South Church St., Fairhope. 928-6200
---
text by maggie lacey • photos by elizabeth gelineau