Two sisters-turned-design-partners share how to add balance to your home décor by mixing it up and layering it on.
8 festive ways to add a touch of classic beauty to your holiday season
Three Downtown eateries come together in one kitchen to craft an unforgettable meal for a good cause.
This cognac, rum and ginger beer concoction will make for a thankful crowd.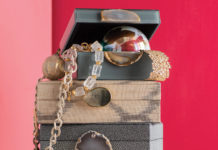 Shopping local has never been easier with over 100 great gift ideas for everyone on your list.
Stewart Perkins puts his MBA to work managing a simple, natural life on the land.
This tall glass of fall is served over ice but warms the spirit. Store-bought ingredients give layers of flavor in a flash.
Spring Hill's much-anticipated new breakfast spot
Jessica Norwood is a powerhouse of change, making great strides — not just in our local community, but across the nation — to end the racial wealth gap by creating new ways to help minority entrepreneurs get start-up capital.
A potluck gathering is just what the potter ordered.