Two Louisiana transplants bring the vernacular of the river parishes to the architecture of their new home in south Mobile.
Mobile's favorite steak house shares their take on the heavy-hitter's martini.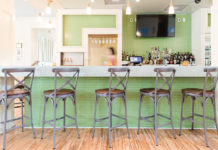 The new brainchild of Alabama's former executive chef, Jim Smith, opens in the Oakleigh Garden Historic District.
Chef Jeremiah Matthews, owner of Daphne's Southwood Kitchen, proves that dinner is best when fresh off the hook or hunt.
Trust us - you'll want to double, or triple, this fizzy recipe.
Designer Caitlyn Waite brings two dining rooms to life — each with its own unique style and rivaling the other in panache.
Two sisters-turned-design-partners share how to add balance to your home décor by mixing it up and layering it on.
8 festive ways to add a touch of classic beauty to your holiday season
Three Downtown eateries come together in one kitchen to craft an unforgettable meal for a good cause.
This cognac, rum and ginger beer concoction will make for a thankful crowd.