Two coastal entrepreneurs connect locals to fresh, local seafood through their business, Fairhope Fish House.
Summertime hosting has never been easier. Just follow these effortless entertaining tips from the ultra-stylish Elizabeth Damrich.
Designer Katherine Goldman makes a dramatic statement in this Fairhope foyer with a refreshing pop of bold color, and she shows you how to achieve the look.
Daphne's Amy McDonald hosts an annual Kentucky Derby soiree, complete with red roses, betting pools and sweeping views of Mobile Bay.
One Cuban exile never forgot her childhood as the daughter of a prosperous sugar miller, spending most of her life yearning for that homeland and sharing its culture with all who would listen.
With pandemic restrictions easing and everyone eager to gather with friends, hostess Beverly Smith shares creative solutions for safe serving.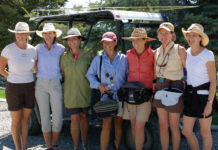 A group of south Alabama women head to the Montana mountains for an incredible fly fishing trip, finding adventure that feeds the soul.
Find some of the Bay area's best barbecue at a little house on Florida Street in Midtown.
One Mobilian spent her life channeling anger into energy, ultimately triumphing over tragedy, using her passion for the arts to promote equality.
Whether paring down this holiday or looking for unexpected ways to add festive bright spots around the house, tabletop trees are the perfect touch.