Spring Hill's much-anticipated new breakfast spot
Jessica Norwood is a powerhouse of change, making great strides — not just in our local community, but across the nation — to end the racial wealth gap by creating new ways to help minority entrepreneurs get start-up capital.
A potluck gathering is just what the potter ordered.
Take a step back in time with this pre-Prohibition raspberry gin cocktail.
LoDa's new gastropub offers a nod to Mobile's historic food culture.
The perfect summer spritzer for the dog days upon us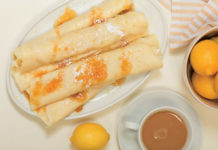 Celebrate Mobile's French heritage by mastering the art of the crepe.
A Midtown family shares love with their neighbors, one meal and glass of lemonade at a time.
Spanish Fort's new container park is a treat for every palate.
Your grill can dominate more than just burgers and steaks. Give these unexpected grilling ideas a try this weekend.