Take the mess out of the equation with this easy no-fuss family dinner idea.
A family home in Spring Hill gets all the right touches with the help of architectural designer Robert McCown and interior designer Ann Inge.
Celebrate Cinco de Mayo with a refreshing cocktail. A little mezcal keeps it interesante.
Get a little taste of summer with this Bahamas-inspired drink.
Peek behind the vault door into Las Floriditas, Mobile's new speakeasy.
Plop down in the sand for a sunset dinner designed to complement outdoorsy days.
An easy weeknight meal that will put that stock of canned goods to good use
Two Louisiana transplants bring the vernacular of the river parishes to the architecture of their new home in south Mobile.
Mobile's favorite steak house shares their take on the heavy-hitter's martini.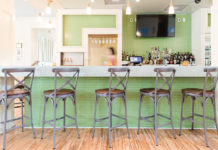 The new brainchild of Alabama's former executive chef, Jim Smith, opens in the Oakleigh Garden Historic District.