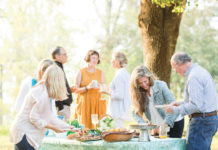 Residents of a small neighborhood, perched on a cliff overlooking Mobile Bay, gather for sunsets, snacks and a sense of community.
This Gulf Shores eatery runs the gamut, from BBQ to acai bowls.
Foncie and Joe Bullard host a spiritual evening of song and praise at their equestrian property in celebration of their many blessings.
'Cause a Cinco de Mayo without tequila is like a beach without sand. Playa at Sportsman's Marina has the recipe for success.
What was once a dated wallcovering has transformed into the darling of designers. Wallpaper is having a major moment, and local interiors maven Katie Kirby shares her top picks for the trend.
A new kitchen in Fairhope brings bold flavors to all-day brunch.
Chances are, you don't associate gourmet food with Ireland. Binky Oswalt says you should.
An artist and a developer combine forces to reimagine Judge Roy Bean.
De Tonti Square's new brewpub boasts a menu of made-from-scratch dishes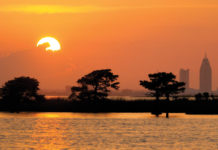 The first thing to do upon arriving in a new place is to get your bearings. Which way is north? Will the I-165 connector take me to Downtown Mobile or leave me wallowing in the swamps of the Causeway? What are the differences between across the Bay, down the Bay and over the Bay? These are important things to know!