What was once a dated wallcovering has transformed into the darling of designers. Wallpaper is having a major moment, and local interiors maven Katie Kirby shares her top picks for the trend.
A new kitchen in Fairhope brings bold flavors to all-day brunch.
Chances are, you don't associate gourmet food with Ireland. Binky Oswalt says you should.
An artist and a developer combine forces to reimagine Judge Roy Bean.
De Tonti Square's new brewpub boasts a menu of made-from-scratch dishes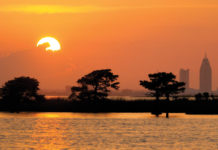 The first thing to do upon arriving in a new place is to get your bearings. Which way is north? Will the I-165 connector take me to Downtown Mobile or leave me wallowing in the swamps of the Causeway? What are the differences between across the Bay, down the Bay and over the Bay? These are important things to know!
Mobile has a rich culinary history, but the quintessential dishes can arguably be boiled down to just a few. Here are the recipes, foodstuffs and local products you need to know to claim the Bay area as home.
Blair Mattei tackles her first Thanksgiving as a newlywed with the help of her two sisters-in-law and the perfect combination of everyone's family traditions and recipes.
The best gifts for every age and interest are found in locally owned shops on both sides of the Bay.
The long-standing Southern tradition of bringing comfort food to those we love continues generation after generation, oftentimes with the same tried and true recipes.