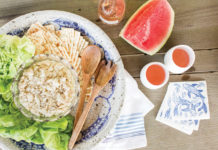 These classic seafood recipes have fed the area for generations and continue to do so with a fresh approach.
Because it wouldn't be summer in the South without tomato pie...
Whether you prefer to head offshore and catch your prize, or simply pick it up at a local seafood market, red snapper season has arrived in South Alabama and dinner plates everywhere are rejoicing!
Bright and bubbly with the cool scent of cucumber, this gin and tonic will set your spirits right at the end of a hot summer day.
You gotta do something with all those fresh-picked blueberries...
Take the mess out of the equation with this easy no-fuss family dinner idea.
A family home in Spring Hill gets all the right touches with the help of architectural designer Robert McCown and interior designer Ann Inge.
Celebrate Cinco de Mayo with a refreshing cocktail. A little mezcal keeps it interesante.
Get a little taste of summer with this Bahamas-inspired drink.
Peek behind the vault door into Las Floriditas, Mobile's new speakeasy.