"Nothing exceeds like excess, " says Charles Parmenter, "Downton Abbey" enthusiast, as his cell phone rings out the period drama's opening score. It's not surprising, then, that when you walk through the doors of the historic home of Parmenter and his partner Greg Reynolds, you're welcomed with Southern grandeur on a nearly "Downton" scale. The Olde Mobile Antiques owners' abode is dripping with luxurious furnishings, collectibles, art and local treasures, each with a story to tell.
A store client, who became their real estate agent, directed them to the three-story brick home. They went to see it that very day. "I walked in, went through the parlor, looked up the stairwell and said, 'Greg, this is it, '" Charles remembers. They made an offer that afternoon. "It was meant to be, and we were thrilled." In December of 2010, they moved in, which was no small feat.
"We had looked for a house for 8 years, " Charles explains. "We had an idea of what we wanted; it had to fit our collection." And with this house, he says, everything jibed.
"There's always going to be a project or problem, but we didn't see anything  we couldn't get over, " he says. They are only the fourth owners of the home, which has always been a private residence. "The only reason it survived is because someone loved and cared for it, " Charles says. "And we do, too."
The majority of the home had been restored, but Charles and Greg got to work hanging period lighting, painting, landscaping and beefing up security. The lowest low came with the installation of the lighting downstairs. They faced many obstacles: 14 feet of scaffolding, puttying, caulking, chandeliers going into gas pipes and drilling through wire. "I thought this was never going to happen. Greg would come home, and we'd have hardly anything done, " Charles recalls. "I almost said, 'Let's just have a ceiling medallion' in the library/music room."
They chose more modern colors and veered from original wallpaper and paint hues. "After all, when you live in a historic house, you do have to actually live in it, " Charles notes. "It was tempting, but period paint and wallpaper would have made the house too dark, formal and uncomfortable."
Charles couldn't stand the thought of covering the woodwork around the windows with big, heavy draperies. So, instead, he hung lace panels handsewn in Europe and exterior shutters handmade in Mobile by Bob Collier. He admits that curtains would have been easier, and he spends a great deal of time adjusting the shutter slats to get the light just the way he wants it. With the shutters open, Charles says the home "looks like a really pretty woman without any makeup."
They both have a great sense of their common style, although occasionally feathers are ruffled. "Usually we'll nip it in the bud when we see it, " Charles explains. "But, one time, Greg went to an antiques show without me and bought some sculpture I'm not very fond of." The piece now holds towels in the upstairs bath. "No matter the house, I always have it in the least conspicuous place, " Charles says.
The view from the foyer showcases a beautiful staircase and only a small portion of the couple's impressive art collection.
"On the other hand, my books bother Greg, " he adds. "He bought me this massive bookcase, but it's still in my warehouse." Instead, Charles enjoys having his books on the floors, tables, shelves and, frankly, wherever else he can arrange a stack.
Six months after moving in, they opened their doors for parties. "You can't live down here and not do something, " Charles says. "The house screamed 'Do something.'" And so they started entertaining in a big way. "Parties should be mixed with clients and friends, old and new, " Charles explains.
His staff hand-delivers Tiffany invitations to carefully selected guests. In the aftermath, they talk about what they did right and wrong and take notes for future reference. "Like our cooking, our entertaining evolves, " Charles says. The first big event remains the highest high for the host. "It was what the house was made to do, " he says.
While Charles tends to the social calendar, Greg spends his time at home putting around in the courtyard or working on the landscape. (The savvy businessman has an eye for garden statuary.) Although the couple doesn't have a lot of free time, often working long days, Greg likes to retreat to the den and spend time with the dogs when he can. Charles enjoys reading and researching in the library/music room. "And we talk about antiques – that's the truth, " Charles laughs.
"I can't imagine two busier people who are more boring, " Charles admits. He says their home is fairly quiet, except for the lavish parties, of course. "We're homebodies, and the place is perfect for that, too. The neighborhood is peaceful."
If Greg could sum up their home in one word, it would be "perfect." And for Charles, it would be "unfinished." He says a house is a work in progress, and he hasn't found exactly what he wants for certain spaces. A visionary, Charles chases things and waits for the right piece. When you're around beautiful things all the time, it's bound to have an influence on your home. "A really good antiques dealer sells what he loves, " Charles says. He has watched pieces leave the gallery that he wanted to keep, but after all, he has to have cash flow. "I have the advantage of trying a lot, making sure it works for the house and the guests." He and Greg have done quite a bit of design work and staging houses for others. When they are pondering a new addition, they ask themselves several questions: Is that going to work? Do I like it? Do my guests like it? Is it comfortable? "I've never measured a piece of furniture because either it works or it doesn't, " Charles says. Their philosophy on decorating is to do it with great substance, keeping in mind you need to live with what you love and what's comfortable for you.
They look forward to putting up a cast iron fence they purchased from an antebellum home a few blocks away, installing a wall fountain in the courtyard and continuing the period lighting on the second and third floors of the home. "I'm not moving again, " Charles says.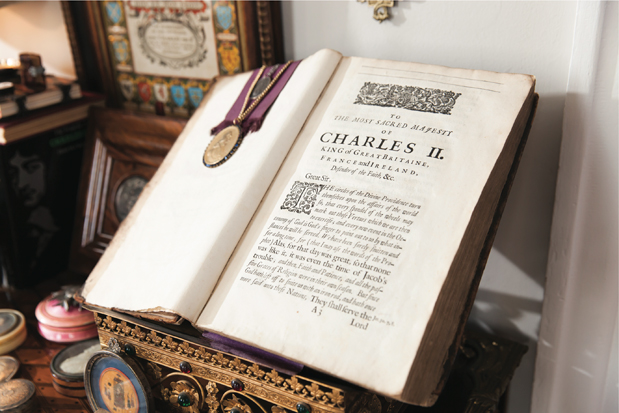 ABOVE The homeowner, affectionately called Charles II by friends, says this Bible dates back to 1680. Ironically, the house was built by another Charles: Charles K. Foote.
ABOVE LEFT Portrait art lines the three-storied stairwell.
ABOVE RIGHT An assemblage of personal belongings of Gavin Yuille, the owner of Mobile Steam Bakery in the 1800s, is kept in this case. When guests inevitably ask if anything is haunted, Charles always directs them here.
ABOVE LEFT Books and Mobile artifacts fill the shelves under the staircase on the first floor. Charles spent a week and a half putting every piece in place. The arrangement even descends in height to match the stairwell shape.
ABOVE RIGHT Above the sofa in the downstairs hall hangs Charles and Greg's 17th century Dutch art collection. This time period is considered the Golden Age of Dutch art, with its rich colors, realism and symbolism.
ABOVE "What else do you do with a hearth?" Charles says, of his vintage key display that found a home in the study.
ABOVE LEFT Letters dating hundreds of years old and hailing from royalty are arranged alongside sealing wax stamps. Charles boasts an extensive collection of the ornamental emblems.
ABOVE RIGHT In his upstairs study, Charles displays eclectic artworks, many of which are Dutch and Russian portraits, around the fireplace and on the screen. In the center of the mantel is one of 14 working clocks ticking and chiming throughout the home. "I'm real fond of clocks, " Charles says. Two of the greatest standout pieces flank it: an original Edgar Degas sketch and authentic ink drawing by Pablo Picasso.
ABOVE In the downstairs library, Charles displays only items with Mobile ties, including items from estates of Octavia LeVert and Augusta Evans. The pair plans to will many of their pieces to the History Museum of Mobile.
ABOVE LEFT A mirror from a Mobile estate is hung above the fireplace and surrounded by an arrangement of cherub sculptures. The luxe rosewood bed is from the estate of Eliza and James Battle, best known for establishing the Battle House Hotel. It was their wish that the bed stay in Mobile.Charles and Greg are dedicated to discovering Mobile's native antique treasures, housing them and preserving them here.
ABOVE RIGHT While Charles plays piano, he often hires a professional for parties so he can mingle with guests. Mobile sheet music sits atop the instrument.
ABOVE LEFT Broken china is displayed prominently in this cabinet in the kitchen. "I just couldn't part with these pieces, especially some of them that are hundreds of years old, " Charles confesses.
ABOVE RIGHT A collection of Mobile silver rests on the buffet in the dining room. Wedding portraits of Orville and Sarah Cawthorn, a Mobile couple, are by Phillip Romar and dated 1856. They were bought from a local estate.
ABOVE LEFT The original iron work still frames the home and is the next project on the docket to be restored by the couple.
ABOVE RIGHT The historic brick townhome was constructed in 1857 when planters from other counties came down to Mobile for the social season.
---
text by Christy Dobson Reid • photos by Todd Douglas