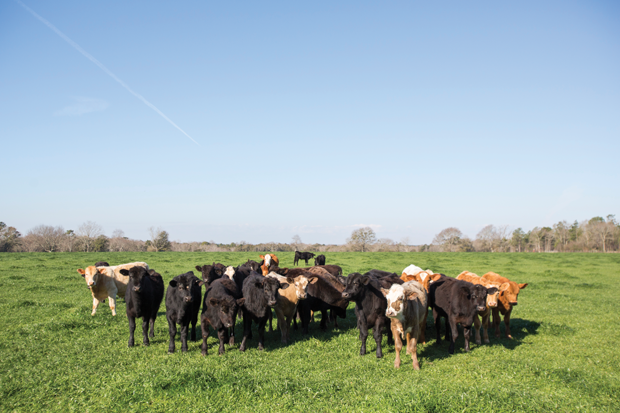 ABOVE Tanner Williams Road is filled with prolific agricultural sights – shady pecan groves, gargantuan hay bales, miscellaneous cattle pastures and roughhewn tractors. Seward Farms opens its gates to the public each fall for fun-filled family field trips.
Look past the traffic of Airport Boulevard and its north-south counterpart, Schillinger Road, and there lives a family-friendly suburban sanctuary with modern architecture, an influential middle- to upper-class citizenry and good old-fashioned Southern traditions, updated in the spirit of fun. 
It is a place where the cool beats of modern urbanity harmonize with the quiet rhythms of rural farmland and front-porch conversations at sunset. This easygoing atmosphere is slap in the midst of a borough that boasts some of the biggest companies and largest employers in the South. So journey out west, past University Boulevard, to discover why we love WeMo and you should too!
ABOVE Larger properties mean more space for pools. Marc Mihalsky can attest to the phenomenon, as his business, Blue Haven Pools, installed 194 custom residential in-ground oases last year.
1. Because bigger is better.
Homebuyers get more square footage for their money in sidewalk-laden neighborhoods where children can ride their bikes down the street.
Savannah Trace resident Chloe Harkins says, "Our starter house was in Midtown, and we lived there for six years. We loved it as newlyweds. But once we had our two kids, it seemed natural for us to settle somewhere bigger and more convenient."
Her husband, Ryan, adds, "Here, we have the luxury of letting our children play in the front yard, parking our cars in our garage, and leaving our three-hole outlet adapters back in 36606. It's where we both grew up, so it's home."
"The approximate home size in West Mobile is around 2, 500 square feet, " says Don Jones, managing broker of Bellator Real Estate and Development on Hillcrest Road. And the majority of these residences are newer construction; since 1970, a whopping 55, 000-plus homes have been built in the area. Add to the mix larger lots and high end homeowners association amenities, such as neighborhood pools, clubhouses and playgrounds, and buyers line up. "From 2010 to 2014 alone, 1, 400 new construction homes were sold in West Mobile, " Jones adds.
ABOVE The University of South Alabama, founded in 1963, now educates an undergraduate student body of more than 11, 000 and offers a diverse athletics program, including a successful women's softball team. Photo courtesy of USA.
2. Because the kids here have it all – from academia … 
It's no surprise that an area built for families boasts some of the top scholastic options in the Mobile County Public School System, not to mention a plethora of private education offerings. Corpus Christi is the largest Catholic parish in the county with more than 1, 900 families, while St. Luke's Episcopal School has recently expanded to encompass a high school, breathing new life into the former Julius T. Wright School for Girls campus. Other ever-growing parochial schools in the area include Cottage Hill Christian Academy, Covenant Christian School, Faith Academy, Mobile Christian School and St. Dominic Catholic School.
And did we mention that the University of South Alabama, located right on the West Mobile imaginary border, is one of the top higher education institutions in the state, with the Gulf Coast's only medical school? No wonder WeMo residents hold almost three times the number of doctoral degrees as those in the rest of Mobile. It is also one of the most culturally diverse areas of the county, with the highest percentage of foreign-born residents.
It is safe to assume that the development of USA over the past 50 years is significantly responsible for the western migration, as the system boasts more than 5, 500 employees and a student body surpassing 16, 000.
ABOVE Chalk up a victory for Planet Gymnastics. Coach Vladimir Novikov, staff member of the national Olympic gymnastics governing body, was heavily involved in recruiting the 2015 USA Gymnastics Region 8 Championships to be hosted in Mobile this month. It is expected to bring in millions of tourism dollars for the city.
3. … to after-school activities
Some of the area's most exceptional extracurricular athletic opportunities also abound out west. Each spring, the legendary Westside Athletic Association offers Cal Ripken and Babe Ruth baseball leagues, with more than 60 teams for players aged four to 18; the park also hosts Buddy Ball in which mentally and physically handicapped youth are given the opportunity to compete on the diamond.
This past February, the Mobile County Commission approved a major study on the viability of a large new soccer complex, which would include 10 state-of-the-art soccer fields, a competitive natatorium and water park, right off Halls Mill Road.
Also strong: Swimming and diving teams at the city's newest and largest aquatic center, West Mobile Swim Club, boast the Mobile County Aquatic League title three years running.
Just around the bend at Planet Gymnastics on Schillinger Road, Olympic gold medalist Vladimir Novikov, along with his wife Joanne, use their 17, 500 square foot state-of-the-art facility to train state champions and national competitors.
Sheffield's School of the Dance on Hermitage Road is the iconic benchmark of the Bay-area dance community, with classes in ballet, pointe, jazz, contemporary, tap and hip-hop. Hundreds of trophies line the studio walls, acclaiming the 72-year-old company's titles. Many of these local dancers have gone on to successful careers at Walt Disney World, Cirque du Soleil and with the world-famous Rockettes at New York's Radio City Music Hall.
Other cool, out-of-the-box options include Port City Mixed Martial Arts, which teaches Brazilian Jiu-Jitsu, Muay Thai, wrestling, Sambo and mixed martial arts; as well as the famous Alma Bryant High School archery team, which has won eight state championships in nine years and an impressive international title at the World Archery Tournament.
5 FUN-FILLED SATURDAY ACTIVITIES FOR KIDS
1) Calling all ski ball enthusiasts! Pete's Party Castle out on Schillinger is packed with arcade games and indoor playgrounds, plus a full restaurant menu including wings, burgers, build-your-own pizzas and more.
2) Little ladies will delight in princess-esque hairdos and glitzy manicures at chichi kids' spas, such as Smilz 'n Stylz on Hillcrest or Spa Tea Da on Nevius Road. Special Disney character events are hosted regularly.
3) Tag, you're it! Tweens and teens will revel in the exhilaration of LazerZONE. The multi-level arena offers state-of-the-art gear and a challenging maze.
4) For the most fun you can have on four wheels (without a license), roll over to Sunshine Skate Center or DreamLand Skate Center, home of the tougher-than-nails Mobile Derby Darlings roller derby team.
5) Jump around! West Mobile has its fair share of superb outdoor parks, but for rainy days, indoor rec spots such as House of Bounce and the Watermelon Patch offer inflatables, mini zip lines, foam play areas for toddlers and more.
DID YOU KNOW? Julien Marx Dog Park is a four-acre property smack in the middle of Medal of Honor Park. Free to the public, it is surrounded by a 6-foot fence spanning 2, 155 feet. It offers picnic tables, benches, trash bins, water fountains with pet bowls and pet waste bag dispensers.
4. Because Ferris wheels, funnel cakes, cowboy boots and evening

gowns make for magical memories.
Beneath the rafters, generations of teenagers learned to slow dance cheek to cheek; under striped canopies, they tossed softballs at pop bottle towers to win their dates oversized stuffed animals. Since the Mobile Junior Chamber of Commerce (now the Mobile Jaycees) incorporated the 100-acre property at the intersection of Cody Road and Zeigler Boulevard in 1955, The Grounds has been a staple of the community for everything from high school proms to professional rodeos. It is also home of the Junior League of Mobile's Christmas Jubilee, American Heart Association Chili Cook-off, Arts Alive! and of course, Alabama's largest fair. 
In 2013, executive director Scott Tindle masterminded the facility's $500, 000 facelift, reorganization and rebranding with "an enhanced focus on safety, family fun and one-of-a-kind attractions." In February, Mayor Sandy Stimpson and other officials finalized Mobile's annexation of The Grounds into the city limits, which means that the city will be able to promote the entertainment venue when attracting events to the area. "The board of directors is excited about the future of the city and feels we share the same vision for growth, " Tindle says.
5. Because flying is the ultimate super power. 
Serving more than 600, 000 business and recreational travelers each year, Mobile Regional Airport is a 1, 717-acre public airport and Coast Guard Aviation Training Center.
MOB is the only public airport in the region that offers a valet parking service staffed from the time the airport opens in the morning until the last flight arrives in the evening.
The facility is also home to Mobile's unofficial greeter, Nelson Easterling, who became the face of airport shoe shiners around the globe last year when he received a $5, 000 tip from a generous frequent flyer.
ABOVE Chef Tony Nicholas shows off his infamous Ultimate Stuffed Tony Burger. Rock-N-Roll Sushi, located on Airport Boulevard near Hillcrest Road, serves up inventive twists on Japanese cuisine. Photo by Elise Poche
6. Because the culinary scene is a hidden gem. 
Impressive local eateries serve up everything from good ol' Southern cuisine to ethnic fusion and sophisticated white tablecloth meals. 
For instance, Chef Tony Nicholas, a Johnson and Wales- and Emeril-trained chef, chose West Mobile to open his quirky, casual eatery, The Hungry Owl. The mustached Michelangelo of Southern-Creole cuisine drew national attention in 2011 when his mile-high Ultimate Stuffed Tony Burger was notably featured on the Travel Channel's "Man vs. Food." But the restaurant wasn't just a one-hit wonder. The rest of the menu is an inventive gumbo of rich, mouthwatering creations, such as the popular Orleans seafood pizza or Cajun potpie.
DID YOU KNOW? The name for The Hungry Owl came from the local barred owl,  also known as
the hoot owl or swamp owl. This unusual bird, which is more active during the day, communicates
with a series of hoots characterized by the phrase, "Who cooks for you? Who cooks for you all?"
Just a hop, skip and a jump down the parking lot, Fusion is a swanky new hotspot serving up more than 50 varieties of sushi rolls, create-your-own curry and sensational sake martinis. For other tasty ethnic eats, explore Montego's Caribbean Café and Bar, Rock-N-Roll Sushi, Gambino Brothers Italian eatery or Mediterranean Sandwich Company, the WeMo location of the Dauphin Street favorite.
Out by USA, catch the game at Heroes Sports Bar and Grille, Moe's BBQ or Wintzell's Oyster House, three other LoDa establishments that looked westward to open a second spot. Or, grab a beer and a slice at Picklefish or Mellow Mushroom. After noshing on good grub, wash it down with drink specials and live entertainment at Stir.
For one of the best steaks in town, Briquette's Steakhouse, which recently celebrated its second anniversary, is a solid fine-dining choice. The to-die-for surf and turf special, a perfectly carved filet medallion wrapped in bacon and ladled with a crabmeat, roasted corn and spinach cream sauce, is delicious enough to attract an avid downtowner all the way to Schillinger.
Home gourmands will appreciate the city's only upscale dedicated olive oil, vinegar and artisan food shop, Olivella, as well as Domke Market, a high-end wine, craft beer and gourmet store. Vino guru Deborah Domke hosts Wine Wednesdays with guest vintners and sommeliers from around the country. Pour Baby is another wine and small plates place that has been getting lots of local buzz.
And finally, West Mobile takes the cake in bakeries and dessert choices. Southern Decadence Desserts, Simply Sweet Cupcake Boutique, Flour Girls, and Cakes by Judi offer all the essential sugary food groups.
5 ENTERTAINING AFTER-DARK ACTIVITIES
1) Treat yourself to a mani-pedi while sipping a martini at W Salon Spa and Nail Bar. Signature drinks include the Pretty in Pink and Chanel.
2) Get your people-watching fix at Midnight Rodeo or Cockeyed Charlie's. They are awesome alternatives when you're tired of all the usual Dauphin Street watering holes.
3) Channel Picasso and create a one-of-a-kind masterpiece at Paint Party Studios. Be sure to bring wine and your friends to, you know, increase your creativity.
4) Make like a pop star and head to Gambino Brothers for karaoke and Jell-O shot nights. The Italian eatery also goes Greek (as in frat-tastic), hosting themed toga and tacky Christmas shindigs.
5) Grab some buds and head to Camellia Lanes. Strike it big while downing cheap pitchers of beer. 
ABOVE Steve Crigler has owned Dawes Hardware, located at Dawes and McFarland, for 23 years.
7. Because it's a little bit country, a little bit rock 'n' roll.
Steve Crigler, owner of Dawes Hardware, a mainstay family-run business located near the intersection of Dawes Road and McFarland Road, has witnessed the transition of the surrounding community. Crigler's store is the sort of place where loyal customers are loyal because of the friendly customer service. But, it wasn't always so popular.
"I've owned my store for 23 years. When we first moved out here, traffic was rare. We had windows across the front, and my wife and I would see cars driving by and hope, 'Maybe it'll be a customer.' I don't know how we survived those early days, " Crigler says.
In the 1950s, the village of Dawes was rural, with little more than a train depot. Fast-forward 65 years and that property is home to the Champion Hills subdivision. However, Dawes has managed to maintain much of its rural appeal. "One of the biggest changes has been the selling of farmland to convert into subdivisions, " Crigler says.
But a handful of families refuse to sell. Among the crops still thriving along Dawes Road are cotton, soybean, peanut and pecan crops all the way to the state line and beyond. (The charming Alabama Pecan Festival held each October at the Tillman's Corner Community Center pays homage to the area's nut heritage.)
The persistence of husbandry in a growing suburban area has made way for a new trend: agritourism. On Tanner Williams Road near the Alabama-Mississippi line, Seward Farms is a favorite family day trip. Owned by Harry "Bud" Seward and Steve Seward, the third-generation homestead dates back to 1938 and consists of close to 5, 000 owned and leased acres. In addition to tending cattle and crops, the Sewards host a farm-style amusement park experience each fall, with an eight acre corn maze, hayrides, pony rides, corn cannons, pig races, cowboy rodeos, a petting zoo and fire pits. In other words, this ain't your grandpa's farm.
DID YOU KNOW? Gold Mine Road, located right off of Dawes Road, is named accordingly since the precious metal was discovered there many moons ago. 
8. Because business is booming.
WeMo has plenty of charming mom-and-pop shops tucked in shopping centers right beside chain retailers.
Goldstein's Jewelry, a staple in the Mobile business community since 1875, was one of the first to make the westward move. What began in the heart of Downtown on Dauphin Street (in the present-day location of Serda's Coffee Co.) shifted to Bel Air Mall and most recently, in 2002, beyond 1-65 to Hillcrest Road. Current owner Richard Frank Jr. and his father before him always saw the benefits of staying on the cutting edge while remembering their roots. Today, a large bricked showroom is stocked with top-quality pieces, and black-and-white photos of the bygone days still line the walls, reminding owners and customers alike of Goldstein's rich heritage and longtime dedication to local commerce.
Bonnie and Donnie Carter are another success story. A longtime consultant at the former Minton's Bridal and Formal in Spring Hill, Bonnie finally decided to pursue her dream of opening her own boutique, I Do Bridal & Formal, in 2009. She found the perfect location in West Mobile. What began as a small storefront has quickly exploded to include the entire west wing of the Providence Place shopping center; its extensive real estate is filled with the largest inventory of designer wedding gowns, bridesmaid dresses and formalwear in Lower Alabama. Along with their two daughters, Tellie and Jessica, the Carters also own and manage a casual women's boutique, La Robe,  located right next door.
Need a vintage Nintendo game? New iPad case or a personalized, airbrushed T-shirt?  How about a circa 1971 velvet black-light poster of Elvis? Look no further than the legendary Flea Market Mobile, pictured above,  on north Schillinger Road. The quirky billboards that dot Airport Boulevard are only the beginning of the eccentricity. Spend a Saturday or Sunday afternoon browsing more than 800 outdoor booths of merchandise packed with everything from furniture, tools and clothing to fruit, vegetables, computers and cologne. Be sure to stop by the peanut stand or roasted corn bar for an unusual yet delicious snack – a succulent, piping-hot ear of corn doused in butter and seasonings. Fun times guaranteed!
DID YOU KNOW? CPSI, the leader in healthcare information systems for rural and community
hospitals, is one of the largest publicly held companies in Mobile. Its headquarters are in the
heart of WeMo off Hillcrest Road. 
9. Because faith and compassion are paramount.
West Mobile is "God's country" in more ways than one. Along the Cody-Sollie corridor alone, congregations from nearly every Christian denomination – Catholic to Baptist, Presbyterian to Seventh-Day Adventist – gather in a dozen houses of worship. The West Mobile community is also home to three Mormon churches, two Jewish temples (Ahavas Chesed in the Regency neighborhood and Congregation Tree of Life on Jeff Hamilton), the American Islamic Center of Mobile and an International Baptist Church with full services held in Korean.
Leaders of the many faiths promote fellowship and unity for the continuing good and growth of the area. A pillar in the Southern Baptist Convention and the West Mobile community, Fred Wolfe served as pastor of the 8, 000-member Cottage Hill Baptist Church for 25 years. During that time, the church attracted 13, 000 new members. Then, in 2008, at age 70, he founded Luke 4:18 Fellowship on Sollie Road (Cody's Southern extension). Wolfe attests that faith is an integral part of the West Mobile culture. "In the 1970s and '80s, there was a real openness to church involvement and new churches began to spring up everywhere. Pastors at different churches are very supportive of each other. They work together and have a great influence on moral and political issues."
For example, Pastor Brad Sullivan of Living Word Church hosts regular networking events for business owners through Dawes Business Connection, in an effort to encourage fellowship and unity within this circle of leaders for continued community growth.
Consequently, it is no surprise that in West Mobile the philanthropic spirit prevails. 
St. Mary's Home on Moffett Road was established in 1838 by Catholic Bishop Michael Portier to serve as an orphanage for children who were left to care for themselves during the yellow fever epidemic. Nuns served as staff and caretakers. Today, the nonprofit has evolved to serve children who suffer emotional, behavioral and educational problems due to difficult family circumstances. St. Mary's Home is currently the oldest child welfare agency in Alabama and one of the oldest in the country.
In 1852, at Portier's request, the sisters began alleviating the need for medical workers at Mobile's City Hospital; however, anti-Catholics quickly asked them to leave. So in 1855, a group of concerned citizens established Providence Hospital for the Daughters of Charity nuns to serve at Broad Street and St. Anthony. In 1987, to accommodate the population shift, Providence's new, state-of-the-art facility was opened in West Mobile.
Situated on 220 breathtakingly beautiful acres and meandering Pierce Creek, Camp Grace provides the grounds for medical organizations that offer unique camping experiences for children with health needs. One week, they may be host to Camp SMILE (hosted by United Cerebral Palsy of Mobile), the next may be Camp M.A.S.H. (for children suffering from arthritis), and the week after that Camp Rap-A-Hope (serving kids affected by cancer). Owned by the generous Pilot family, the grounds include a lodge, rec center, pavilion, dining room, arts and crafts center, cabins, ropes course, archery range, horseback riding and swimming and boating areas. All in all, Camp Grace provides lifelong memories for kids who just want to forget about their illnesses and enjoy a typical camp experience.
ABOVE Neighborly fun is a given with laid-back get-togethers, such as the Battle of Dawes Civil War-themed fireworks contest and the Heron Lakes kids' Mardi Gras parade.
10. Because Southern hospitality and neighborly camaraderie are ways of life. 
Throughout the seasons, residents of 36695 fill up their social calendars with fun-filled "come one, come all" neighborhood festivities of all kinds. 
From Thanksgiving to New Year's Day, the Colonnades subdivision, just off Sollie Road, rivals Bellingrath Gardens with an extravaganza of tinsel and lights. The first home just past the bricked neighborhood entryway beckons passersby with dozens of massive twinkle-light-covered orbs and elaborate painted lawn displays of Frosty, Kris Kringle, his missus and more. Equally spirited neighbors partake in the glorious Griswoldian illumination, making the Colonnades the Siena Vista of WeMo. 
Also on Dec. 31 (and the following Fourth of July), the lively crowd at Dawes Lake Estates gathers for their biannual "Battle of Dawes" fireworks competition. (In a unique personalized invitation, on the days leading up to the event, "foot soldiers" dressed in Confederate and Union garb go door-to-door proclaiming that a battle will ensue.) Marc Mihalsky, a Dawes Lake Estates homeowner since 2003, says the friendly clash is "all about who has the 'biggest and baddest' display. One neighbor even recreated the Confederate ironclad CSS Virginia, which prowls the lake during the fireworks. It has a working cannon on the bow!" While spectators meet to enjoy the show and partake in merry eats and sips, one resident keeps score, ultimately declaring a winner. 
Then, once Mardi Gras season rolls around, neighborhoods trade flying bottle rockets for airborne MoonPies. Over on Hillcrest Road, residents in the Hickory Ridge community let the good times roll in a full schedule of activities, including the famous Kids Krewe Mardi Gras parade, while the youth at Heron Lakes, just off U.S. Highway 90, host their own. 
Once warm weather rolls in, impromptu pool parties, complete with kids' cannonball contests and umbrella-clad cocktails for parents, are the norm. No, the fun never stops!
Indeed, this is just a handful of the host of reasons that we're rather fond of this western borough, the family-friendly burb, the grand gallimaufry that is West Mobile.
---
text by joshua givens and lawren largue • photos by jeff and meggan haller