Artists and woodworkers honor the memory of the Bienville Square oaks that fell victim to Hurricane Sally in 2020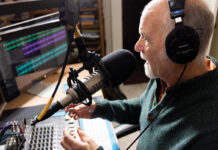 Locally renowned "Music Man" Catt Sirten lived in 14 cities before coming to Mobile. Now he's reflecting on the journey that led to his permanent home on the Gulf Coast.
Former RV City dwellers reminisce about the Mardi Gras of yore. 
Artistic photographer Pinky Bass takes viewers through the pinhole and beyond, into a world of constant exploration and creativity.
Leave the boat at home and enjoy these 10 local fishing spots with nothing more than your favorite bait, rod and reel.
Alabama's barrier island is in a constant state of flux, with shorelines — and property lines — threatened by storms and rising sea levels.
Not all spiritual guardians come from Heaven. Sometimes they hail from the gridiron and wear helmets.
Four core members of a local urban art group chat with MB about everything from inspiration and Instagram to how they met and the message they hope to send to society.
ABOVE Tanner Williams Road is filled with prolific agricultural sights – shady pecan groves, gargantuan hay bales, miscellaneous cattle pastures and roughhewn tractors. Seward Farms opens its gates to the...
Did you know Alabama has the largest artificial reef system in the U.S.? It's true. In fact, we have more than 20, 000 of them. Everything from military tanks...