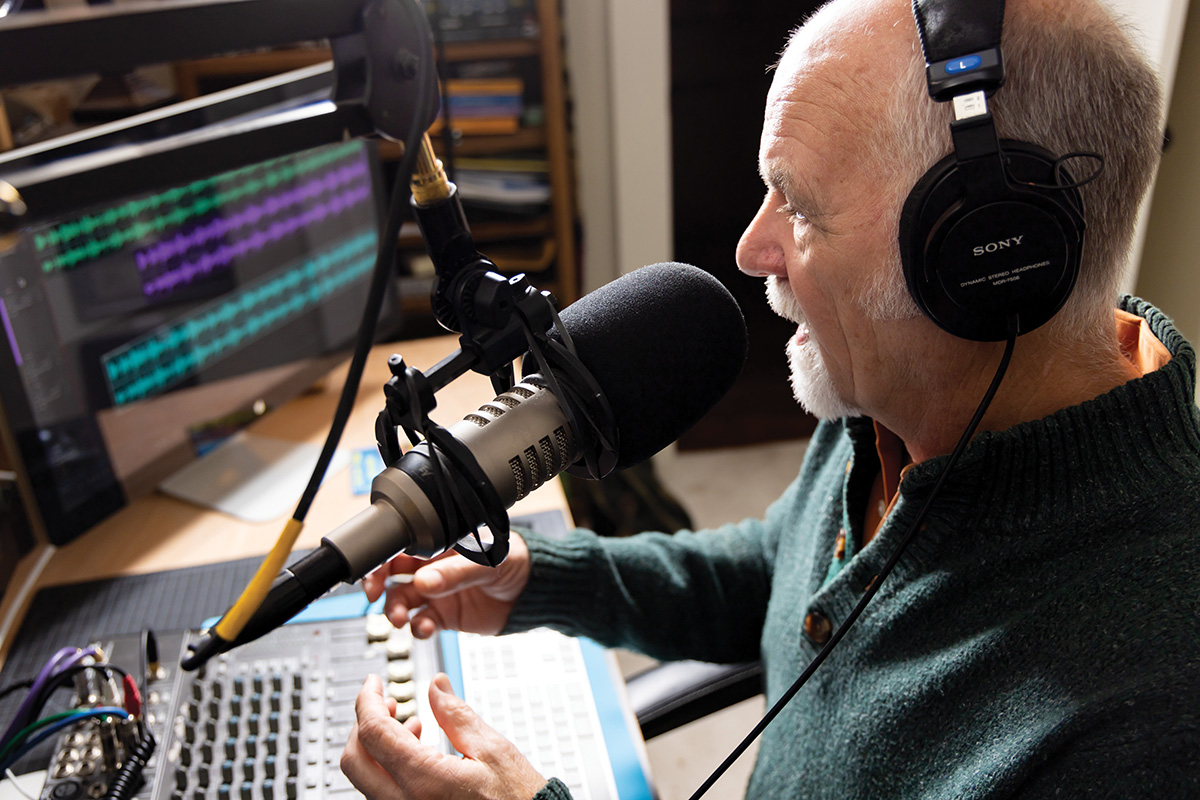 With his charmingly tranquil demeanor, subtle charisma and smooth-as-butter voice, Catt Sirten has been a fixture of the Mobile radio and music scene for almost 40 years. It was here that he found a home for his ultimate passion in life: Introducing people to songs that they would never be able to hear or experience otherwise. His impact is well known across the Alabama Gulf Coast, where many of those listeners have taken solace in his music selections at the start of a long workday or even on the beach preparing for a relaxing weekend. Whether it's on his signature Sunday Jazz Brunch program or his Radio Avalon show, the music aficionado and superb orator is a master of spotlighting new songs and artists and even occasionally telling their unique stories through his photography.
The mellow man behind the Mobile mic came from very humble beginnings. "My parents were part of the migration to the North in the early '50s for work," Sirten says with a smile on his face and a hint of nostalgia in his voice. "They went to Michigan, which is where I was born. My father worked in the car factories there. I have an older sister and a younger brother, and when we got to be school-aged, my parents decided they didn't want to raise their kids in Flint, Michigan, so we moved back to north Alabama [Limestone County]. My parents were both children of sharecroppers and lived in extreme poverty. But somehow or another, even without high school educations, they turned out to be wise in how to raise kids. My father and mother are the best two people I've ever met."
For those of you wondering what sort of parents would name their son Catt, don't worry. It was not cruel and unusual punishment. Ironically, the name didn't even come from his parents — it was just a nickname. But, as is often the case with nicknames, there's a great story behind it.
"My original name is Thomas Glenn Sirten. But back in the '70s, I loaded everything I owned into my Ford Grenada — which was really just a bunch of pots and pans and about 3,000 albums — and moved from Birmingham to Panama City for work where they wanted me to be this rock 'n' roll maniac. So they came up with a story about me and called me by the radio name Cartwright Stone. But everyone called me Catt Stone for short. I hated the Stone part, but Catt just stuck, especially because when I was a kid and my mom couldn't find me, she would walk outside and look up in the trees."
Sirten was exposed to music at an early age by his father, who would listen to gospel songs and take his son to local all-night gospel singings. Although Sirten soon gravitated toward other genres, he says the biggest thing that seemingly prevented a future career behind the mic was the fact that he was born physically tongue-tied and never even knew it. When he was 5, he underwent a medical procedure in which doctors snipped a ligament in his mouth to try to correct the problem.
"I had this physical handicap [from birth] in which the ligament under your tongue knots up, so you learn to talk without the use of your tongue. When I was 12, I was at a cousin's house and they had a little tape recorder. They were recording everyone in the room. I heard a voice on there and didn't know who it was. I said, 'Who's that?' And they said, 'That's you.' And then I heard the voice say something that I had said.
"I was a little shocked. So when I got home, I ran down the road about a quarter of a mile to our neighbor. I said, 'Hey, do I talk funny?' And he said, 'Yeah, you didn't know that?' I didn't know I talked funny. All I knew was that I sounded like me!"
It was soon after, during his sister's 16th birthday party, that Sirten heard what he fondly refers to as "real music" for the first time. One of his sister's friends brought over some albums, and they headed to the basement. Sirten grabbed their plastic record player and began listening to artists like The Doors, Gary Puckett & The Union Gap and many others. His heart melted.
"I fell in love with music," he says. "From then on, if I had an extra dollar, I would buy music. I ended up with two cases of 8-tracks and was known as The Music Man. I still didn't know much about radio though, or even care. For me, it was all about the music, and I thought radio was music."
That all changed in 1973 during his senior year of high school.
"I was at the county fair, and they were having a kid's day. I was walking through the fair by myself, and a local radio station was there. As I walked by, the disc jockey said, 'Hey! What's your name?'
"So I talked with him. After we got off the air, he said, 'Are you Reba Sirten's son?' I told him I was. He said, 'She's my cousin!'"
I went into the little booth, and they had me read the weather forecast along with something else. This is just a little radio station in Ardmore, Alabama. But it was kind of cool, and I liked it!"
The rest, as they say, is history. Sirten took a job as a student reporter for a local station in Athens, giving five-minute updates on the happenings of West Limestone High School. Although he was juggling a steady factory job at the time, career-level radio soon became an option again, when he and most of his factory coworkers were unexpectedly laid off. He decided to take the license test and passed on his third try. Later that year, he landed his first official radio gig playing big band, pop, oldies, country and gospel music at a station in Pulaski, Tennessee. Little did Sirten know that his journey into the world of radio would lead him through 14 cities over the next 10 years.
Ironically, it was video, not radio, that initially drew him to Mobile. But after just a year, Sirten packed his bags and moved to Phoenix, Arizona, with his best friend who was from Mobile herself. But she soon grew homesick, and the pair returned in 1984. And that's when "the magic" happened.
"I was doing video commercials in Gulf Shores for a cable company, and at that time 92ZEW had gone on the air as a rock station," Sirten says. "It wasn't having much success, and the owner decided to sell it. You could tell something was going on because they were losing their pro announcers. I went in and told them who I was and what I do and my history."
Just like that, he landed the job of program director, a position he would hold three times between 1984 and 2009. Reminiscing on his time there and what the station means to him is a truly emotional experience, one filled with fond memories that few people in this life are fortunate enough to have in their careers.
"You know, I was 30 when I came here, and what really made Mobile stick for me was the local music scene and 92ZEW. I had this vision of a radio station that utilized music as a connective thread. People are connected by music. It's a universal language. When I first arrived in Mobile, I realized a lot of people in this market had been exposed to music that people in other places had not." 
In September of 1985, Sirten launched what would affectionately become known as Brown Bag concerts and chose Bienville Square as the featured location.
"When the ZEW first started, we didn't have any money for salaries or anything," he recalls. "We were Downtown in the commerce building at the time, and I would often go for walks across Bienville Square. It had two full-time caretakers in those days, and it was manicured to within an inch of its life. It was gorgeous, and you could walk there on the most beautiful day, and no one would be there but homeless people. The homeless had essentially run everyone out. I wanted to do concerts there. Our manager and a lady with AmSouth Bank came up with the idea of having something called September Celebration. And it became the forerunner of BayFest. But I came up with the idea of doing concerts in Bienville Square."
The Brown Bag concert series ran successfully from April 1986 through 1994 when 92ZEW officially went off the air. (92ZEW would return to the air in 1997.) Unable to part with the Brown Bag series, Sirten generously and sacrificially dug into his own pockets to keep the beloved event going for another seven years, after which the city of Mobile kept it alive and active until COVID-19.
"Brown Bag was a truly special thing," Sirten says. "We had marriage proposals happen there. We had nonprofits represented there. And a lot of folks don't know that Brown Bag was really the start of Downtown revitalization for the city of Mobile. We would have 12,000 or 14,000 people coming out there not only for the music but also to socialize and enjoy the communal aspect. We've even had two or three movies use Brown Bag as part of their fill material."
Sirten says he chose to make Mobile his permanent home because it's the one place where he can do exactly what he loves and also earn a living doing it.
"It's never been about money, though. The real magic for me is being able to play two songs back-to-back while you're in your car driving and tapping your fingers on the steering wheel for 11 minutes, and you never even realize you were listening to two different songs. A huge part of my dream, and being able to do that, was manifested at 92ZEW. I felt like I wasn't worthy to be a part of that station and honestly kind of feel that way all the time about my life."
So, listen up, Mobile: The next time you find yourself cruising the highway, tapping your fingers to a familiar rhythm, lost in a captivating piece of music, think of Sirten and maybe even say a little, "Thank you." I can guarantee he's thinking of you.