Historian John Sledge leads us on a stroll through the streets of Spanish Mobile.
Dean Kleinschmidt, the Senior Bowl's longest fixture, reflects on the journey that led to his 50 years as head athletic trainer for Mobile's all-star game.
Turn back time with this photograph from the 19th annual Senior Bowl at Ladd Memorial Stadium.
Spinning tales and pizza dough with Bill McGinnes, founder of legendary Gulf Shores pizza joint Papa Rocco's
The easy-to-grow root vegetable packs a diverse flavor punch.
Our contributing food fanatics share the local dishes that made them hungry for more.
Author Audrey McDonald Atkins has nothing against a sweet breakfast. But please, oh please, leave those grits alone.
Jules Starr, founder of The CORE Project, Inc., is on a mission to change the world, one special person at a time.
Sonny Brewer sits down with Fairhope waterman Carl Black during a pause in his journey to sail around the world.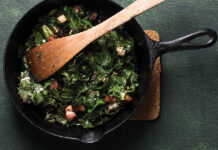 Promising more than just good luck, dark, leafy vegetables are a nutrition powerhouse. Take another look at the Southern staple, and maybe try a fresh, new preparation.