A 1558 Spanish voyage yields one of the oldest descriptions of Mobile Bay.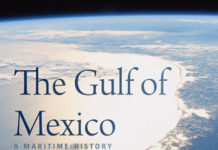 In a sampling from his newest book, local author and MB contributor John Sledge tells the tale of a German submarine attack on a ship headed for Mobile.
A pirate's deathbed confession in Mobile added a further layer of intrigue to one of history's unsolved mysteries.
Relive the night of action that sent the blockade runner to her resting place off Fort Morgan.
Encounter Mobile Bay's notorious piratical scoundrel.
A little more than 200 years ago, the world's most frightening fleet anchored off our shores and stayed for months.
A reformed pirate struggles to make a respectable business deal in early 1800s Mobile.
"Remember Mobile" — a romantic, affectionate look at our past in prose and drawings — is a book still worth remembering.
Thousands of them splashed ashore on the Gulf side of Dauphin Island on February 6, 1815, resplendent in red coats, laced pelisses and highland plaid. They...
   The war became much more immediate on Dec. 9 , when what were likely Alabama's first shots in anger rumbled over Mobile Bay. A young Confederate...