Historian John Sledge explores the riddle of Prince Madoc, the Welsh explorer who, according to legend, discovered the New World via Mobile Bay three centuries before Columbus.
Venture inside the 18th-century Gulf hurricane that wrecked a Spanish invasion fleet.
Spanish and British forces clash at Mobile in a Revolutionary-era battle for the Bay.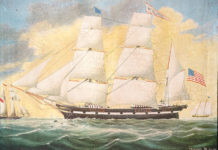 A 19th-century painting of a warship sailing into Mobile Bay offers a small dose of history — and a large serving of mystery.
A long-lost document reveals an officer's account of a reconnaissance mission from Mobile during the Battle of New Orleans.
A 1558 Spanish voyage yields one of the oldest descriptions of Mobile Bay.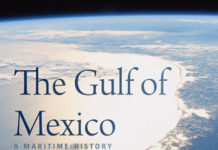 In a sampling from his newest book, local author and MB contributor John Sledge tells the tale of a German submarine attack on a ship headed for Mobile.
A pirate's deathbed confession in Mobile added a further layer of intrigue to one of history's unsolved mysteries.
Relive the night of action that sent the blockade runner to her resting place off Fort Morgan.
Encounter Mobile Bay's notorious piratical scoundrel.