Mobile musician, artist and podcaster Abe Partridge talks family, faith and snakes in a rare moment off the road.
The Eastern Shore Choral Society gives enthusiasts the chance to celebrate music and see the world in the process.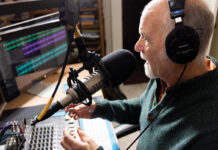 Locally renowned "Music Man" Catt Sirten lived in 14 cities before coming to Mobile. Now he's reflecting on the journey that led to his permanent home on the Gulf Coast.
Meet five music acts carrying themselves, and Mobile's music scene, to new heights.