Caroline Eileen Mañas and Peter Nikolas Saway were united in marriage at the Cathedral Basilica of the Immaculate Conception on Oct. 27, 2018. Father Christopher Boutin officiated the ceremony.
The bride is the daughter of Mr. and Mrs. Reynaldo Edgardo Mañas. The groom is the son of Dr. and Mrs. Peter Anthony Saway. The bride wore an off-the-shoulder gown with a full tulle skirt and a pearl and crystal belt by Romona Keveza. Her cathedral-length crystal-embellished veil and gown were both from Ivory and White. The bride carried a bouquet of ivory white and pale pink roses.
The bride chose her sisters, Nicole Marie Bodine and Katherine Ann Robertson, as matrons of honor. Her sister, Claire Monique Mañas, and Kelly Leigh Friley were maids of honor. Erin Marie Moore, Anna Marie Saway, Megan Elizabeth Mañas, Marigny Elisabeth Dupuy, Mary Claire Pugh, Katherine Setterstrom Zieman, Erin Christine Murphy, Catherine Marie Blackwell, Sara Elizabeth Dawson and Kimberly Alane Stuardi were bridesmaids. The bridesmaids wore evening-blue chiffon dresses. Kristen Abigail Mañas and Jillian Grace Mañas were junior bridesmaids. Honorary bridesmaids were Kendall Foster, Alex Wilkins and Anna Cowling. Ava Claire Mañas, Emily Claire Robertson and Amelia Fay Moore were flower girls.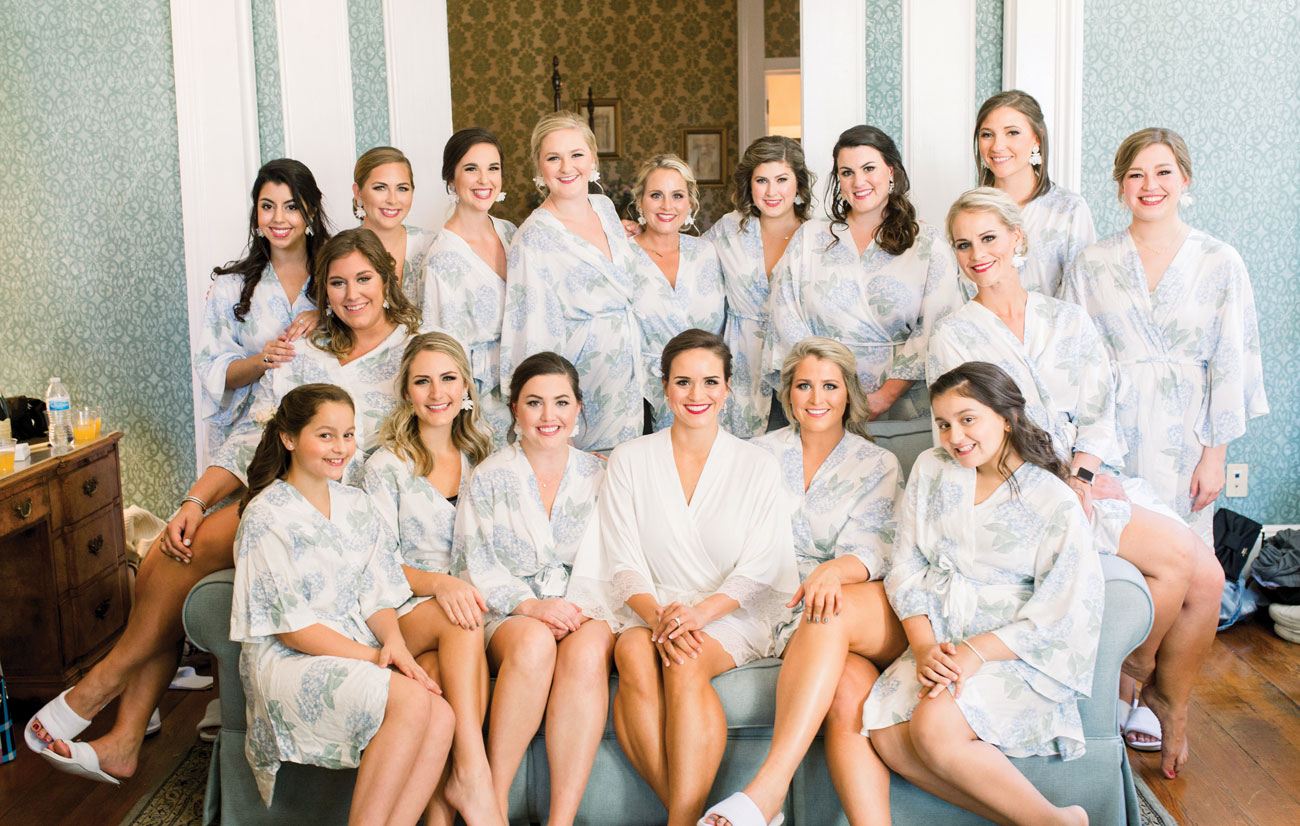 The groom chose his father, Dr. Peter Anthony Saway, as his best man. Mikael Anthony Saway, John Paul Saway, Josef Anthony Saway, Benjamin Andrew Saway, Matthew Sean Moore II , Andrew Sean Mañas, Michael John Mañas, Patrick James Mañas, Jake Murphy Robbins, Jarvis James Campbell, Corey David Noles and Matthew Jonathan Savela were groomsmen. Andrew Ryan Mañas and Kenneth Lee Wise were junior groomsmen.
Landon Brian Bodine, Carson Daniel Bodine, Michael Alexander Mañas, John Patrick Mañas, Joseph Henry Mañas, Mikael Banks Saway, Bishop Anthony Saway and Matthew Miller Robertson were ring bearers. Aiden Paul Bodine was an altar server. Program attendants were Mary Bond Bailey and Alexis Euart. Joshua Warren Foster, Marina Nicole Saway, Maria Fernanda Wojciechowski and Marie Vollmer Alexander were readers. Vocalists were Erin Marie Moore (soprano), Erin Lilley Smith (cantor, soprano) and Clinton Doolittle (organist).
Following the ceremony, the couple and bridal party rode a trolley to the Bragg-Mitchell Mansion where the reception was held under a canopy of Old Mobile oaks. Port City Rentals constructed a large tent in the front lawn of the home and chandeliers and market lights hung under the tent and trees. Guests dined on crab cakes, oysters, roast beef, shrimp and other Southern favorites. Pollman's Bake Shop created the four tier wedding cake and miniature dobash cakes. Family and friends danced through the evening to the band Fly By Radio. The bride and groom made their exit amongst a flurry of rose petals in an antique blue Ford convertible. After a honeymoon in St. Lucia, the couple now resides in Mobile.
Ceremony Venue Cathedral Basilica of the Immaculate Conception Reception Venue  Bragg-Mitchell Mansion Wedding Dress Ivory and White Bridesmaid Dresses Bella Bridesmaids Hair Amy Jones + Emily Salata Makeup Dodie Peltier + Alexandrea West Florist Belle Bouquet Rentals Port City Rentals Lighting Showbiz Theatrical Services Caterer Creative Catering by Sean Bakery Pollman's Band Fly By Radio Photographer  Brianna of Jennie Tewell Photography Videographer RHR Media Wedding planner  Jacqueline Burkett
Want to have your wedding featured online? Click here to purchase a wedding announcement!