– Under $10 –
HOUSE ROASTED TURKEY PANINO
A fresh baked foccacia sandwich with turkey, baby greens, roasted pepper, Dijon, garlic aioli and house-made mozzarella. ​Panini Pete's • 102 Dauphin St. 405-0031. 42 1/2 Section St., Fairhope. 929-0122.

Photo by Blair Abraham
SEAFOOD LETTUCE WRAPS
For a light bite, try these delicious lettuce wraps filled with Gulf shrimp, scallops and calamari and topped with a light citrus vinaigrette. Sunset Pointe • 831 N. Section St., Fairhope. 990-7766
REDNECK NACHOS
A heaping portion of homemade potato chips,  smoked barbecue or chicken,  nacho cheese,  red onions and pickled jalapeños, all slathered in plenty of the black pepper-heavy, traditional sauce. On top of all that? Some tangy white barbecue sauce, just for good measure. Moe's Original Bar B Que • 6423 Bayfront Park Dr., Daphne. 625-7427. 701 Spring Hill Ave., Mobile. 410-7427. 20733 Miflin Rd., Foley. 923-0079.
25603 Perdido Beach Blvd., Orange Beach. 981-7427.
VEGGIE PANINI
Grilled, marinated portobello mushrooms, fresh spinach and roasted red peppers are topped with gooey, melted mozzarella on crisp, pressed sourdough, served with fruit for $7.95. Cream & Sugar Cafe • 351-B George St. 405-0003
ROAST PORK AND UDON NOODLE BOWL
Delectably savory red curry broth studded with roast pork, tender ribbons of Udon noodles, asian pesto, fresh spinach and jalapeños. Dragonfly Foodbar • 7 South Church St., Fairhope. 990-5722
BUFFALO WINGS
This fiery indulgence has become somewhat of a hometown legend, especially on weeknights during happy hour when they are offered as a two-for-one special. A perfect portion for a meal.
Butch Cassidy's • 60 N Florida St. 450-0690

Photo by Blair Abraham
BBQ BRISKET SANDWICH
A hefty pile of tender beef brisket atop a warm, toasted sesame seed bun comes with a side of Cotton State's signature sauce for just $7. Cotton State BBQ • 101 N. Conception St. 545-4682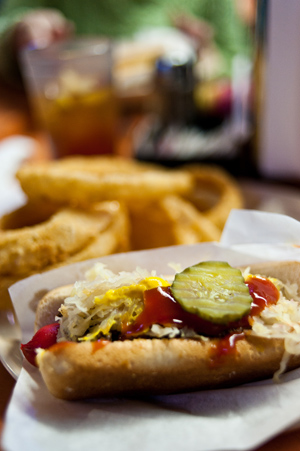 Photo by Jeff and Meggan Haller                                              Photo by Matthew Wood
MARDI GRAS DOG
Let the good times roll with a 10" all beef dog on a fresh baked roll with sweet relish, diced purple onion, comeback sauce, sriracha sauce and peppadews. Old 27 Grill • 19992 State Hwy 181, Fairhope. 281-2663
DEW DOG
The classic pink dog locals know and love. Top it with chili, sauerkraut, ketchup, mustard and a pickle for just $2.95. Dew Drop Inn • 1808 Old Shell Rd. 473-7872
THE CHICKEN FUNGHI
Chow down on ​rotisserie chicken, fresh spinach, mushrooms, gorgonzola cheese, mozzarella cheese and pesto mayonnaise on stone-toasted flatbread for under $7. ​Mediterranean Sandwich Co. • 274 Dauphin St., Mobile. 545-3161. 2502-2 Schillinger Rd. S, Mobile. 725-0126. 6890 Us Hwy 90, Daphne. 621-2271.

Photo by Todd Douglas                                                              Photo by Ashley Rowe
– Under $15 –
NAVCO SPECIAL
Meat lovers and supreme unite in delicious harmony. This pie has it all – sausage, beef,  ham,  pepperoni,
onions, bell peppers, black olives and mushrooms. Want a smaller portion for lunch? A 10″ pie is under $10. Navco Pizza • 1368 Navco Rd. 479-0066
SMOKED DUCK FLATBREAD ​
Thin, crisp flatbread is served pizza-style, laden with savory slices of brined, smoked duck, sprinkled with soft, crumbled goat cheese, roasted red pepper strips and arugula, all drizzled with snappy aioli sauce. Union • 659 Dauphin St. 432-0300

Photo by Blair Abraham
AHI TUNA SALAD
This light and flavorful selection is topped with pan-seared ahi tuna, sesame ginger vinaigrette, sliced avocado and a citrus soy glaze. Ashland Midtown Pub • 2453 Old Shell Rd. 479-3278

Photo by Blair Abraham
CRAWFISH ETOUFFEE
Enjoy crawfish tails sautéed in a flavorful roux over rice topped with a portion of fried crawfish tails. A side salad completes the meal for $14. Boudreaux's Cajun Grill • 29249 U.S. Hwy 98, Daphne. 621-1991
CONECUH BURGER
Two of man's favorite ingredients come together in this glorious, gargantuan sandwich. Flavorful Conecuh sausage is mixed in with the ground beef for an unexpected kick. Pair it with an order of onion rings for the ultimate comfort meal. T.P. Crockmier's • 250 Dauphin St. 476-1890
SHAGGY KANI ROLL
Liquid Lounge's legendary Shaggy Kani roll features a cream-cheesy crawfish interior messily topped with shredded crab, unagi sauce and spicy mayo. Liquid Lounge • 661 Dauphin St. 432-0109

Photo by Blair Abraham
GRILLED PORK CHOP
Feast on a double thick cut bone-in pork chop that has been brined, smoked, grilled and finished with a slick of clarified butter. The House Restaurant & Bar •​ 4513 Old Shell Rd., Suite D. 408-9622
FRIED GREEN TOMATOES AND CRAB CAKES
Fried green tomatoes layered with blue crab cakes served over lemon aioli and topped with lump crab meat ravigotte. Half Shell Oyster House • 3654 Airport Blvd. 338-9350

Photo by Jeff and Meggan Haller
CHICKEN & WAFFLES
Hot Belgian waffles lathered in a Conecuh bacon and candied jalapeno peanut butter with fried chicken wings and drizzled with a house made syrup and Cajun hollandaise sauce. The Hungry Owl • 7899 Cottage Hill Rd. 633-4479
---
Photos by Elise Poché