The Classic
Model Dyer 29'    Year 1973    Speed 20 knots 
Nothing says Americana like a wooden cruising boat with a flag unfurled on a teak transom. It conjures images of the Kennedys in striped shirts and boat shoes. Tasse, a perfectly restored 1973 Dyer, is the picture of classic boating with a blue hull and wood trim. Built by family-run Anchorage Boat Builders in Rhode Island, the Dyer 29' has been in continuous production since 1955 — longer than any other fiberglass boat. Talk about tradition!
Although the beautiful lines and timeless appeal of the Dyer have inspired other boatmakers, its craftsmanship is unparalleled, keeping them hard to find with high demand. While it was built for comfortably cruising and turning heads, Tasse looks and acts like a seagoing vessel, handling rough seas with ease. The large cockpit perfectly accommodates a number of either fishermen or lounge chairs, depending on your preference. Below deck, you'll find sleeping quarters, a small galley kitchen and a head that make travel doable, but her owners usually keep it close to the restaurants and sand bars of coastal Alabama. She can be seen on weekends in the summer with her bimini top up, providing shade to friends and family who gather for an easygoing cruise.
The Alpha
Length 63'    Year 2000    Range 450 miles    Speed 30 knots    Fuel 1, 400 Gallons    Sleeps 6
This 63-foot Ricky Scarborough sportfishing yacht, owned by Heather and Chris Haley of Fairhope, has covered the Gulf in just a few years. She has fished big game tournaments from Biloxi to Destin, traveled to faraway islands such as the southern Bahamas and the Dominican Republic, and anchored at hometown locales, including Robinson Island and Pirates Cove. There is no shortage of fun to be had, regardless of where it docks.
The Skin Deep, a nod to Heather's dermatology practice, is a head-turning, custom-built boat. Chris compares the two-to-three-year process of ordering a custom boat to building a home, since every detail inside and out is specified by the owner. Scarborough and the handful of other custom boat builders from the Outer Banks all incorporate a concave "Carolina flare" bowline, which makes a smooth riding, dry boat. She can travel as far as Mexico, with all the amenities of home onboard, including three staterooms, two heads, satellite TV and radio, a watermaker and much more. It also has an ice chipper that keeps big-game catches fresh until the boat returns to the dock. High-tech details include touch screen electronics for the captain and redundant generators, just in case.
A boat like this is designed for chasing marlin, but Chris says they don't take it too seriously. He is proud that many of his son's friends have caught their first billfish on board. The focus is on fun, but they certainly do it in style.
The Charmer
Length 35'    Year 2004    Fuel Capacity 300 gallons    Engine Single Cummins Diesel    Sleeps 4
The name /usr/friendly perfectly sums up the attitude of this wooden trawler. Everything about it was custom designed for enjoying a hassle-free day on Mobile Bay. After a lifetime on the water in boats of various sizes and shapes, Kenny Muscat had a pretty good idea what he was looking for in the perfect boat. It needed a shallow draft, a good ride in chop and a classic look. He dreamed of just enough room for a couple of fishing buddies to hop on board, but not so much that he couldn't handle it all himself when needed. His big idea moved from the drawing board to the workshop, and after only seven months, the little trawler was complete and put to sea. 
The /usr/friendly has charm aplenty, with wood-framed windows that swing out and up, securing in place with brass hooks and allowing maximum sea breeze into the wheelhouse. The windows down the port and starboard slide down into the walls, disappearing from sight altogether. A few classic, round portholes add extra charisma. Chairs out on the back deck create an outdoor salon, perfect for cocktail time once the anchor is set.
She is seaworthy, no doubt, and can travel up to 450 miles without refueling. However, the Muscats typically keep close to the wharf in Point Clear. Her shallow draft allows her to tie up at the house on a high tide so grandkids can climb aboard. That's about as user friendly as it gets!
The Racer
Length 21'    Type Planing Dinghy    Speed up to 20 knots    Weight 749 lbs    No. of Sails 2
Sexy is not exactly what comes to mind when you hear the word "dinghy, " but you might need to tweak your internal dictionary just a bit. A new class of racing sailboat has just hit the Gulf Yachting Association's Capedevielle Circuit, and this planing dinghy is crazy fast. Local yacht clubs up and down the Gulf have been sailing the older Flying Scotts for more than half a century now, and they are finally being retired and replaced by the Viper 640. Mobile Bay got its first few boats this year, and Ellis Ollinger of Fairhope is the proud owner of one of them. 
The Viper 640 is light, easy to rig, simple to sail, fast and fun — that's the beauty of this little vessel. It's a self- bailing boat with an open transom that, to those who don't sail, appears to defy the laws of physics. Three-man crews can be seen taking on any wind and sea conditions, leaning precariously backwards over the edge to prevent too much heel. As a "one-design" boat, every Viper 640 along the coast is essentially identical and can sail against each other with no handicaps. The boat that sails across the finish line first is the winner, and Ollinger plans to be the victor. Local sailing is ready to come about with this new generation of exciting boats!
The Dandy
Length 40'    Model Hinckley Bermuda 40    Year 1971    Sleeps 6    No. of Sails 5
Walking along the sun-weathered dock of the Fairhope Yacht Club, you pass stern after stern of sailing vessels of all sizes, ages and conditions. One in particular catches your eye, however, with a shining navy blue hull and handsome teak trim along the curve of the deck. The Ma Jo Lee, a 1971 Hinckley Bermuda 40, is a grande dame among local sailboats with cherry wood finishes below deck and crisp striped cushions in the cockpit. Hinckley's reputation precedes it, having produced high quality sailing vessels since 1928. The B-40, as this vessel is known, has a fiberglass hull with graceful lines that make for speed and beauty in equal parts, earning her a place in the American Sailboat Hall of Fame. She has needed little renovation or repair over the years, a testament to the quality of craftsmanship you get with a Hinckley boat.
Fairhope blueberry farmer Tynes Stringfellow bought the Ma Jo Lee in 2003 and immediately sailed her to the West Indies, where he has a home on the Grenadine Island of Bequia. Known as the Windward Islands for the steady 20-to-30-knot blow in that part of the Caribbean, it was the perfect place to hone his sailing skills. While the Ma Jo Lee has raced its fair share of regattas on both Mobile Bay and the Caribbean, it is really a pleasure boat used for sunset cruises and trips with family and friends. Stringfellow's oldest daughter spent half of the first year of her life aboard in the Caribbean, the stuff most people's dreams are made of!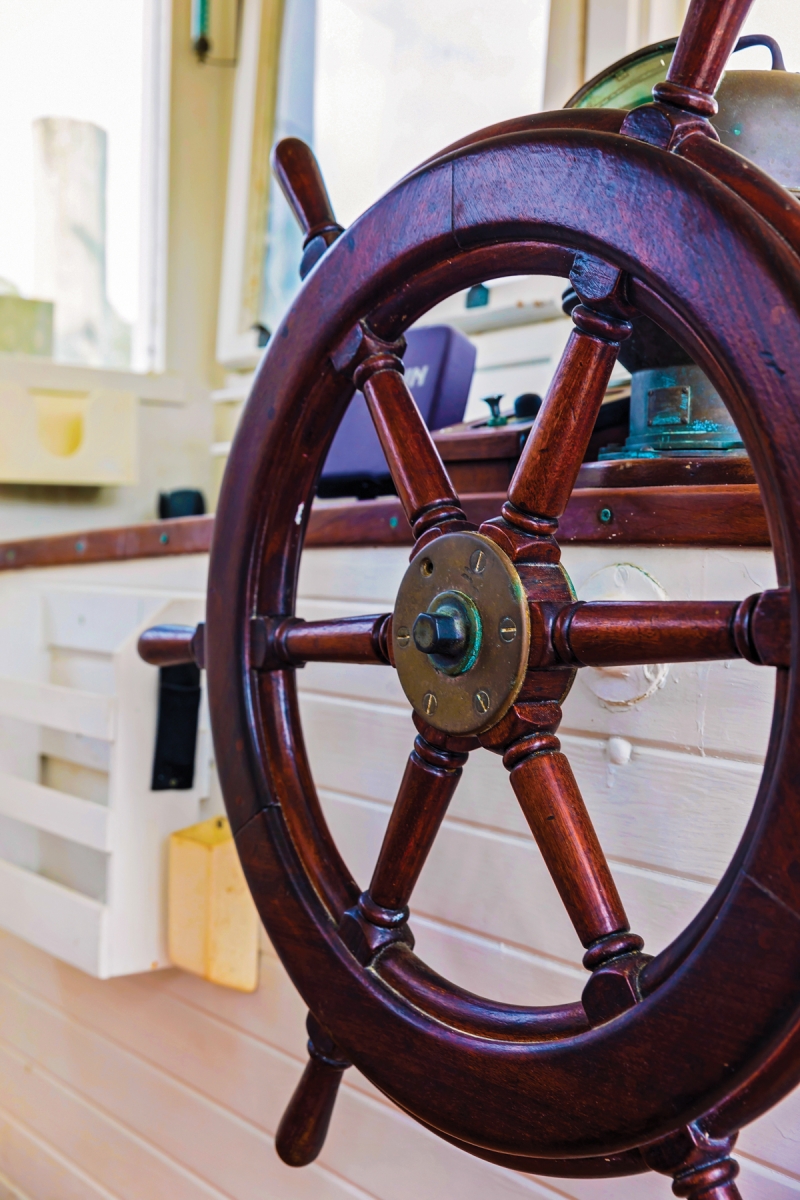 The Fixer Upper
Length 44'    Type Lugger    Year 1938    Fuel Capacity 200 gallons    Range 400 miles    
Speed 7 1/2 Knots    Sleeps 5
While some boats are all sparkle and speed, others show their age gracefully through classic proportions, sturdy hulls and natural materials. The Madame Toussaint is a nearly octogenarian vessel, built in Biloxi for the Louisiana Land and Exploration Company. It originally functioned as a survey boat for oil exploration in the Mississippi Delta. She carried a crew of five men, most likely geologists, surveyors and a captain, until her retirement, upon which she became a pleasure boat. She is a lugger, with a high bow and low freeboard aft. Being made in Biloxi should surely allow her to be called a Biloxi Lugger; however, the definition of those boats is murky, like the waters the Madame has cruised all her life. As she was neither a shrimp nor crab boat, and because her hull is a little bigger than most, she does not qualify as a Biloxi Lugger. Regardless, she is stately and sturdy. 
Owned by the Mobile Bay Wooden Boat Foundation — a group put together by Reid Key, Ben Raines, Skip Jones and other conservationists — the boat is currently being restored to her former glory. The Foundation is attempting to raise the funds needed to repair the hull and complete the work so that the Madame Toussaint can be made available to local conservation groups, schools and nonprofits for research, education and fundraising for environmental causes. A weekend on this beauty would engender a passion for protecting  our waters in any who sailed upon her.
---
text by Maggie Lacey • photos by TODD DOUGLAS