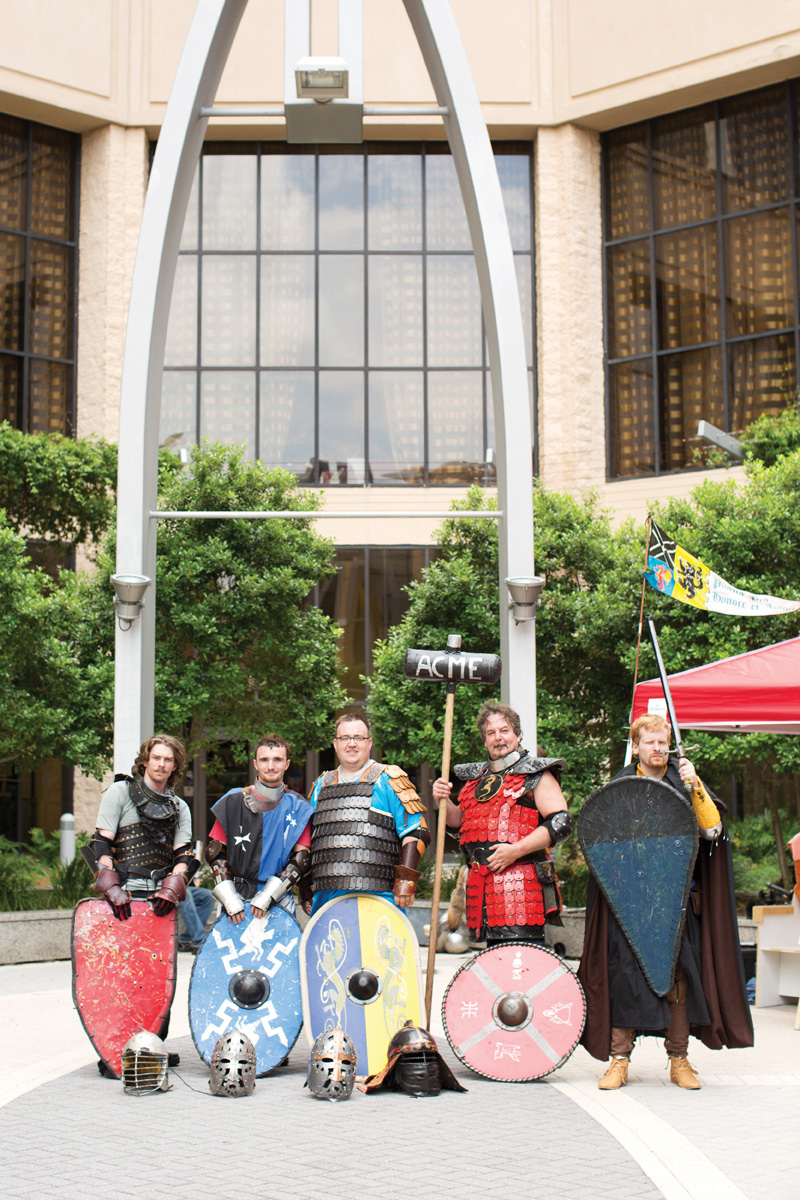 ABOVE LEFT Jack dresses as Harry Potter.
ABOVE RIGHT Live action role players engage in medieval fighting outside the Renaissance Riverview Plaza Hotel. 
 
Geek is in, " Lee Foropoulos boldly states. "If we wander around in here long enough, I'm sure we'll find someone playing Pokémon right now." He is the president of Mobicon (the shorthand term for Mobile Comic Con, which itself is short for Comic Convention), and he is on a mission to grow Mobile's nerd-tastic festival until it's bigger and better than ever. 
And that is truly saying something,  because as a first-time attendee this past May, I witnessed for myself this electrifying gathering of inventive, passionate and wildly unique characters — fictional and non — eager to share their worlds with all.     
Down the Rabbit Hole
ABOVE Anna Sweetser shows off her stunningly detailed cosplay for the popular video game World of Warcraft.
Whenever you hear "comic con, " you probably imagine all the costumes, and boy, there was no shortage here. Cosplay, or "costume play, " is a cherished tradition of cons around the country. At Mobicon, every conceivable character mills about in this hustling, bustling superfan convention. Disney princesses dash up and down the escalators as Jedi huddle around board games. Woodland creatures explore the venue alongside Hogwarts students, superheroes and video game warriors. 
Walking through the courtyard toward the front doors of the Renaissance Riverview Plaza Hotel Downtown, I was greeted by more than a dozen medieval duelers, a full-on Batman costume, a dude with a Batman T-shirt and mask and a handful of characters that I didn't even recognize.       
I skirted around the edge of a faux battle-to-the-death and entered the hotel, where every possible aspect of nerd-dom seemed to be represented at vendor booths. The geek in me emerged as I moved from one table with Doctor Who T-shirts and trinkets to a booth with intricately detailed sculptures crafted from the pages of the Harry Potter books.
I followed a vendor dressed as Rey from the new Star Wars movie and begged for a photo. As I finished, Tinkerbell swooshed by and some steampunk gals smiled and said hello. Villainous icon the Joker strolled around casually, checking out booths and panel rooms and looking eerily similar to the on-screen incarnation. Costumed and uncostumed fans alike gathered around tabletop games or video games, despite not knowing one another before that moment. Later that night, after-parties and pub crawls for attendees took place all across Downtown Mobile. The proceeds from the event were donated to the Shriners Hospital for Children. 
Future Dreams
In 2017, Mobile will also become the home of QuestCon, a similar convention organized by the worldwide gaming group Grievance Gaming Guild. Expansion makes sense: Mobile is a hub in so many other respects, why wouldn't it be one for Gulf Coast geeks?  
By next year, Foropoulos hopes Mobicon will be its own 501c3 nonprofit organization. "Our goal is to bring technology and gaming to children and classrooms. Today, schools want to put tablets into the kids' hands, and a lot of schools can't afford to. Our own charity would allow us to use profits for something like that."
Whether you come in costume or not, whether you speak Klingon or know the entire political history of the Jedi knights, whether you travel by TARDIS or broomstick or starship, you are welcome here. And that's my biggest takeaway. Children as young as 5 and adults well into their golden years mingled and marveled together, immersed in the same fantastical stories. Simply put, it was magical.
 Have you got the bug for Mobicon? Visit mobilecomiccon.org to stay up-to-date for 2017's epic convention.
---
text by chelsea wallace adams • photos by elizabeth gelineau