Sheena Tobin relaxes in the glow of her refurbished lamp with coffee, sipped from her hand-repainted mug.  
Refashioning Style
When it comes to stretching a dollar, Sheena Tobin knows her stuff. But with the quality and elegance of her projects, no one else would ever guess.
When I step into Sheena Tobin's home, I'm struck both by the colorful interior and her own vibrant orange maxiskirt. I compliment the dress, and she shares that she thrifted the entire outfit – blouse, maxi, shoes and hat – for under $25 and even took second place in a local Goodwill re-fashioning contest this spring with the look. Just inside the entryway, I can't help but notice an interesting aqua blue chandelier, below. With a modern shape that throws fascinating shadows on the walls, the light fixture exudes class. But Tobin did not spend hundreds to obtain this piece: She made it herself for less than 20 bucks. 
And the best part? She shares all of her money-saving strategies on her home DIY blog, Bean in Love. Born out of a desire to save money, Tobin's blog offers detailed tutorials on various easy-to-replicate tasks, such as minor clothing alterations or embellishments and furniture refurbishing. Tobin begins each project by finding style inspiration through high-end resources online, in her favorite stores or magazines. She then dedicates herself to finding truly affordable materials and techniques to create the look for a whole lot less, making it possible for just about anyone to follow along and turn their own home into a show space, too. 
In addition, Tobin's blog details other aspects of life as a Southern stay-at-home mom. Personal accounts of infant and toddler products, cloth diapering experiences and creating a family budget add just the right amount of variety. The downloadable budget spreadsheet is a must for families everywhere, as are the various children's clothing and accessory design tutorials. Tobin's friendly, personable instructions invite DIY newbies and veterans alike to partake in the fun. Bean in Love literally has the whole family covered, with sass to spare.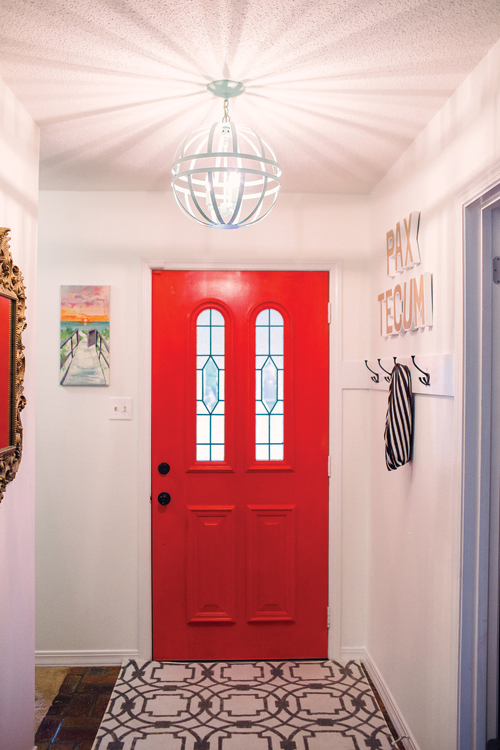 ABOVE Using affordable materials, Tobin creates one-of-a-kind pieces such as this bright pom-pom lampshade. Perhaps her most intriguing piece, the aqua chandelier at the entry,  only cost around $20 to make with hanging planters.
 
What is the most critical "first step" for all DIY projects?
Planning is huge, especially when painting furniture. Knowing what type of material you're painting and how to prep it is crucial. And also, checking online tutorials is so important. I've come across some that will skip steps that leave you hanging halfway through a project. Find a good tutorial and read through it completely before you start. I always try to make mine really thorough – maybe too thorough! 
What is something that first-timers may not take into account when creating a family budget?
You have to include every single expense! Sometimes, expenses that don't necessarily go out every month get forgotten. Things such as car insurance and car registration are prime examples: Those are usually paid every six months or even once a year. Also, forgetting health insurance when it's taken out of a paycheck can be an issue. Remember, it takes practice and determination to make sure you've tracked everything. Cash is easy since it's visible and can be counted, but when you pay with plastic, saving your receipts or using an online banking service to view transactions is a must!
Do you have any money-saving tricks for shopping in Mobile?
I often shop at thrift stores. The Mission of Hope on Moffett Road is a great place to get used furniture! Their profits go to support recovering addicts, so it also feels good to spend money there. Once a month, the Goodwills run a $1 sale on all clothing items, and every Sunday, a particular colored clothing tag is $1. I also haunt the aisles of Dirt Cheap for their amazing deals. JoAnn Fabrics and Michaels have smartphone apps with excellent coupon offers – I never step inside without a coupon!
Nestled in a small neighborhood in Spring Hill, Wolf's home originally had little curb appeal. The quaint porch, added in the home remodel that ultimately led to Wolf's web show, includes richly stained handrails and modern striping on the floor, both of which are covered in detail on her blog.
Home Reno Royalty
Building a headboard, constructing a deck or adding a kitchen island may seem like momentous tasks to some. However, for Chelsea Lipford Wolf and her team, it's just another day at the office.
Two women paint in the front yard, their chatter mingling with sounds of chirping birds and rustling leaves. It's a fairly ordinary scene – friends working on a home improvement project – that is, except for the circling cameramen. They're rolling film because one of these women is Chelsea Lipford Wolf, producer and host of the monthly web series "Checking in with Chelsea, " filmed right here in Mobile. Her show includes undertakings that range from complex endeavors, such as updating an old bathroom or installing kitchen cabinetry, to simple handmade home decor, such as painting dining room chairs or constructing a closet door caddy. 
Wolf purchased her first home in Mobile about four years ago and completely renovated the 70-year-old house with the help of her father, Danny Lipford, longtime host of the nationally syndicated home improvement show "Today's Homeowner." Her journey was featured in a miniseries on her dad's program, and people responded so well to it that "Checking in with Chelsea" was born soon after. Her series marked its one-year anniversary in July, and its revamped brand and website debut this month at checkinginwithchelsea.com. The laid-back show often features just this scene – Wolf helping a friend with a project and imparting some priceless wisdom along the way.
The web series targets home-buying millennials between the ages of 18 and 35, passing along some basic (but essential) home repair skills and advice for turning any space into a home filled with style and personality. Her relaxed rapport with the camera and easy-to-follow instructions have attracted more than 10, 000 monthly visitors. She comes across as a woman you want to befriend and enjoy a cup of coffee with – and then invite over to your home to lend a hand on a clever project you found online. Knowing her, she'd probably jump at the chance, especially if you let her film the process.  
ABOVE The modern kitchen layout Wolf designed – with bright cabinets, granite countertops and a simple backsplash – is a far cry from the originally cramped space. Designing for functionality, openness and aesthetic, Wolf effortlessly achieves all three in this kitchen.
 
ABOVE LEFT Pulling up the carpet in Wolf's decades-old house revealed beautiful hardwood floors that add character and charm to the home. Wolf's DIY shoe tray solves a common household problem (keeping dirt off those gorgeous floors) in a unique, visually pleasing way.
ABOVE RIGHT Wolf's home boasts a cottage-like atmosphere with all of the amenities wanted in a contemporary home. Connected to the now-spacious kitchen is the sunroom at the back of the house, perfect for a morning cup of coffee or enjoying drinks with friends. 
 
Why do you think the DIY craze has exploded in recent years?
When the housing market crashed, people couldn't afford to move. They wanted to change their homes, to make them different and to do it on a budget. That's the big thing about DIY – it's usually economical. It's also easier to show your personality with a DIY project than hiring someone else to do it. Plus, it's really empowering!
What is the most common mistake people make on home improvement projects?
Using the wrong tools. It makes the project go so much smoother and look better if you use the right tools. If you don't want to buy them, you can rent. So, if you're not ready to invest in a circular saw yet or you're saving up for a high-end one, you can rent it for a day or half a day, and it really makes a huge difference. 
Some tasks seem intimidating for first-timers. Any advice?
Research. Make sure you're using the right materials and doing things in the right order. Also, take your time. If you're rushing and you're frustrated, it won't turn out well. Take a break, get a snack, have some coffee, then go back with a fresh mind. 
What are your favorite types of projects? 
Repairs, actually. You've probably walked by something in your house for months and just kept thinking, 'I need to fix that.' When you finally complete a repair, there is this sense of joy every time you see it afterward. Even things such as recaulking the bathtub make me so happy.
---
text by Chelsea Wallace • photos by Jennie Tewell