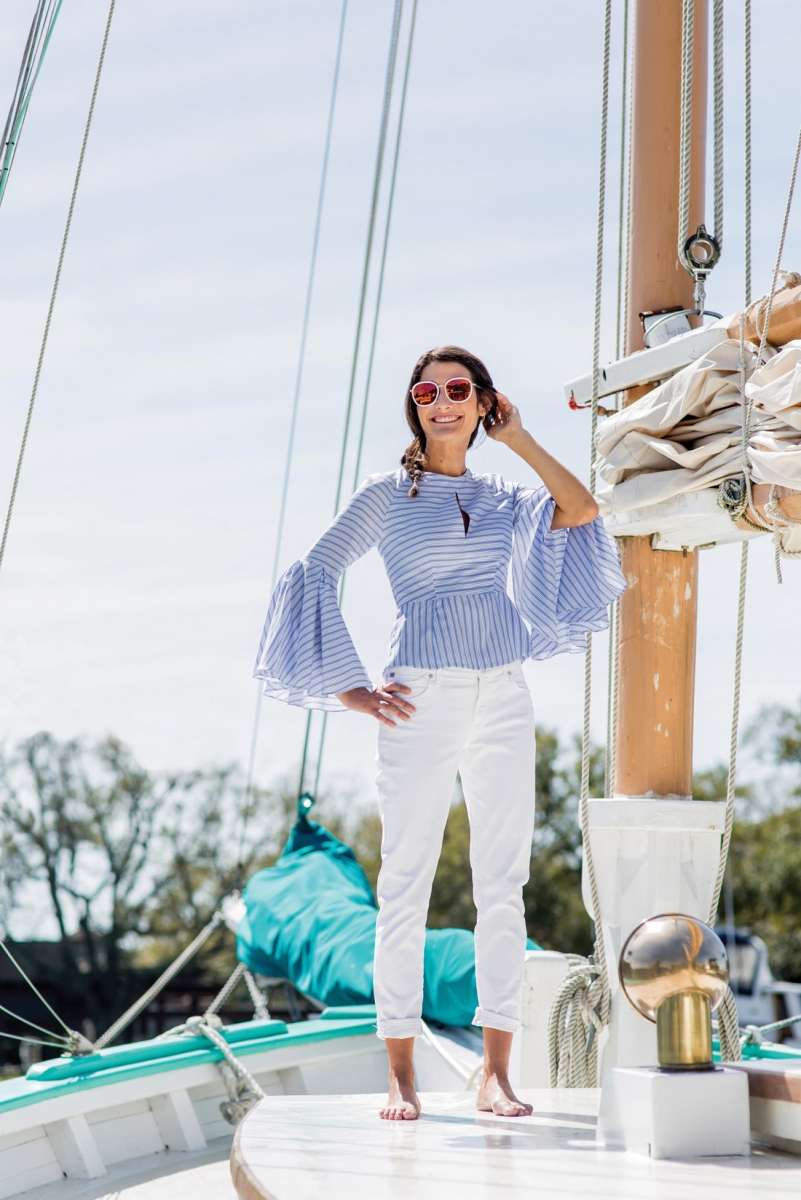 ON CASEY A crisp and flirty cotton top (Milly, CK Collection) with bell sleeves, peek-a-boo front and ribbon tie at the back looks chic over white jeans (Citizens of Humanity, CK Collection). Oversized shades (Giselle, Sway) are a must. 
 
ON IZ Take the helm and point her to sea. A draped white top (Free People, Hemline) looks casual with nude cropped skinny jeans (Citizens of Humanity, CK Collection). Complementary sunhat (Sway) tops it off. A pile of beaded bracelets (Sway) adds an eclectic vibe. (Sunglasses, Maui Jim.)
 
ON IZ (left) Once the sails are set, it's time to sit back and enjoy the views. A sophisticated black maillot (Seafolly Australia, Sway) with a plunging neckline and tassel belt looks simply chic. Keep plenty of Turkish cotton beach towels (Living Well) on hand in case the waves kick up. (Sunglasses, Dita, J.J. Eyes. Scarf, Hermes)
ON CASEY A black bikini (Seafolly Australia, Sway) is anything but basic with three optional ways to tie the top and a wrap-front bottom. Keep a raincoat (Ciao Milano, Hemline) at the ready for wind and sea spray. (Earrings and sunglasses, Sway)
 
ON ROSEMARY (left) A navy bikini (Seafolly Australia, Sway), is topped with a breezy striped sweater (Sway). White slip-on sneakers (Dr. Scholl's Scout Gardenia, CK Collection) are a modern update to boat shoes (Sunglasses, Dita, J.J. Eyes). She wears oxidized sterling silver and rose-cut diamond studs (Harvest Jewels) as well as bangles and link bracelets in oxidized silver, turquoise and pave diamonds.
ON CASEY A wraparound bikini top (Seafolly Australia, Sway) gives an updated shape to a classic striped fabric. A chambray pull-on skirt (Hemline) with drawstring ties is a simple coverup. Gold hoop earrings and sunglasses (Hemline).
 
ON CASEY A white off-the-shoulder top with bell sleeves (Lafayette 148, CK Collection) and denim cut-offs (Hudson Jeans, Hemline) pair perfectly with peach leather espadrilles (Bill Blass, CK Collection) covered in embroidery and paillette flowers. Turquoise tassel earrings and gold bracelets (Sway) finish off a polished look. (Sunglasses, Ray Ban).
 
ON ROSEMARY A flowy embroidered top (Parker, CK Collection) has peek-a-boo shoulders and layers of bell sleeves. Throw it on over white denim cut-offs (Sway), and you are set for a day in the sun. (Earrings, Harvest Jewels. Sunglasses, Dita, J.J. Eyes)
 
ON IZ Keep your accessories neutral with this chunky bead-and-ribbon necklace (Sway) with horsehair tassel and a soft silk scarf (Hermes). A cream sweater top (Hemline) has peek-a-boo shoulders and a deep-V that keep it a little bit sexy. Cutoff denim shorts (Hudson Jeans, Hemline) are relaxed and easy. (Sunglasses, Dita, J.J. Eyes.)
 
Special thanks
Schooner Joshua: The Joshua is a 72-foot wooden schooner sailing Mobile Bay under the command of Captain Carol Bramblett. A modern vessel built in the classic style, it is the Official Tall Ship of both the State of Alabama and the City of Mobile. Joshua can be seen docked in the Marina at Marriott's Grand Hotel in Point Clear. She is available for private charters, or walk on to the regularly scheduled day sails for a glimpse of our glorious seaport. 443-9463 • schoonerjoshua.com    
The Austin Lacey fund    
Above,  Rosemary hoists an Austin Lacey commemorative flag on the riggings of the Joshua. After Fairhope resident Austin Lacey died of cancer at the age of 28 in 2011, those who knew him hoisted the hand-stitched flags in his honor. Since then, hundreds of boats big and small have flown the bright blue "A" flags in fishing tournaments all along the Gulf Coast and beyond. The Joshua is honored to now be included on that list. The Austin Lacey Fund is dedicated to raising awareness, facilitating early diagnosis and providing support for young adults with cancer. Learn more at austinlaceyfund.com.
Resources
CK Collection • 320 Fairhope Ave., Fairhope 990-9001. ckcollection.com
Harvest Jewels • harvestjewels.com
Hemline • 4356 Old Shell Rd. 287-6875. shophemline.com
Living Well • 25 S. Section St., Fairhope. 929-3255. Facebook/livingwellfhope
Sway • 324 Fairhope Ave., Fairhope 990-2282. Facebook/SWAY-Fairhope
---
text and styling by maggie LACEY • photos by Wendy Wilson • hair by Brandy helton • makeup by olivia fryfogle • models Rosemary Corte, Iz Head and Casey Martin • shot on location on schooner joshua at the grand hotel marina, point clear