As a child, the closest I got to owning a playhouse was the green storage shed in my family's wooded backyard. It housed enough snakes, in my mind at least, that we should have turned it into a roadside attraction. The closest I ever got to spending time in a playhouse was on the living room couch, watching reruns of a TV show about a psychosis patient named Pee Wee Herman who enjoyed hugs from his blinking, talking recliner. Even then, it was all decidedly creepy.
But with time came the realization that inside a playhouse is actually one of the few unscary places in this world. It is the setting for tea parties and play sword fights, and all things make-believe that make childhood the long-missed, idyllic time that it is. Three families around the Bay are lucky enough to relearn that daily.
Dollhouse Beautiful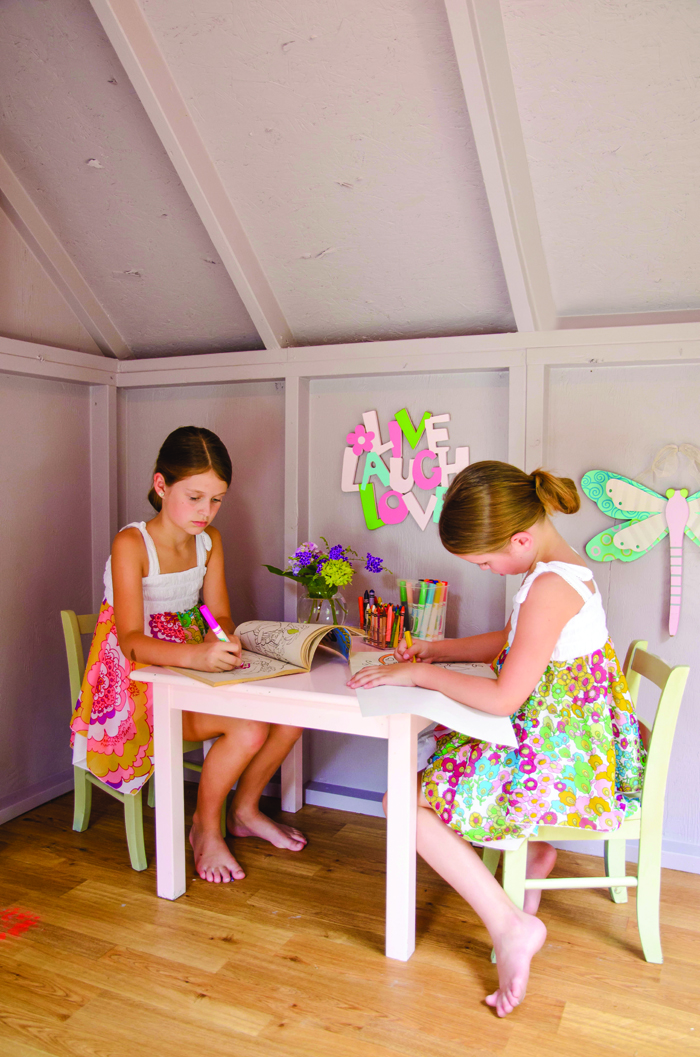 Once upon a time, a person could hardly step onto a playground without hearing girls chatter about something called "The Baby-Sitters Club." I never knew what it was, still don't, but was reminded of the title when I saw AnnaBeth and Aynsley McCain's Wendy house behind their family's Ashland Place home.
"We wanted a girly, kid-friendly kind of place, " says the girls' mother, Elizabeth. Six years ago when the family lived in Citronelle, Todd McCain built the playhouse with the help of a carpenter. Once the McCains decided to move closer to the girls' school, there was never a question about whether or not the little bungalow would be making the trip. Says Elizabeth, who fondly remembers her own childhood playhouse, "Moving it was a feat, but there was a lot of love poured into it so we had to bring it."
The lavender- and blush-colored structure was lifted by crane onto a large truck, driven to the family's new house and unloaded in the same way onto a plot of grass among the flora of their tidy backyard. From there, three additional play stations were added, connected by drainage pipes or "secret passageways, " as they're called by those who crawl through them. In the center of the compound sits a hidden meeting spot under the shade of a large loquat tree, with enough seats for 10 girls and their dolls, too. For now, boys of a certain age are unwelcome here and probably stink.
AnnaBeth, far left, and Aynsley, ages 6 and 8, host coloring time and tea parties inside the cottage when the window-unit air conditioner is working, but it was out-of-service during our visit. Nobody ever said being a princess is easy.
Barefootin' at the Beach House
Besides the essentials, there are few things a first-grade boy could wish for other than a place to ride his four-wheeler, a pool to splash in and some animals to bother while they are trying to sleep. Robert Sturma, opposite, of Silverhill, already had all of the above, but in March of this year, another precious jewel was added to his crown of boyhood: a hand-built, beach-style playhouse.
His family won the play place through a charity fundraiser raffle. The Baldwin County Homebuilders Association sponsored the prize to benefit the CARE House, a shelter that provides services and resources for victims of child abuse.
The Robertsdale-based homebuilder, Eddie Youngblood, constructed the building using donated materials and resources from local businesses. He lent the same care he gives to a real home, skimping on nothing but the size. Details like the crown molding, an artful tin roof and hurricane shutters may be lost on 6-year-old Robert, but the joys of the finished product are not. "As soon as we set the thing down, Robert was in there, " says the little boy's grandfather, John Sturma.
The cheery aqua and coral hut is situated on a patch of pine straw in the family's backyard, surrounded by acres of land that hold 20 horses, six cats and one rabbit.
Like many children his age, Robert enjoys trips to the beach and reading, but there's one activity he truly fancies: going barefoot. "I never wear socks and shoes, " he says, with a hint of pride. And with a playhouse this nice, it's only fitting to take your shoes off before entering.
Ahoy, Mateys
A pirate party is a many-splendored thing. For most, the usual swash-buckling accessories – eye patches, toy weapons, tricorn hats and a healthy dose of imagination – will suffice. But for the Phillips family, of West Mobile, those everyday accoutrements left something to be desired. The epic adventures of their grandson, Jackson Carter, needed a stage on par with the pirating world in his mind, so the family went about building one in their backyard.
"We actually wanted to build a swingset, but the ground wasn't level enough, " says Jim Phillips, Jackson's grandfather. "The grandkids were really into pirates at the time, so we had some people build a pirate ship."
"They got a little carried away, " he says, shaking his head.
The two-story, wooden mock vessel boasts a captain's wheel, a Jolly-Roger-waving mast and a PVC cannon that projects tennis balls. And, if you squint from the bow, it's not impossible to imagine the adjacent pool as vast, open sea.    
Along with Scamp, the family's curvaceous beagle, cousins Jacob Jones, Ellie Jones, Shelby Parker and Samuel  Jones, and Jackson plunder for treasure and fight off marauders like a pack of caffeinated Jack Sparrows.
During the ongoing melees, certain phrases are shouted that might be  of concern if heard anyplace else on earth: "I can't remember where I put my sword, " "I'm stuck in the cannon hole!" and the much-ballyhooed "Hey, I killed you already!"
After some buccaneer-themed cupcakes, a vote to rename the ship (now The Black Shadow, I think) and a few last skirmishes, the kids finally drop their weapons and yell "cannonball!" one last time as they leap into the pool.
---
text by Ellis Metz • photos by Summer Ennis