Gulf Shores

with Sam Sumlin
Born and raised on the coast, Sam is a true waterman. Whether he's surfing or fishing, there's not a moment that the Gulf isn't just below his salty feet. As co-founder and creative director of High Seas Design House, he has gotten to know countless businesses along the sandy shores of south Alabama and decided to share a few tips only a true local would know.
Only the Locals Know
There are still a few great places to get away from the crowd. Jeff Friend Trail on Little Lagoon is a great spot to go and still enjoy the water.
Get Outside
I fish probably 200 or more days a year. There's just so much variety in our area. I also surf and spearfish when conditions allow.
Gear
Sam loves his "Pro Lance" board made by Cronin Surfboards. His personal board is solid black, but it comes in tons of colors.
Summer Sip
The Summer Dream at Beach House Kitchen & Cocktails off of West Beach — my girlfriend loves them. Plus, they use Alabama spirits.
Caffeine Up
Foam Coffee is where it's at.
Splurge
The Lemon Ice Box Cake Ice Cream from Matt's Ice Cream is my favorite. Then I meet my trainer at Results to relieve the guilt.
Where to Shop
Down Under Dive Shop is my favorite. They've got all the gear you can dream of, and that's also where I took my freedive training classes.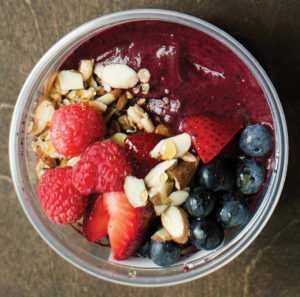 Sunset Spot
The Point at Fort Morgan has the best sunsets. It's worth the drive down for sure.
Go-to Lunch Spots
Both of these places have amazing service and are locally owned and operated.
Hog Wild BBQ – The best wings on the planet
The Beach House Kitchen – Fantastic tacos
Snack time
Smoothies and Acai Bowls from Soul Bowlz
In the Kitchen
Most of my friends are fishermen, so we cook whatever the fresh catch is. Lately, we've fixed a lot of blackened pompano tacos. The great thing about living here is that, if you do it right, all the fish is free.
Dauphin Island

with Buff Teague
Buff knows a thing or two about relaxing on the island. Her family has owned property on the west end since the 1930s. She and her husband even held their wedding reception at the Estuarium. These days, however, with four young kids in tow, life is all about adventure. Her family loves the authentic feel and low-key lifestyle of this barrier island.
Beach Style
Buff is wearing a colorful kaftan and bold earrings by Island Belle, a new brand from Mobile artist and entreprenuer Bonnie Fuchs.
Where to Shop
Ship & Shore has everything you could possibly need for a trip to Dauphin Island.
The Happy Octopus Boutique has fun women's clothing, jewelry and sun hats.
Snack time
Sweet baked treats and a coffee from the Lighthouse Bakery are the perfect pick-me-up.
Summer Sip
Myers & OJ, preferably on the deck of Islander's looking out over Sand Island
Only the locals know
Keep an eye out for the resident bald eagles flying overhead.
Sunset Spot
West End beach, especially during the Dauphin Island Sunset Concerts
Back to Nature
Dauphin Island is a wade fisherman's paradise.
Splurge
Snow cone and a pizza at Island Rainbow Pizza, where you can also find Cammie's Old Dutch Ice Cream.
In the kitchen
Locals love West Indies Salad, of course! Invented not far from here, it's a summer staple.
Go-to Dinner
Flounder Ponchartrain at Pirates Bar and Grill cooked to perfection by Chef Phillip Patronas
Get Outside
The Audubon Bird Sanctuary is amazing, especially if you can get there during spring or fall migration. It's a great activity with the kids!
Gear
A paddle board is the best way to enjoy the beautiful water. Bonus: you get a workout without feeling like it. yoloboard.com
Fairhope

with Alex Robinson
It's tough to pin Alex down for her favorite places to go in downtown Fairhope. As the executive director of the Downtown Fairhope Business Association, she just can't play favorites! "I love all these guys so much," she gushes. Her family of five spends as much time as possible strolling these picturesque streets and participating in endless family-oriented events.
Can't Miss
Greatest outdoor activities: the Fairhope Farmers Market, Glow in the Park movies, parades, Art Walk — all in Downtown!
Sunset Spot
Orange Street Pier You can see the skyline of Mobile across the Bay, and it really is breathtaking.
Snack Time
Panini Pete's Food Network Famous beignets are delicious, and he is always keeping it fresh by cooking up special flavors.
Summer Sip
The "Fairhope Float" at Mr. Genes Beans has my favorite coffee vote, because it's mixed with ice cream. I have tried this at home, and it's just not the same. The "Fairhope Float" can't be replicated.
Get Outside
Many old timers say they can predict when a jubilee is coming, and if you know one of these people, get on their phone chain. Not much makes me jump out of bed at 2 a.m., but if I get that call, I am headed to water!
Splurge
I love everything at Fairhope Chocolate, but the salted caramel turtle is my absolute favorite.
In the Kitchen
Whatever we are cooking — boiled crabs, fresh fish, gumbo — I head over to Red or White, and they help me choose the perfect pairing. I love the Whispering Angel Côtes De Provence Rosé.
Only the Locals Know
The City of Fairhope changes their plantings out seasonally, and if you are lucky enough to see them pulling the flowers up, you can take them home to replant.
Where to Shop
Fantasy Island Toys – It's been in the heart of downtown Fairhope for over 50 years and is one of those places that just gives you the warm and fuzzies. Local secret: When you are short on time, call ahead and order a birthday gift. Their gift wrap is complimentary, and your present will be party-ready when you arrive.
Back to Nature
The Fairhope Pier and Rose Garden are perfect backdrops for a photo and a great place to start a walk. Sidewalks begin at the waterfront and will lead you all the way into Downtown or along the beautiful public bayfront parks.
Orange Beach

with Angelo DePaola
Angelo is literally surrounded by boats day in and day out — his real estate office is located above the dock store at Orange Beach Marina. While he admits it's tough to watch people heading out to fish when he is working at his desk, he concedes life at the beach "does not suck." This foodie, who can often be seen streaming videos from restaurant kitchens, doesn't mind working one door away from a James Beard award-winning chef either.
Get Outside
It's always fun to spend the day on the water. Head out early for some fishing, then swing by the dock for lunch and hit the local spots like Robinson Island or Johnson Beach for some time in the sun.
Go-to Lunch
Fisher's Dockside – The Bama Burger with crispy Tabasco onions or the Fisher Burger with homemade tomato jam and pimento cheese are my go-to lunches. Pro tip: Ask for extra tomato jam — it's just so good.

Sunset Spot
One of my favorite things to do in the late afternoon is grab a bite and a cocktail at The Gulf and watch the boats return from a day of fishing.
Boating Style
Shades at the Wharf is locally owned and operated and has all the sunglasses you can imagine, plus beach apparel.
Only the Locals Know
Spend Sunday afternoon of Memorial Day and Labor Day weekends at the Mobile Big Game Fishing Club, located at Orange Beach Marina, watching the tournament fish being weighed in at the dock.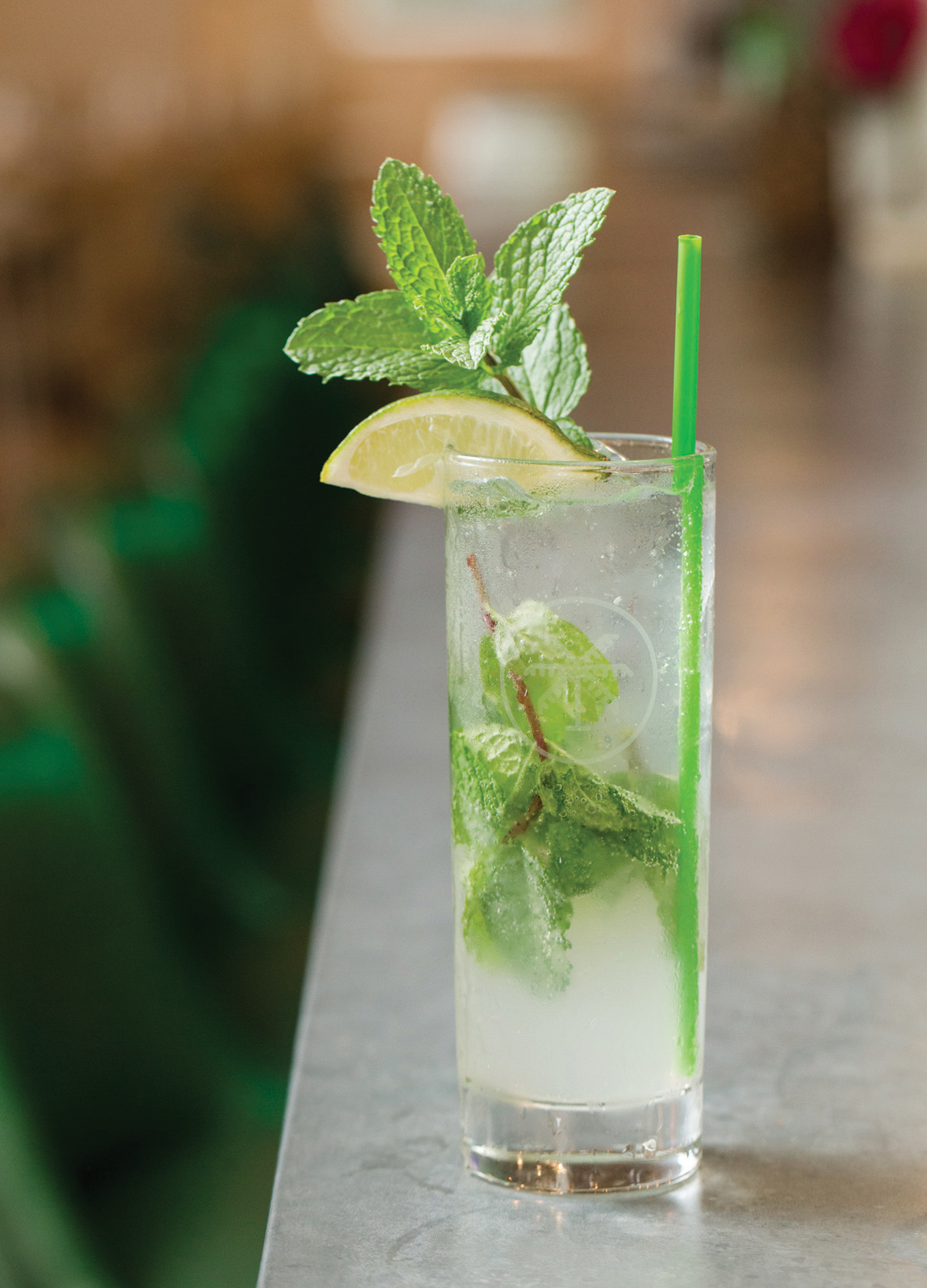 Party Time
Take a self-led Tour de Bushwacker! My favorites are Pirates Cove, Flippers at Bear Point Marina, Anchor, Tacky Jack's, Fisher's, Playa, and definitely the Flora-Bama Yacht Club.
Caffeine Up
Locally roasted coffee, home-made pastries and ice cream from BuzzCatz Coffee & Sweets
Summer Sip
The Mojito at Playa at Sportsman's Marina — so refreshing.
Back to Nature
Hugh Branyon Nature and Bike trail at Gulf State Park
Gear
A Shimano Tiagra 80W saltwater reel for landing the big catches.
Where to Shop
J&M Tackle – This store has all the fishing gear you could need, but I love the local knowledge. Fishing reports, how to catch what, where they are biting, the best gear to use — they know it all.
Splurge
Southern Grace Dinners – Top chefs from across the South cook with James Beard award- winning Chef Bill Briand at Fisher's Upstairs.
Dog River

with Frank Terrell
Dog River flows in Franks veins, having lived along its shores his entire life. Growing up on the river gave him ample opportunity for fishing, boating and exploring the wild lands around him. Now, he is raising his own children on that same stretch of water and working hard to protect it, too, as the president of Dog River Clear Water Revival.
Lunch time
Mobile Yacht Club – The yacht club is the last place you can go by water on the river for lunch since The River Shack closed.  They have good burgers and cold beer. They also have a playground and a swimming pool for the kids.
Go-to Dinner
Trout Almondine from The Grand Mariner Restaurant is our regular. Local seafood and views of the Bay from the Dog River bridge can't be beat.
Party Time
Mudbottom Revival – The people that put this event on do a wonderful job and always raise a ton of money to keep Dog River clean, keep people educated about pollution and create public access points for the people of Mobile.
Gear
I always fish with live shrimp since I tend to catch more that way, but I don't get to go often enough!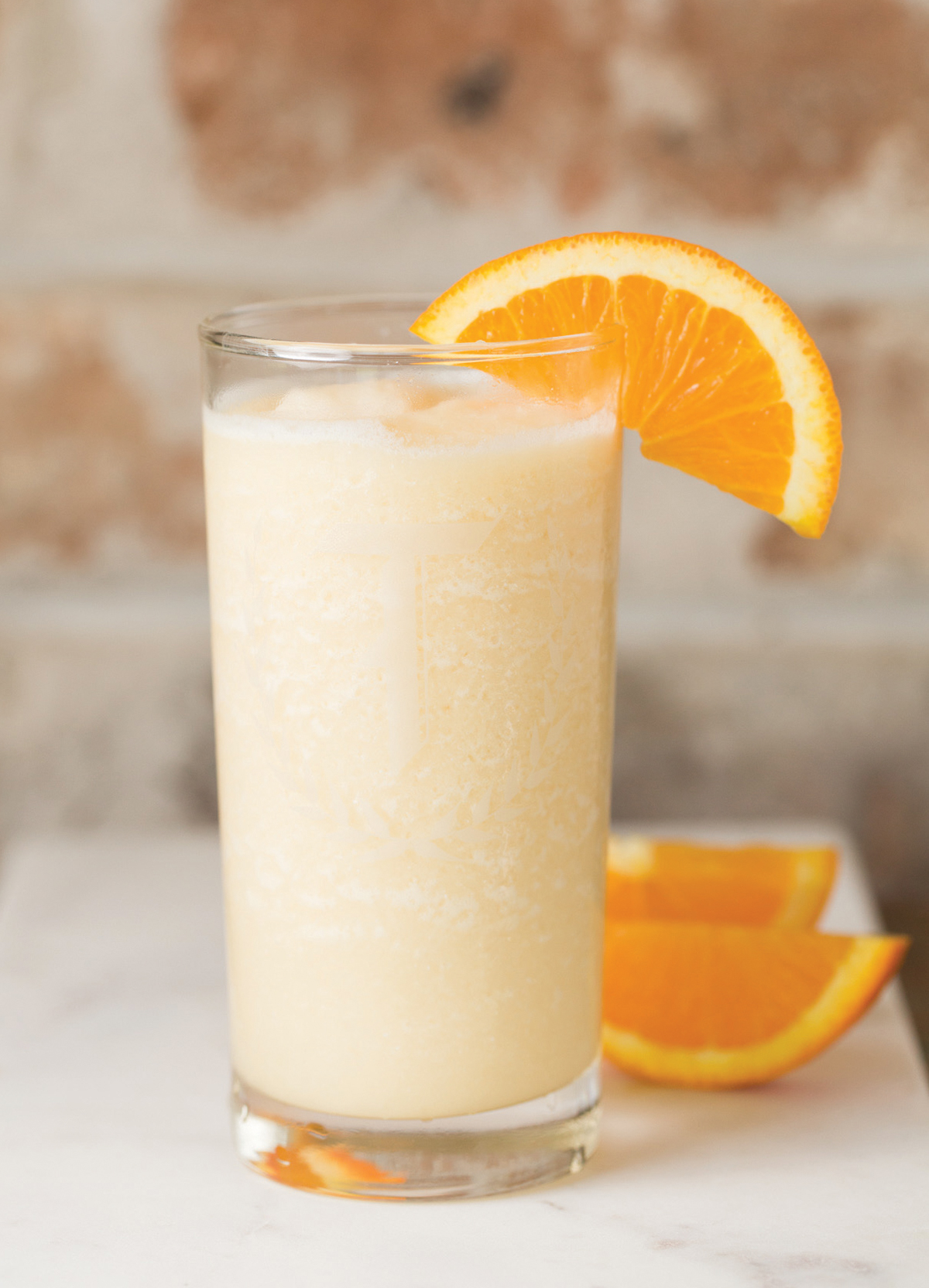 Summer Sip: "Game Changer"
12 ounces (1 1/2 cups) premium orange juice with no pulp
8 ounces (1 cup) premium pineapple juice
8 ounces (1 cup) dark rum
2 ounces (1/4 cup) spiced rum
2 ounces (1/4 cup) cream of coconut
4 cups ice cubes
Get Outside
I love that stretch of Halls Mill Creek beyond the railroad trestle and Hippie Beach
Where to Shop
You can get to these three bait shops by water, and they consistently have live shrimp: Deer River Bait and Tackle, West Marine at Dog River Marina and C&S Live Bait and Tackle. Local tip: My son likes C&S the best because they give him candy every time he comes to the register.
In the Kitchen
I like to boil and pick crabs on my dock on Sunday evenings in the summer. My kids would check our crabs traps for hours if you let them.
Try It Out
We recently started pulling a shrimp trawl behind our boat right outside of the river in the Bay. It's fun but we are not very good at it.
Point Clear

with Courtney Malouf
Raising her two kids in the quiet enclave of Point Clear is a blessing for Courtney, where picture-perfect scenery, history and tradition abound. When she's not selecting merchandise for her family's furniture store, she is enjoying all this tiny town has to offer. Known for her impeccable taste, you would do well to follow Courtney's lead for an idyllic day.
Sunset Spot
Since Point Clear faces west along Mobile Bay, you won't find a bad spot to watch the day come to an end.
Summer Sip
Berry Mojito with Grey Goose and lots of extra fresh limes from Bucky's at the Grand Hotel
Where to Shop

Chapel Farm Collection Find beautiful gifts or that fun splurge for yourself, like the Neely and Chloe bag.
The Garage Studio So many cute gift items in a wide price range. Lots of original coastal and religious artwork.
Splurge
Punta Clara birthday cakes. The butter cake with marshmallow icing and crushed pralines is divine.
Time with the Kids
Having tea at the Grand Hotel is such a great tradition to start with your children. Hotel guests are welcome to tea and cookies daily at 3:45. A reservation for high tea is also available. Then they shoot a cannon outside and tell the history of the Grand Hotel at 4 p.m. daily. Feeding the ducks at the pond is so fun when the kids are little, too.
Old School
Mass at the un-air-conditioned Sacred Heart Chapel in the summer has become a tradition in our family.
Get Outside
Biking or walking the boardwalk is so rejuvenating. There's always a nice breeze in the afternoons.
Go-to Dinner
Fish special at the Wash House. It's always fresh caught, like the tripletail. The spring rolls are a great appetizer.
Gear
Courtney can zip from Point Clear to Two Sister's Bakery in Battle's Wharf on her Felt Bike from Pro Cycle and Tri in downtown Fairhope.