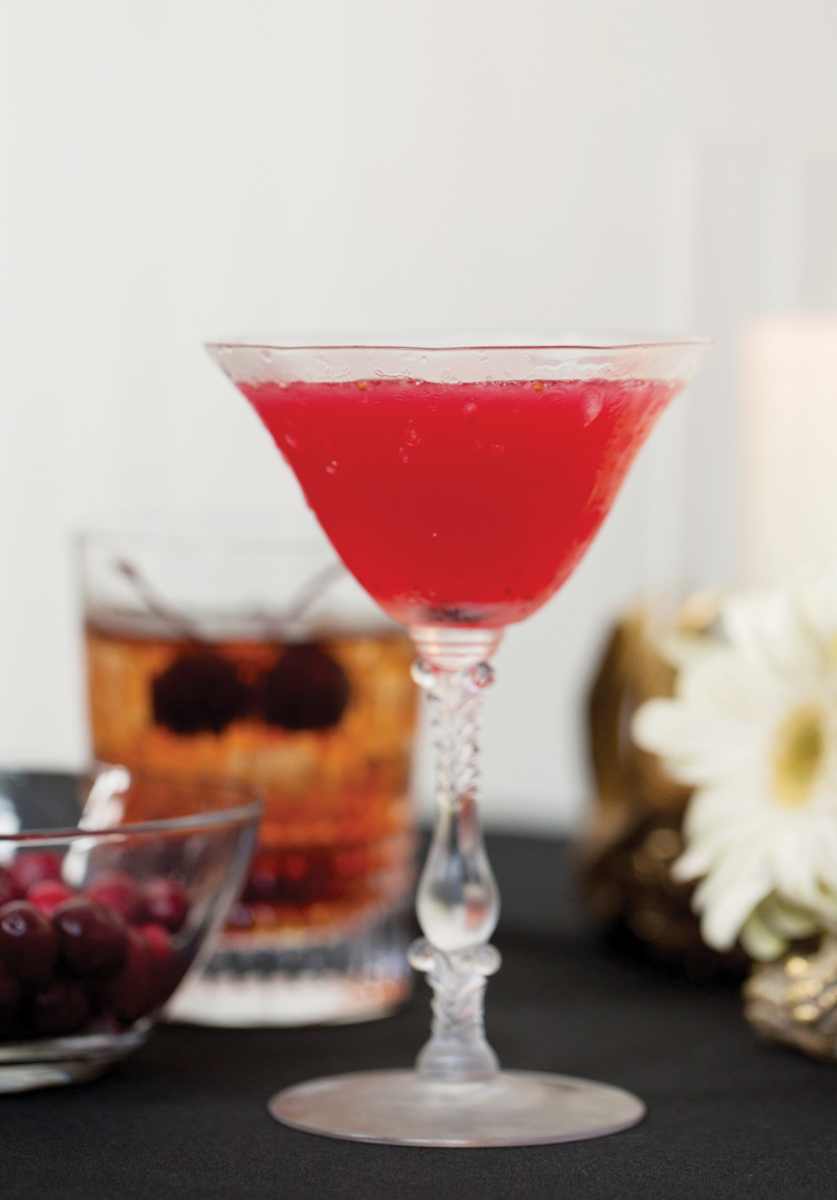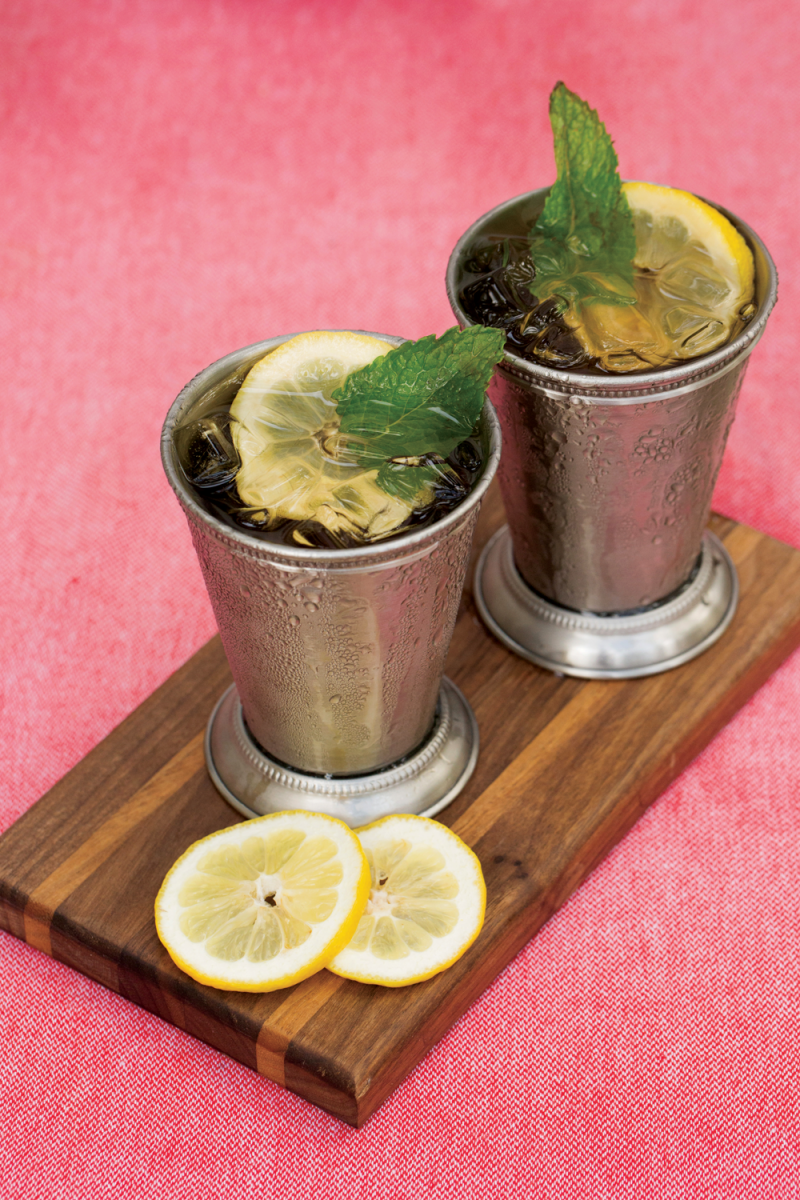 1. Cranberry Gimlet Cocktail
Featured in "Party on the Porch, " October 2016.
2 ounces citrus vodka
3/4 ounce fresh-squeezed lime juice
3/4 ounce unsweetened cranberry juice
1/2 ounce agave nectar
6 – 8 fresh cranberries, divided
twist of lemon, for garnish, if desired
1. Combine the first 4 ingredients in a shaker along with 3 – 4 fresh cranberries. Muddle the cranberries. 
2. Add ice and shake vigorously for 30 seconds. Strain into a chilled martini glass. Garnish with lemon twist and 3 – 4 cranberries, if desired. Makes 1 cocktail.
2. Bourbon Mint Sweet Tea
Featured in "Game Day Southern Style, " October 2016.
handful of fresh mint leaves
juice of 1 lemon
1 – 2 tablespoons sugar
8 cups cold sweet tea (We used Milo's Famous Sweet Tea.)
2 cups bourbon, or to taste
fresh mint, for garnish
lemon slices, for garnish
1. In a large pitcher,  combine the first 3 ingredients. Muddle the mint leaves with a wooden spoon to release flavor. 
2. Stir in sweet tea and bourbon. Serve over ice. Garnish with extra mint and lemon slices, if desired. Serves 10. 
3. Summer Vegetable Quinoa Salad
Featured in "The Naturally Strong Challenge, " June 2016.
1 1/2 cups organic pre-washed quinoa
2 cups vegetable broth
1 tablespoon olive oil 
1 small red onion, diced, divided
1 tablespoon salt
2 ears corn, shucked
1 cup cherry tomatoes,  cut in half
1/4 cup thinly sliced red onion
1 small green bell pepper, diced
1 small red bell pepper, diced
1 small yellow bell pepper, diced 
3 green onions, white and green parts thinly sliced
salt and pepper, to taste
1/2 avocado, diced
Spicy Aioli (see below)
1. Cook quinoa according to package instructions, using the vegetable broth. 
2. Sauté half the diced red onion with olive oil until tender. 
3. Bring a large pot of water to a rolling boil. Add 1 tablespoon of salt to water. Add corn and boil for about 4 – 5 minutes. 
4. Rinse corn with cold water until cool. Once cooled, cut the corn kernels off cobs and place the kernels in a small bowl. Set aside.
5. When quinoa has cooled to at least room temperature, layer half of the cooked quinoa into cylinder bowl. Then layer half of the vegetables on top of quinoa. Repeat each of the layers. 
6. Season with salt and pepper to taste. Dice the avocado right before serving and add to top. Drizzle with Spicy Aioli. Serves 4. 
Spicy Aioli
1/2 cup Greek yogurt 
3 dashes of sriracha sauce 
1. Whisk together Greek yogurt with sriracha. Add more or less sriracha to adjust heat to taste. Makes 1/2 cup.
4. Creole Conecuh Pasta Salad
Featured in "Happy 100th, Greer's!" July 2016
1 pound Conecuh sausage,  sliced into thin discs
1 red bell pepper, small diced
1 green bell pepper, small diced
1 yellow bell pepper, small diced
1 orange bell pepper, small diced
1/4 teaspoon kosher salt
1/4 teaspoon black pepper
16 ounces penne pasta
1 cup green onions, thinly sliced
Creamy Dressing (see below)
1. Heat a large skillet over high heat. Add Conecuh sausage and cook for 10 minutes, stirring often, until nicely browned. Remove to a paper towel-lined plate to drain. 
2. Add bell peppers to the same skillet, and cook over high heat for 5 minutes, stirring often. Remove from heat and add kosher salt and black pepper. Stir and then allow to cool. 
3. Boil pasta in salted water for 10 minutes. Drain. Rinse with cold water. 
4. Combine cooked sausage, peppers, pasta and green onions together in a large bowl. 
5. If serving immediately, add 3/4 of the Creamy Dressing first and stir to coat. If serving the following day, use all the dressing before refrigerating. The pasta will absorb dressing overnight. Serves 8 – 12. 
Creamy Dressing
1 cup mayonnaise
1 cup sour cream
1/2 cup stone ground mustard
zest and juice of 1 lemon
3/4 teaspoon celery seed
1 teaspoon kosher salt
1/4 teaspoon cayenne pepper
1/2 teaspoon black pepper
1 teaspoon garlic powder
1. Combine all of the dressing ingredients together in a bowl. Whisk until well combined.
5. Mexican-Style West Indies Salad
Fresh-from-the-Gulf crabmeat gets a spicy kick in this twist on the classic Lower Alabama app.
2 Roma tomatoes,  seeded and diced
1 cucumber, peeled, seeded and diced 
3/4 cup diced red onion 
2 tablespoons chopped fresh cilantro 
1 jalapeño, seeded and minced 
1 teaspoon salt 
1/4 teaspoon pepper 
3/4 teaspoon chili powder 
juice of 2 limes
12 ounces fresh jumbo lump crabmeat, drained (may substitute claw meat)
extra lime slices, for garnish
tortilla chips
1. In a large bowl, combine first 5 ingredients. Season with salt, pepper and chili powder. Squeeze lime juice over top. Stir to combine. Gently fold in crabmeat. Adjust seasonings.
2. Cover and marinate in refrigerator for 1 – 2 hours. Garnish with lime slices. Serve with chips. Serves 4.
6. Shrimp Tacos with Mango Pineapple Salsa
Featured in "Olé By The Bay, " April 2016.
1 tablespoon olive oil
1 pound large Gulf shrimp, peeled and deveined
salt and pepper, to taste
1/2 teaspoon chili powder 
1/2 teaspoon cumin
flour tortillas
1 cup shredded Monterrey Jack cheese
Mango Pineapple Salsa (see below)
1. Heat a pan with olive oil over medium-high heat. Add shrimp to hot pan. (It should sizzle when you add it.) Season shrimp with salt, pepper, chili powder and cumin. Sauté 4 – 5 minutes until opaque. Keep warm. 
2. In a dry skillet over medium-high heat, warm tortillas for 1 minute.
3. Top each tortilla with shrimp, cheese and Mango Pineapple Salsa. Drizzle Avocado Cilantro Crema over top or serve on the side for dipping. Serves 2 – 4. 
Mango Pineapple Salsa
2 mangoes, peeled and diced 
1 small pineapple, peeled, cored and diced
1 red bell pepper, seeded and diced
2 Roma tomatoes, seeded and diced
1 jalapeño, seeded and minced
1/3 cup minced green onion
juice of 1 lime
honey, to taste
salt and pepper, to taste 
1. In a large bowl, combine first 6 ingredients. Toss with lime juice and honey. Season with salt and pepper. Makes about 2 1/2 cups.
7. Garlic Rosemary Rib-Eye Caps
Featured in "Supper in the Courtyard, " March 2016. Photo by Elise Poche
4 (8-ounce) rib-eye caps, tied with butcher twine
vegetable oil 
salt and pepper, to taste  
2 – 3 tablespoons unsalted butter
4 cloves garlic, smashed
4 small sprigs of rosemary
1. Preheat oven to 400 degrees. 
2. Pat rib-eye caps dry. Rub each with a small amount of vegetable oil, just enough to create a very light coat. Season generously with salt and pepper. 
3. Heat cast-iron skillet over medium-high heat. As soon as the pan starts to smoke, place steaks in skillet. Let sear for 3 minutes, then flip. Sear for 2 minutes on other side. then add 2 – 3 tablespoons of butter and let it melt for a few seconds. 
4. Add smashed garlic and rosemary. Once garlic and rosemary have cooked for about 30 seconds, start spooning the butter onto the steaks. After another 30 seconds, transfer hot skillet to oven. 
5. Bake in oven for 3 minutes, spoon more butter mixture onto the steaks and continue to cook until desired doneness, about 2 more minutes for medium-rare. 
6. Remove from oven, transfer steaks to a cutting board, pour butter over steaks (including the garlic and rosemary), and let rest for at least 5 minutes. Remove twine and enjoy. Serves 4 – 8.
8. Shrimp Remoulade
Featured in "Regina's Family Kitchen, " May 2016. 
2 pounds medium-sized shrimp, boiled and peeled
1 1/2 cups mayonnaise 
3 tablespoons Creole mustard 
3 tablespoons hot sauce (Mary Ann and Regina prefer Crystal.) 
4 tablespoons capers, drained
1/2 purple onion, minced 
large handful flat leaf parsley, chopped 
3 ribs celery, finely chopped 
fresh cracked black pepper, to taste
Creole seasoning, to taste (Mary Ann and Regina use Tony Chachere's.) 
1. Toss all ingredients together until well combined. Refrigerate for about 3 hours before serving. Serves about 6. 
9. Seafood Gumbo
Featured in "Host the Perfect Joe Cain Brunch, " February 2016.
3/4 cup oil or lard
3/4 cup flour
3 onions, chopped
1 cup chopped celery
1 bell pepper, chopped
4 cloves garlic, minced
1 (6-ounce) can tomato paste
1 (15 1/2-ounce) can whole tomatoes
2 1/2 quarts water (preferably the water from boiling the crabs,  see below)
1 teaspoon basil
1/2 teaspoon thyme
4 bay leaves
1/2 teaspoon chili powder
Tabasco, to taste
salt and black pepper, to taste
1/2 stick butter
2 tablespoons oil
2 pounds shrimp, peeled
6 boiled crabs, cracked in half and cleaned
2 – 3 dozen oysters
1 cup chopped green onions
1/4 cup minced parsley
rice
1. In a large, heavy pot, heat the oil or lard until it is very hot, then add the flour. Stir constantly until the roux turns medium brown. 
2. Add chopped onion, celery and bell pepper to the pot. Sauté the vegetables, stirring constantly, for 10 minutes, then add the garlic, tomato paste and tomatoes. Lower the heat and simmer for about 5 minutes, stirring constantly. 
3. Slowly add the water, bring back to a simmer and add basil, thyme, bay leaves, chili powder, Tabasco, salt and pepper, to taste. 
4. In a skillet, melt together the butter and oil, and sauté the shrimp for a few minutes. Remove and set aside. Add crabs to the skillet and sauté for about 5 minutes. Remove from heat. 
5. After the gumbo has been cooking for about 20 minutes, stir in the shrimp, crabs and all the contents of the skillet. Let this simmer another 20 minutes. 
6. Add oysters and their liquor, along with the green onions and parsley. Cook for 5 minutes, then turn off heat and let gumbo stand for 10 minutes. Serve over hot, fluffy rice. Serves approximately 8.
10. Chocolate Ganache Cake
Featured in "Party on the Porch, " October 2016.
3/4 cup unsalted butter
2 ounces unsweetened chocolate squares
2 1/4 cups all-purpose flour
2 cups sugar
1/4 cup unsweetened cocoa powder
2 teaspoons baking soda
1 teaspoon salt
1 3/4 cups buttermilk
2 eggs, room temperature
Chocolate Ganache (see below)
1. Preheat oven to 350 degrees. Grease and flour two 9-inch cake pans. 
2. In a saucepan, melt the butter and chocolate over low heat, making sure to stir constantly. 
3. Combine the flour, sugar, cocoa,  baking soda and salt in a large bowl of  a standing mixer. Add chocolate mixture, buttermilk and eggs. Beat at low speed for 1 minute; increase to high until light and fluffy, about 2 minutes.
4. Divide batter evenly between pans. Bake until cake springs back when gently pressed, 25 – 30 minutes.
5. Allow layers to cool. Then pour Chocolate Ganache between layers and on top of the cake, letting it drizzle down the sides. Serves 8 – 10.
Chocolate Ganache
1 cup whipping cream
1 1/2 – 2 cups semi-sweet chocolate chips 
1. In a saucepan, boil whipping cream. Add chocolate chips and stir until melted and smooth. 
---
Photos by Elizabeth Gelineau