On the tail of spring's breeze comes the annual yen to shimmy from beneath winter's gray blanket and fling open neglected window sashes. Under Crayola-blue skies, Bay-area residents venture to places near and far, eager to shake the brumal haze. Not ones to squander sunshine or a day-trip opportunity, MB's editorial team skipped town and headed 60 miles west to the quaint cottage community of Ocean Springs, nestled between D'Iberville and Biloxi.
From meandering shorelines to award-winning cuisine, it is no wonder this Mississippi gem was named No. 5 among "Coastal Living's America's Happiest Seaside Towns." And the city's tenacious spirit is evident. Nearly 15 years after Hurricane Katrina ravaged the Gulf, Ocean Springs's coast is brimming with life again. Downtown remained largely unaffected, due in part to its location, the highest point in the area, and remains a hub of activity.
With more than 100 restaurants, not to mention boutiques, museums and parks, we were a bit conflicted over where to start. For the morning, we parked Downtown and strolled Washington Avenue and Government Street, leaving the afternoon for cruising around by car. What unfolded was a postcard-perfect visit, albeit abbreviated. We left stones unturned, giving us plenty of reasons for day trip part deux. Whether well-versed in the what-to-dos of Ocean Springs or know nothing of this eclectic city, we hope you find the following suggested itinerary helpful.
First Things First – Breakfast
Not much sounds better in the morning than doughnuts, scones and biscuits, all of which are easily found. The Tatonut offers — yep, you guessed it — doughnuts made from potatoes. One bite of these tubers-turned-treat is enough to convince you this unusual pairing is culinary brilliance. Be sure to take a dozen to go.
Equally as sweet, and almost too pretty to eat, are the entremets at French Kiss Pastries. It's never too early for cake, especially if fresh fruit is involved. There's also an ample selection for first-meal-of-the-day purists, not the least of which are made-from-scratch, generously portioned muffins and scones. A sign touting, "A yawn is a silent scream for coffee," reminds patrons that a cup of joe complements any menu item, both of which can be enjoyed on the shop's tidy front porch.
If biscuits are on your wake-up radar, start your day at Greenhouse on Porter before heading Downtown. Place your order at the tiny kitchen counter and then pick a seat, either inside the greenhouse or outside in the sprawling side yard. Sweet and savory biscuits — from lox to sweet potato — are among menu options, as are organic coffees and teas. Board games are available for those wanting to linger. And look for Marigold, the greenhouse cat.
Shop 'Til You Drop – Mid-Morning
The oak-shaded streets, brightened by colorful storefronts and grins of passersby, both human and canine, set the scene for a relaxing morning of browsing. From children's clothing (Sugar & Spice) to doggy raincoats (Two Dogs Dancing), Downtown is likely to have a store to suit your fancy. For women's clothing, Love, ivy proudly offers the hottest trends, and The Bay Collection boasts unique styles and distinctive accessories. Outdoorsmen (and women) can find their next favorite sportshirt, performance tee or hat at Chandeleur Outfitters.
Gift givers, beware — there are at least two stores you'll find difficult to leave, as everything you see will make you think, "So-and-so would love this!" The first such place is Hillyer House, now in its 50th year. Handmade items from national artisans — anything from glassware to soaps, jewelry to pottery — are all vibrantly displayed with shop dog King Cole standing "guard" to greet shoppers. Coastal Magpie is equally as vibrant, with no shortage of locally-made quirky art, jewelry, pottery and metal sculptures.
Miner's Toy Store, an Ocean Springs staple, is a great place to stop and be a kid again, if only for a few moments, while browsing classic toys, puzzles and every stuffed animal imaginable. To complete the trip down memory lane, Candy Cottage is a must. A smorgasbord of old-fashioned candy, pralines and fudge await your sweet tooth.
Let's Do Lunch – Noontime
Springtime is the right time to take advantage of outdoor seating — and there's no shortage of patios or courtyards in Ocean Springs. The trouble comes when deciding where to eat! For American food with Mediterranean influences, Glory Bound Gyro Co. is top of the list. (And if your lunch is late enough, you just might catch some live music.)
Don't let the fancily named Maison de Lu intimidate you. The coast-casual restaurant features creative sandwiches, soups, salads and homemade desserts. Their courtyard is a local favorite, and if there's a chill in the air, seating near the fireplace is divine.
Foodies will delight over the inventive menu at Mosaic Tapas Restaurant. Their daily specials, spacious outdoor seating and fully stocked bar might turn your lunch hour into happy hour. For lighter fare — that's certainly not light on taste — The District Coffee Co. has salads and perfectly presented paninis. Take a mocha or tea to-go for an afternoon pick-me-up.
And if you really want to eat like a local, check out Italian Garden and ask for an off-menu item, the Margherita pizza. Delizioso!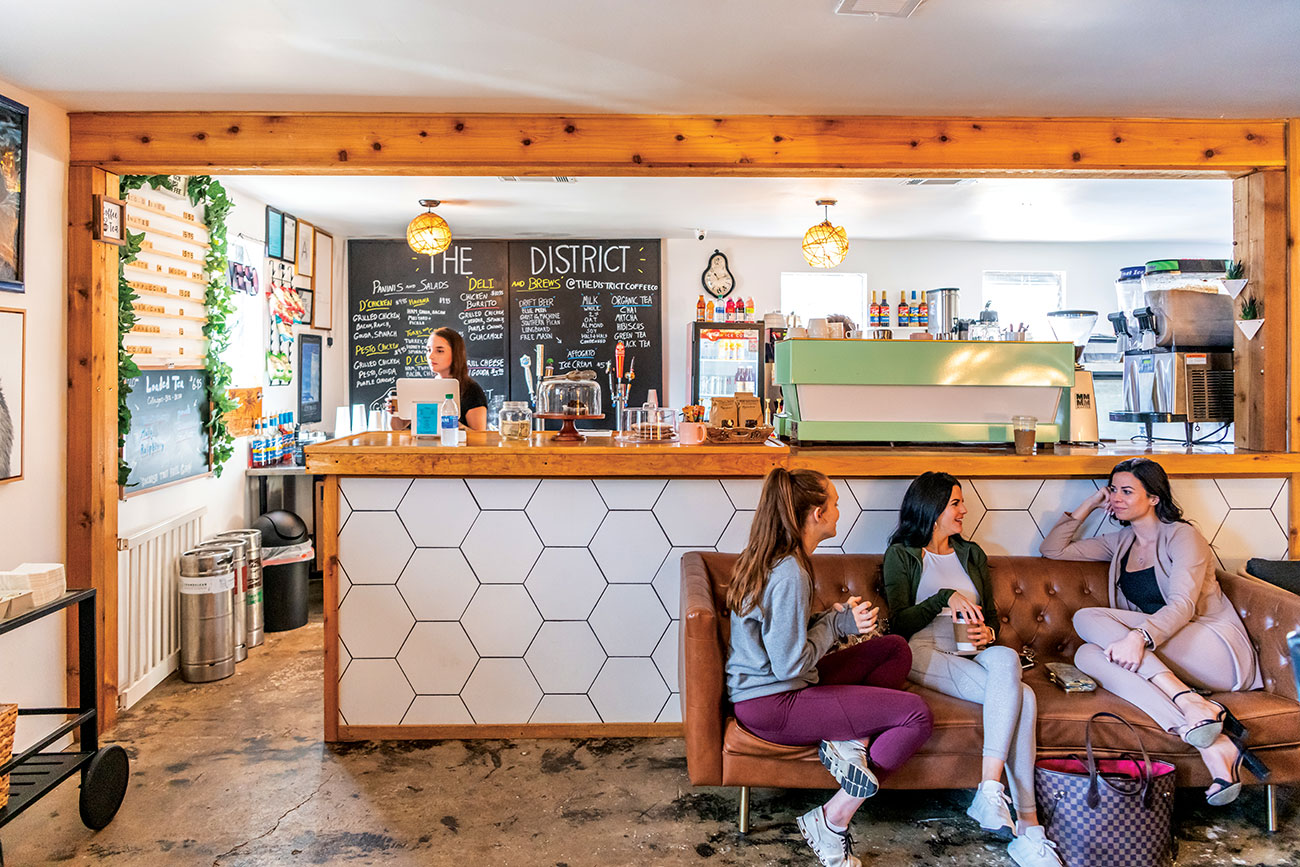 Time to Explore – Afternoon
The rising midday heat typically sends visitors in one of two directions: to galleries indoors or to adventures out. (As each day's sunlight grows longer, you might be able to squeeze in both!) For those seeking shelter, and because Ocean Springs is the art hub of the Gulf Coast, it's no surprise that the Walter Anderson Museum, named for the renowned local artist, is the initial draw for many visitors. Keeping it in the family, Walter's older brother, Peter Anderson, founded Shearwater Pottery, a pottery studio and annex that still produces utilitarian ware, figurines and more. No visit to either would be complete without a piece of art to take home.
If you're looking for something a little more hands-on, check out the Mary C. O'Keefe Cultural Center. Throughout the year, art and cooking classes are available. Additionally, visitors can view art in the gallery or, if timed right, watch a live stage performance.
For outdoor enthusiasts, Live Oak Bicycle Route is a great way to see Ocean Springs. The 15.5-mile trek winds along the harbor and through neighborhoods, shaded by a canopy of mature oaks. Didn't bring your bike? Rent one from Beach Bike Rentals, located on Porter Avenue at the foot of the Ocean Springs bridge.
If you're looking for something a bit more relaxing, Gulf Islands National Seashore Park, located in a quiet marsh, overlooks Davis Bayou and offers fishing, hiking, birdwatching and picnicking. Shearwater Park is another tranquil spot, with walking paths, soaring trees and benches overlooking the inner harbor.
For families, if you want to play "King of the Hill" with the kids, be sure to stop by Fort Maurepas Park, the highest point on the Mississippi Gulf Coast and home to life-size bronze statue of Pierre LeMoyne d'Iberville, the French Canadian who established Ocean Springs (and co-founded Mobile). Pavilions, a playground and a splash pad are on site. To really get soaked — or to dig your toes in the sand — don't forget about Front Beach, located across the street from the fort.
Ring the Bell – Dinner & Drinks
Nothing tops off a tour du jour like good food and spirits. And much like its morning and noon counterparts, there is no shortage of dinner options. If you're looking for a view of the water to complement your meal, Aunt Jenny's fits the bill. Back Downtown, however, the streets are bursting with an endless array of options. Phoenicia Gourmet is a classic choice, specializing in Greek and Lebanese cuisine. You're likely to be serenaded by a pianist, especially if you go on the weekend.
Plan on asking for extra napkins if you tread over to Murky Waters, where they serve up barbecue, bourbon and beer. Their award-winning dry rub keeps locals coming back, as does the live blues music. For a little less finger lickin', try the more intimate Vestige. Owner Alex Perry is a James Beard semifinalist, who, along with wife Kumi Omor, presents modern American food with a Japanese twist. Reservations are recommended.
Take a stroll afterwards over to The Office or Government Street Grocery for a little after-dinner unwinding, imbibing and live music. If you're looking for something truly unique, however, head over to The Wilbur, located inside The Roost on Porter Avenue. This speakeasy-inspired cocktail bar boasts a swinging bookshelf that reveals a hidden room.
B&Bs and Cottages
Front Beach Cottages • 207 Dewey Ave., 228-215-0969,
The Inn at Ocean Springs • 623 Washington Ave., 228-875-4496
The Roost • 604 porter ave. 228-285-7989
Recreation
Bridge mural, Front Beach, 228-875-4424
Fort Maurepaus Park, Front Beach, 228-875-4236
Gulf Islands National Seashore, 3500 Park Road, 228-230-4300
Live Oaks Bicycle Route, 228-875-4424
Stores
The Bay Collection • 906 Washington Ave., 228-875-6655
Chandeleur Outfitters • 1106 Government St., 228-818-0030
Candy Cottage • 702 Washington Ave., 228-875-8268
Coastal Magpie • 918 Washington Ave., 228-215-1815
Hillyer House • 920 Washington Ave., 228-875-8065
love, ivy • 914 Washington Ave., 228-354-8499
Miner's Doll & Toy Store • 927 Washington Ave., 228-875-8697
Shearwater Pottery • 102 Shearwater Dr, 228-875-7320
Sugar & Spice Children's Apparel • 1306 Government St. #1, 228-875-1794
Two Dogs Dancing • 619-A Washington Ave., 228-872-3164
Restaurants & Bars
Aunt Jenny's Catfish Restaurant • 1217 Washington Ave., 228-875-9201
Bright Eyed Brew • 623 Washington Ave., 228-297-2268
Blue Dog Bistro • 1801-a Government St., 228-447-4023
The District Coffee Co. • 1301 Government St., 228-215-1846
Fayard's Poboys • 6905 Washington Ave., 228-872-0449
French Kiss Pastries • 714 Washington Ave., 228-215-1160
Glory Bound Gyro Co. • 1107 Government St., 228-334-5708
Government Street Grocery • 1210 Government St., 228-818-9410
Greenhouse on Porter • 404 porter ave., 228-238-5680
Italian Garden • 1504 Government St., 228-334-5475
Maison de Lu • 626 Washington Ave., 228-875-0032
Mosaic Tapas Restaurant • 1010 Government St., 228-818-9885
Murky Waters BBQ • 1212 Government St., 228-215-1114
The Office Bar & Lounge • 1000 government St. #A, 228-875-4321
Phoenicia Gourmet • 1223 Government St., 228-875-0603
Pop Brothers • 800 Bellande Ave., 228-447-4792
Tatonut Donut Shop • 1114 Government St., 228-872-2076
Vestige • 715 Washington Ave., 228-818-9699
The Wilbur • 604 Porter Ave., 228-217-7160