Hop in the car and hunt down some of our favorite odd and amusing roadside attractions.
A tiny house on Fish River proves bigger isn't always better, especially when it comes to relaxation.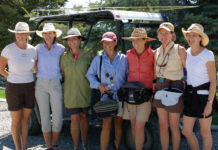 A group of south Alabama women head to the Montana mountains for an incredible fly fishing trip, finding adventure that feeds the soul.
Everyone could use a vacation right now. Check out these eight safe and convenient spots, perfect for a weekend getaway.
Hospitality entrepreneur Sandy Beall takes rugged refinement to the next level at the classic mountain retreat High Hampton in Cashiers, North Carolina. 
Don't cross the state line without this itinerary for how to spend the perfect day in the charming seaside town of Ocean Springs.