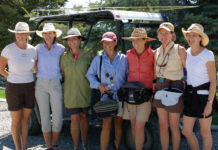 A group of south Alabama women head to the Montana mountains for an incredible fly fishing trip, finding adventure that feeds the soul.
Everyone could use a vacation right now. Check out these eight safe and convenient spots, perfect for a weekend getaway.
Hospitality entrepreneur Sandy Beall takes rugged refinement to the next level at the classic mountain retreat High Hampton in Cashiers, North Carolina.