In January, Heart's founding guitarist, Roger Fisher, below left, sent an invitation to select friends and fans for the band's induction into the Rock and Roll Hall of Fame. It was essentially a photo I shot at a Gulf Coast concert in 1979. I forwarded it to MB editor  Lawren Largue with a tongue in cheek request to be sent to Los Angeles to cover the nationally televised event (broadcast on HBO on May 18). That dialogue morphed into this nostalgic glimpse at a few of the rock and rollers whom I met, photographed and interviewed when they performed locally in the '70s and early '80s.
Flooding from Hurricane Danny ruined much of the work I'd saved from that era. I salvaged enough film to provide a decent set of images, but few of my music articles and interview transcriptions fared as well. Much of the information here is pieced together based on concert notes or other documentation of the assignments from artist managers and concert promoters. However, in some cases, show dates and venue locations are still hard to pin down. I photographed many of these acts multiple times, and memories of the where and when are now at least 30 years old. So dig out your old scrapbooks, and let us know if Jimmy Buffett wore that shirt in Mobile or Biloxi, in '79 or '82.
Heart
Mobile Municipal Auditorium: October 1979 
Heart had been around for years before Ann Wilson joined in the early '70s. Her younger sister Nancy arrived in '74. By their 1977 Mobile appearance, hits like "Crazy on You, " "Magic Man" and "Barracuda" guaranteed sell-out crowds virtually wherever they played. I'm often asked if I set up this shot of guitarist Roger Fisher, above left. I didn't. In fact, I was watching the performance so intently that I almost missed it. Roger seemed lost in a soaring riff ­– part of a trademark tit for tat guitar versus vocals race-to-the-top duel with Ann, above right. Suddenly, he looked up, stared right into the camera, and slid his left hand along the strings in a wall of sound that led into a softer, quieter interlude. I spoke with Ann shortly before their next night's show. She explained what I'd witnessed, "We try to get into their souls and convince them they don't have to boogie every minute … When we're done, they feel like they've been yelled at and rocked and kissed and loved – then yelled at again." rogerfisher.com
The Allman Brothers Band
Ladd Memorial Stadium: 1981
Living and recording in Macon, Ga. in the early 1970s, The Allman Brothers played here several times at Ladd Memorial Stadium and Mobile Municipal Auditorium. They returned for Alabama Jam in 1981, which was when I shot this photo in the backstage area under the bleachers at Ladd Stadium. But it wasn't in Mobile that I was first introduced to them. In early '71, a friend burst into my Ft. Sam (San Antonio) barrack with news of an about-to-begin concert. He said we should arrive late though because the opening act was the Osmond Brothers. (He'd misheard the promo.) When we showed up, I, for the first time, heard their unique sound. The next day, everybody was talking about dual lead guitar harmonies of Duane Allman and Dickey Betts (above right). The band didn't look for a replacement when Duane died in a motorcycle accident later that year. Duane's talented younger brother, Gregg, above left, continued on as vocalist, organist, pianist and songwriter. He had a successful solo career and still tours with the band.
Eric Clapton
Mobile Municipal Auditorium: April 1979
Eric Clapton is the only musician to have been inducted into the Rock and Roll Hall of Fame three times (with Cream, The Yardbirds and solo). His 2013 world tour celebrates his 50th year as a professional musician. Only 16 years into that career, I had a front-row "seat" for his Mobile show, working in the gap. Back then, in arena seating, those first in line made a mad dash to the stage, then fought to keep their spot. A barricade separated the crowd from the stage. As I generally did at such shows, I worked in that space. In the pre-MTV, pre-digital-download days, the real money was generated by record sales so tours supported albums ­– in this case "Backless." But it was "Cocaine" (from the far more successful predecessor, "Slowhand") and "Layla" that really opened things up that night. It was during "Cocaine" that I captured a rare image of Clapton smiling. He'd been showing off for an obviously appreciative audience of one: guitarist Albert Lee, above right. The two had been trading riffs when one played something unexpected. Lee grinned as Clapton replayed a bit of what they'd just done, as only the world's No. 2 guitarist (according to Rolling Stone's all-time best 100 list) could do it.
Jimmy Buffett
Biloxi or Mobile: 1978, '79 or '82
Between his regular appearances at Judge Roy Bean's in Daphne, an invitation-only show opening the original Margaritaville bar in Gulf Shores, and his Mobile and Biloxi arena concerts,   I saw Jimmy Buffett, opposite, perform multiple times during this era. Three strips of black-and-white negatives have survived: close-ups cropped too tight to identify the venue. I can make an educated guess, but it's complicated. A "Buffett – Biloxi '82" label was found in the box containing the negatives. However, online archives list a November Mobile Municipal Auditorium date as that year's only show in the area. I remember just one Buffett appearance at the auditorium, his Hurricane Frederic benefit. Moreover, an Azalea City News & Review article clipping, hand-dated 1979, with references to Buffett's on-stage banter has a post-Frederic feel, like this: "Between songs, Buffett asked, 'We got anyone who came over from Mobile tonight?' After waiting out the audience's energetic response, he said, 'I'd like to dedicate this one to you – a little thing called "Trying to Reason with Hurricane Season."' He looked at his guitar, played two chords, then finished, 'But when it gets down to basics, if you're going to get blown away, why not get BLOWN AWAY?'"
Editor's Note: If you can positively identify the year and location of this Jimmy Buffett photo, please email [email protected]
Willie Nelson
Nashville and Mobile: April 1981
"On the Road Again" was a new hit when I photographed Willie Nelson and Charlie Daniels sharing the stage in Nashville (see photo below), a few weeks before interviewing Willie back in Mobile. Each recently had been guests at the White House (during the Carter administration). So Willie's comment to me that "You can pretty well look at a guy and tell what kind of music he listens to, " sparked a mental image of Charlie in an uncomfortable-looking tux. "Speaking of dress, you've been a guest at the White House wearing beat jeans and sneakers, " I said. "Even Charlie got into a suit for an appearance there." Willie chuckled. "I have as much respect for the office itself and whomever happens to be president of the United States, as anyone. But also, " he said, before a long pause, "I just don't put on suits. I'm sure no one was offended when I wore blue jeans … If I hadn't, I think they might have been, " he said, then paused, "disappointed even."
In the photo above left,  Willie receives a proclamation (Willie Nelson Day in Mobile) in a 1981 Azalea Trail Run T-shirt from then mayor Gary A. Greenough. Oddly enough, Greenough was convicted in December 1984 by a federal jury on 14 counts involving conspiracy, fraud and extortion. According to trial testimony, funds skimmed from concert profits (including Nelson's concerts) were delivered to Greenough as campaign contributions. He was sentenced 25 years ago to 25 years in prison and was fined $25, 000. Greenough was released during the fall of 1990 after serving nearly six years in prison.
Charlie Daniels
Nashville and Mobile: 1981

I've interviewed Charlie Daniels, above left, four times: twice in Nashville (in conjunction with Volunteer Jam benefit shows) and twice in Mobile. I shared the first Mobile interview with ACN&R writer Jon Steele, who asked Charlie if he'd given any thought to what he'd do after he stopped performing: "I try to live by two rules. I make plans for the future, the future is very important to me, but I can't live tomorrow until tomorrow gets here. So I try to live one day at a time, and I try not to live yesterday. I don't dwell in the past or on the future — and I try to treat everybody the same. If I have a philosophy of life, that's it." An appropriate non-answer from the man who recently performed at the Saenger — nearly 35 non-stop touring years after sidestepping Jon's question. Knowing that the Charlie Daniels Band generally spent well over 2/3 of the year on the road, I asked if it ever got to be a grind. "It's my job, man. It's what I do for a living. If you have an interview or a story to do, you do it: just like I do my job. If you want it to be a grind, it's a grind. But I love it. I'm a professional at it. I'm not a professional party person, I'm a professional musician." After an "I get stoned in the morning and drunk in the afternoon" inspired digression, he continued: "I love what I do. I enjoy playing, singing the autographs and everything. It's not a grind to me, it's a pleasure, a privilege to be able to make a living doing what I love to do. I worked 21 years to get to the point where I could sign autographs and people would want to stop and talk to me."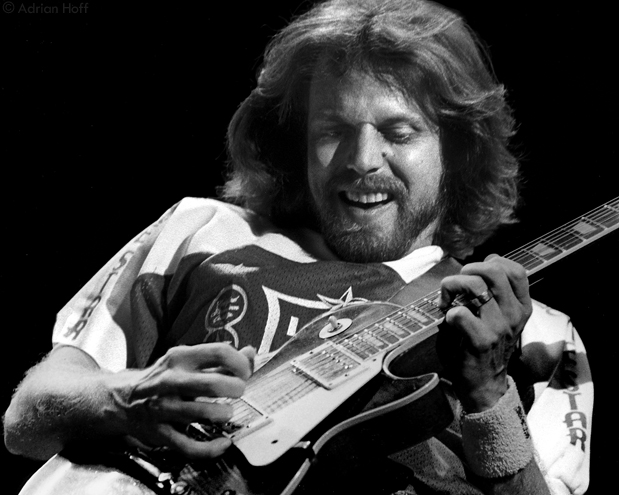 The Eagles
Mississippi Coast Coliseum: 1980 
The Eagles emerged from a group of musicians assembled in 1971 as Linda Ronstadt's backup band. After completing her album and a few tour dates, Glenn Frey, Bernie Leadon, Don Henley and Randy Meisner  set out on their own. Their 1972 debut album, "Eagles, " produced three Top 40 singles. Guitarist Don Felder, above, was recruited in '74 to support a country-to-rock shift in their sound, which continued with Joe Walsh replacing Leadon a year  later. The band played Mobile Municipal Auditorium in June 1977 – shortly before Timothy B. Schmit replaced Meisner. That lineup stayed together long enough to (barely) get through the 1980 "Long Run" tour that included this Biloxi concert. This show was reserved seating: no barricade to shield photographer from audience. I had a two-song window to shoot, starting with "Hotel California, " which showcased Felder's lead-guitar. (He'd originally written the song as an instrumental.) The group's very public breakup at the end of the tour lasted 14 years and provided a name for the "Hell Freezes Over" reunion tour that hit Mobile in 1995. donfelder.com
Lynyrd Skynyrd
Mobile: May 1977 
I first photographed Skynyrd in 1975, in Dayton, Ohio, where they proved beyond all doubt that Southern rock's appeal wasn't limited to the South. My backstage pass for the Mobile concert that produced this photo is dated May 23, 1977. Less than five months later, en route from Greenville, S.C., to Baton Rouge, La., their chartered plane crashed in Gillsburg, Miss., killing six people: lead singer Ronnie Van Zant, above left; guitarist Steve Gaines, above right; his sister, backing vocalist Cassie Gaines; as well as an assistant road manager and both pilots.
Bad Company
Biloxi: July 10, 1979
Paul Rogers first achieved fame with the band Free and the 1970 hit "All Right Now." Bad Company (Rodgers, Mick Ralphs and Simon Kirke) elevated him into an international superstar. The band's six multi-platinum albums included classics like "Feel Like Making Love" and "Rock and Roll Fantasy." Although Bad Company performed at Mobile Municipal Auditorium in March '76, I missed it. But, I shot the show in Biloxi three years later. At the time I wrote,  "It was a tempting assignment, but Hurricane Bob sitting just offshore made the drive to a Biloxi concert a bit less desirable. Fortunately, the only storm I ran into that night was inside the arena." It was an impressive concert, especially Simon Kirke's explosive drum solo during "Evil Wind." According to my notes, the most thunderous noise though was that of "countless screaming females who loudly identified Rogers as their Rock and Roll Fantasy." Lynyrd Skynyrd and Bad Company are co-headlining a recently announced a 12-date tour scheduled for June and July. For more information visit lynyrdskynyrd.com or badcompany.com.
Peter Frampton
Around age 15 Peter Frampton left one band to join another, the Trubeats: a group notable only for having been produced and managed by the Rolling Stones' Bill Wyman. Frampton garnered more attention a few years later as a founding member of the British supergroup Humble Pie. He left in '71 to go solo. The response to his first few albums was underwhelming (Know anyone who bought Frampton's Camel?). But he arrived in Mobile buoyed by skyrocketing sales of solo attempt #5: the recently released double live album, Frampton Comes Alive! — which spent 55 weeks on the Billboard Top 40 list, including 10 weeks at #1.
Interview photo by former Courier staff photographer Ed Burkett
Harry Chapin 
Mobile Municipal Theatre: March 17, 1980
When Harry Chapin got rolling on world hunger, a 15-minute interview could morph into hours of animated conversation. And Harry did more than talk about important issues. Half of his 200-plus concerts each year were benefits, including two of his Mobile stops and most of his annual visits to Pensacola where he "probably raised more money for charity than anywhere else in the country." All told, Harry and the band generated about $850, 000 for worthy causes each year. The time and energy he devoted to bulldozing his Presidential Commission on World Hunger through the D.C. bureaucracy won Harry the accolades of Ralph Nader, Sen. Bob Dole and a host of other equally diverse public figures. Harry, Gordon Lightfoot, James Taylor and John Denver actually formed a not for profit called The Food Policy Center which was a lobbying group that monitored the President's Commission on World Hunger of which Harry was a member.
I first met Harry in the mid-70s. "Taxi" and "Cat's in the Cradle" had already catapulted him to rock-star status, although he never donned that persona. Off stage he mingled with fans, treating them like old friends. I did about a dozen interviews with Harry, more than with any other performer. The last produced this portrait, opposite. As it ended, I thanked Harry for once again being so generous with his time – despite being so obviously exhausted. True-to-form, he responded by embarking on another story, this one about his grandfather. A few weeks later, Harry died in an automobile accident on the Long Island Expressway. The Courier's editor asked that I write the paper's final tribute to Harry. That story immediately came to mind, because his grandfather's sentiment was mirrored equally in the all-too-short life of Harry Chapin.
Portrait originally published in the July 20, 1981 Eastern Shore Courier
"I had a grandfather who died a couple of years ago, at age 88. He said, 'Harry, all my life I wanted to be a painter. I would have liked to be successful; I haven't been.' And he was being too modest because he did a painting of Robert Frost that sold for $20, 000, and he'd done a whole bunch of TIME Magazine covers. "He said, 'There are two different kinds of tired. There's good tired, and there's bad tired. Bad tired is a day when you may have been successful, but you fought the wrong battles, and when you hit the hay at night, you toss and turn. A good tired, you may not have been successful, but you fought the right battles that day so when you hit the hay, it's take me away. You sleep the sleep of the just.' He looked at me, and this was three months before he died, and he said, 'Harry I've lived a life so I'm good tired, and they can take me away…"
The Harry Chapin Memorial Fund was created in 1981 with help from Harry's former manager Ken Kragen and Kenny Rogers who donated $150, 000 from a benefit concert. Harry's widow Sandy Chapin has led the organization from the beginning. While the name was changed to the Harry Chapin Foundation, its mission has stayed the same – to help make a positive difference in communities around the country.
As of September 2012, the Foundation has distributed more than $1.7 million to 413 organizations. Of these, 219 grants were made to organizations in NYS and the remaining 180 in other states. Awards were made as follows: $251, 233 in awards to Arts In Education Programs,  $474, 126 to Community Education Programs and $955, 136 to Agricultural and Environmental Programs. Visit harrychapinfoundation.org to learn more.
---
Text and Photos by Adrian Hoff