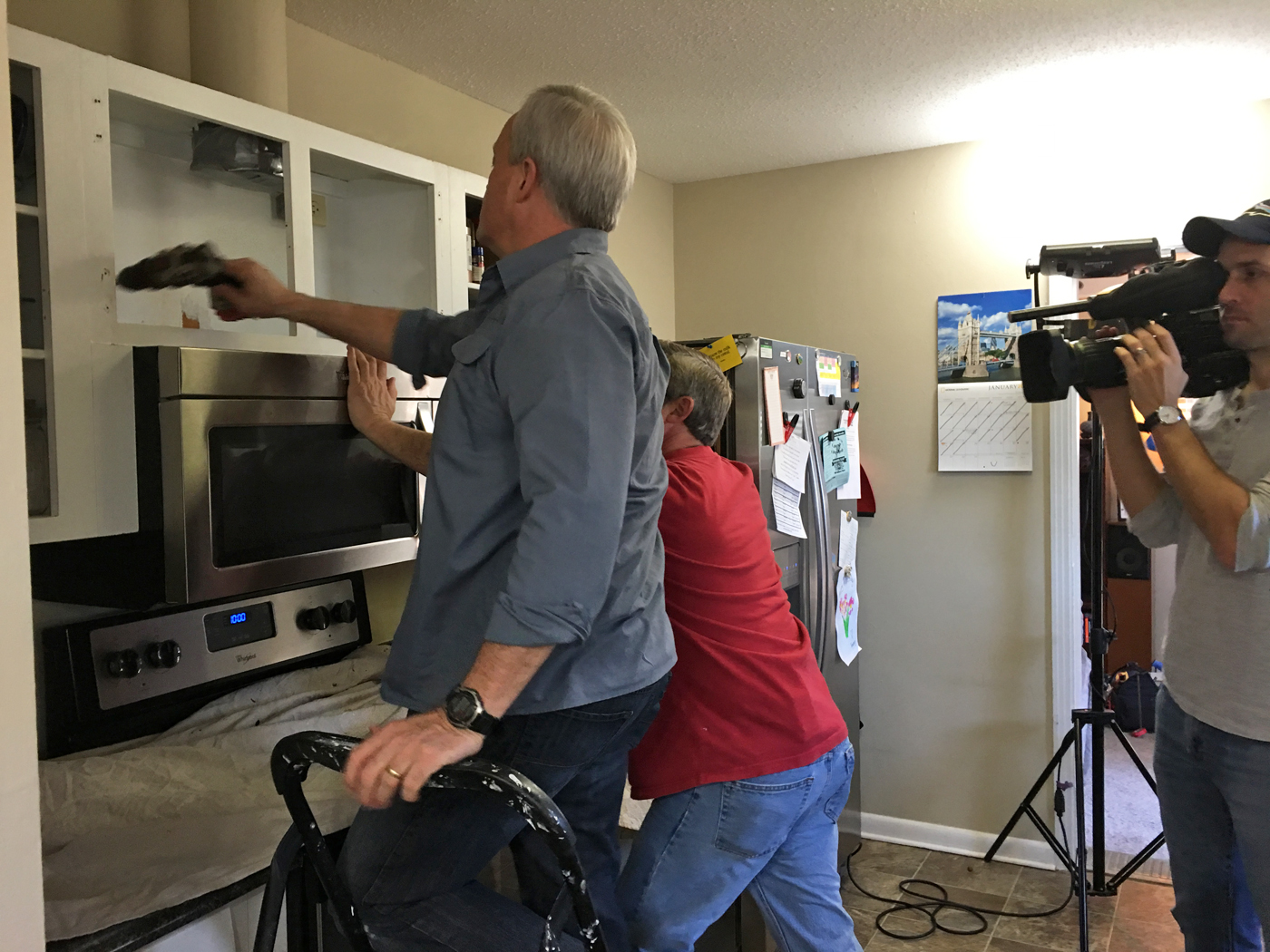 When I was around 10 years old, I told my parents I wanted to be an actress. Either because I was the oldest child of young parents who wanted to make sure I followed all my dreams or because they perhaps saw some glimmer of talent in me, they agreed. I never landed a single role before deciding to retire a year or two later. As I grew older, I was a bit glad for it. I learned that I don't like being in front of a video camera, and I hate being the center of attention. On my wedding day, I was cool as a cucumber about making the biggest decision of my life but sweating bullets watching all the people who would watch me. In short, I'm pretty camera shy.
Except for one week in January when an entire film crew descended upon my house to put me, my husband and our house on national television.
That's right: On February 25 and 26, Mobilians can tune in to Today's Homeowner with Danny Lipford and watch me hammer and saw and stain my kitchen with all the awkwardness of my 10-year-old actress-wannabe self. Luckily, Allen, Danny and the rest of the crew with 3 Echoes Productions were great calming influences on our reality show debut. Rather than go through a blow-by-blow of what happened all week (because I know that you know that this is at least partially a pitch for you to tune in on February 25), here are the five things I learned after becoming a reality TV star (kind of).
1. My parents were chumps. I have no – and I mean no – acting ability. Every time Danny would go over my "lines" as I entered a scene, I imagined myself gliding smoothly through the room, speaking my lines as though I were a pro. I imagined that I'd be hailed as an acting prodigy. Well, needless to say, that did not happen. Thankfully, Danny and Scott the Director were great about coaching us through the (very few) scripted portions of the show. Now we just have to hope they're not laughing too hard in the editing booth.  
2. The first rule of filming is, "Don't look into the camera." I was nervous that I'd mess this up, but avoiding eye contact – er, lens contact? – proved easier than expected. That is, until a cameraman moved into my periphery vision, which prompted my reflex of looking straight at the camera then, realizing my mistake, quickly looking away and chanting in my head, "Don't look don't look don't you dare look." (I really can't undersell my camera abilities enough.) We never did any retakes, so either it's not as bad as I'm thinking, or the editing crew isn't laughing at me so much as cursing. 
3. Say goodbye to "personal space" until filming is wrapped. Our kitchen was the focus of the show, which meant all of our kitchen belongings were unloaded and piled around our living room and on the dining table. Camera equipment had a nice vacation in our guest room each night, and our office floor was the only inside space large enough for the sheets of wood veneer to uncurl. We, of course, were more than happy to accommodate the crew and their stuff – since we were, you know, getting a free kitchen upgrade – but there were a few trips and near-falls that occurred that week. Plus, our poodle Rosemary is happy to have her room (aka the guest room that she's claimed for herself) back again.
4. When they film the final "after" shots for the show, you're far from finished. In front of the cameraman was a pristine kitchen fit for a dramatic "before and after" conclusion for the show; behind him was a labyrinth of dishes, cookbooks, baking pans, cutlery, towels, platters and everything else that had been cleaned out of our kitchen. Once the crew finished and bid their final farewells, the next two days were spent arranging and rearranging every kitchen possession we had. In fact, a week later, there were still piles of odds and ends around the house that had yet to be put up, but we simply ran out of steam. They'll find a home eventually. Maybe.
5. Working on your own home beats hiring out labor every day of the week. For every DIY project I've done in the past, I've learned this a little more. This project reinforced that a thousand fold. Every time I walk into my new, beautiful kitchen, I'm obviously excited. But there's a certain level of pride in that space, as well. Knowing that I stained all the cabinets, applied the varnish, cut the molding, drilled the holes and helped put it all together instills in me a different kind of excitement. I mean, yes, we had a lot of help, but learning all these different skills and putting them to use was an incredible feeling. This is our kitchen, through and through. 
So, if you're ready to see me awkwardly say my lines and get over my fear of the circular saw, check out Today's Homeowner with Danny Lipford for our Kitchen Facelift episode airing February 25 on WKRG at 6:30 p.m. and on February 26 on WFNA – the CW at 10:30 a.m.