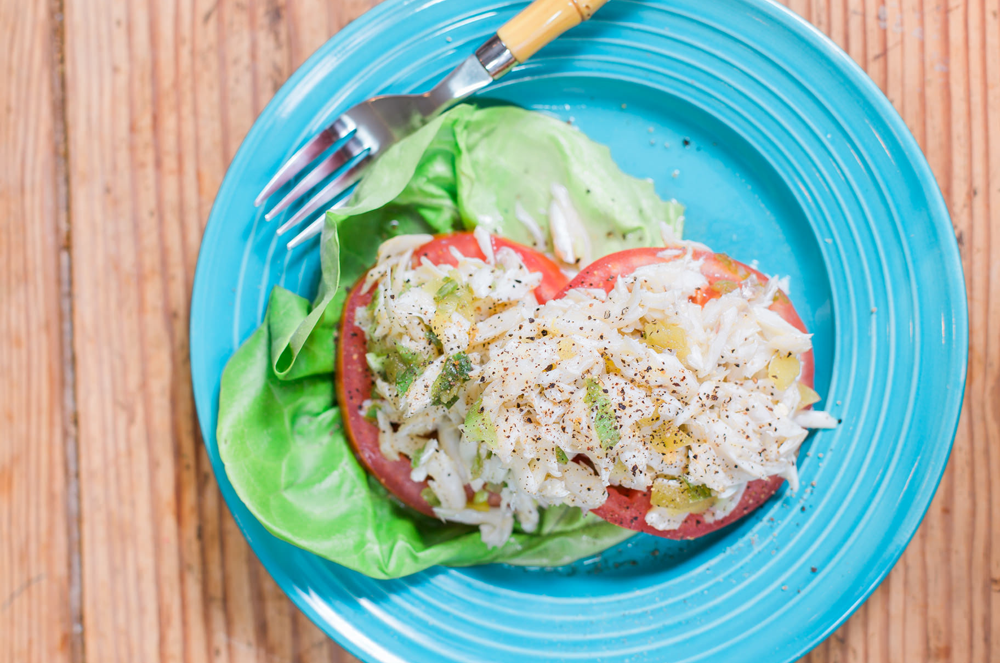 The West Indies Salad shall always remain a local favorite,  but this snappy, citrus-laced salad makes for a lively change of pace. Plus,  shellfish are super sources of vitamins A, B and C and contain notable amounts of zinc, copper, selenium (which could be a means of preventing cancer) and chromium (which is said to improve blood sugar metabolism). So eat up!
---
Key Lime Crab Salad
1/4 cup freshly squeezed key lime juice
2 – 3 tablespoons olive oil
1 tablespoon canned chopped mild green chiles, drained
1 teaspoon sea salt
1/2 teaspoon ground cumin
1 tablespoon finely chopped green onions
1 tablespoon finely chopped fresh cilantro 
1 pound fresh lump crabmeat
1 – 2 fresh, ripe tomatoes, sliced
Bibb lettuce
1. Whisk together key lime juice, olive oil, green chiles, sea salt, cumin, green onions and cilantro. Pour over crabmeat picked carefully from shell. 
2. Toss lightly and refrigerate while assembling plates. 
3. Arrange Bibb lettuce and tomato slices on serving plates. Season tomato slices with salt and pepper, if desired. Top tomatoes with crabmeat. Serves 4. 
---
Photo by Jennie Tewell