Thanksgiving is a holiday of great abundance. It is when we indulge in an astonishing amount of food, football and family to celebrate our bountiful blessings. Then, following the feasting, after the game is over and the guests are gone, more often than not, what's left is a heap of leftovers. It is an age-old dilemma. What to do with the remaining plethora of poultry, copious quantities of cornbread dressing and the slew of sides?
You start by fixing yourself a perfect turkey sandwich and rewarming some of those tasty sides. Then you and yours repeat that process until you can barely bear the thought of the same-old, same-old food yet again. That's when it's time to get creative. Here are several suggestions for making the most of what's left — and actually enjoying it. Happy Thanksgiving!
English Family Baked Dressing Balls
My grandmother English's side is a dandy way to revive leftover dressing. We make them using our family dressing recipe, but it works with others as well. If the dressing is already made, skip to Step 4, and just shape it into balls about the size of a nice meatball — roughly 1 1/2 inches in diameter. If dressing is too crumbly, add a little chicken stock, turkey stock or leftover gravy.
1 stick butter
2 cups celery, finely chopped
2 cups onion, finely chopped
4 cups chicken or vegetable broth
1 (14-ounce) package Pepperidge Farm Cornbread Stuffing Mix
1 (14-ounce) package Pepperidge Farm Herb Seasoned Stuffing Mix
1. Preheat oven to 350 degrees.
2. Melt the butter. Sauté the celery and onion in butter for about 5 minutes or until soft, but not golden brown. Add broth and heat until boiling.
2. Stir in stuffing mixes, until well combined and moistened. Cover and turn off heat.
3. Let sit for about 5 – 10 minutes.
4. Put into a greased 3-quart casserole dish or shape into balls on a lightly greased baking sheet and bake for 30 minutes. Makes about 48 – 50 balls and serves about 16.
Turkey Risotto with Artichoke Hearts and Sun-Dried Tomatoes
This is my adaptation of talented cookbook author Sarah Leah Chase's recipe. It's a deliciously unexpected use of turkey leftovers.
1 tablespoon olive oil
1 small onion, diced
1 1/2 cups Arborio rice
5 – 6 cups turkey or chicken broth
2 cups cooked turkey, chopped
1 (14.8-ounce) can artichoke hearts, drained and thinly sliced
1/2 – 3/4 cup reconstituted sun-dried tomatoes, cut into 1-inch slivers (I use the 3-ounce package of smoked sun-dried tomatoes that are already soft and julienne cut.)
1/2 cup Parmesan cheese, freshly grated
salt and ground pepper, to taste
1/2 cup Parmesan cheese, shaved, for garnish
1/4 cup fresh basil, slivered, for garnish
1. Heat oil in a large skillet over medium heat.
2. Add onion and sauté until softened, about 5 minutes. Continue to cook, stir in rice and add broth 1/2 cup at a time until completely absorbed. (If rice starts to stick or broth starts to boil reduce heat.)
3. After about 15 minutes, when 5 cups of the broth have been added, gently stir in the turkey, artichoke hearts and sun-dried tomatoes.
4. Continue adding the rest of the broth, half a cup at a time, until all is absorbed and the rice is tender, but slightly firm at the center. Stir in grated Parmesan cheese. Season risotto with salt and pepper.
5. Garnish with shaved Parmesan and fresh basil. Serves 6.
Turkey Tetrazzini
In high school, chicken tetrazzini was my specialty. I cooked it for my friends on spring break or other occasions. Later, I discovered the crowd-pleaser was just as  terrific using turkey. (If you have more leftovers, simply double the recipe.)
3 tablespoons butter
3 tablespoons flour
1 1/3 cups turkey or chicken broth
1 – 2 tablespoons dry or cooking sherry
1/2 teaspoon salt
1 cup mushrooms, sliced
6 ounces spaghetti, cooked
2 – 3 cups turkey, chopped
1/2 cup Parmesan cheese, freshly grated
1/2 cup cheddar cheese, finely grated
1/4 cup dry bread crumbs
1. Preheat oven to 350 degrees.
2. Melt butter and flour together in a medium-sized skillet over medium heat, stirring until smooth, but not browned, about 3 – 5 minutes.
3. Gradually stir in broth and sherry. Season with salt.
4. Add mushrooms and continue cooking for about 5 more minutes or so.
5. Spread spaghetti over the bottom of a casserole dish and spoon half of the mushroom sauce over spaghetti.
6. Top with turkey and remaining sauce. Sprinkle with cheese and then bread crumbs. Drizzle with a little melted butter, if desired.
7. Bake for about 25 minutes or until bubbly. Serves 4 – 6.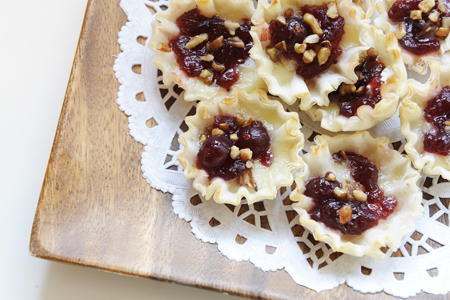 Cranberry and Brie Bites
Punch up traditional cranberry sauce. Transform leftovers into these petite treats. Or, bake an entire Brie round topped with cranberry sauce as an alternative for early December holiday affairs.
12 mini phyllo cups (available in the frozen foods section)
Brie, cubed
cranberry sauce
1/2 cup pecans, chopped
1. Preheat oven to 350 degrees. For each bite, place a small piece of Brie in a phyllo cup, and top with a dollop of cranberry sauce (about a teaspoonful).
2. Sprinkle with a few chopped pecans. Bake for about 5 – 8 minutes. Makes 1 dozen.
Turkey Pot Pie
Mobile Bay sales manager Joe Hyland is a big fan of turkey pot pie, no matter the season. His wife, Alexis, regularly prepares this filling dish around the holidays, but she even makes it on the occasional weeknight. She'll simply substitute grocery store rotisserie chicken for the leftover bird.
3 cups leftover turkey
1 (16-ounce) bag mixed vegetables (any type you like)
1 (10.75-ounce) can cream of chicken soup
1 (10.75-ounce) can cheddar cheese soup
Lawry's Seasoned Salt, to taste
Old Bay Seasoning, to taste
black pepper, to taste
2 (9-inch) deep-dish frozen pie shells, thawed 
1. Preheat oven to 400 degrees. Mix the turkey, vegetables, cream of chicken and cheddar cheese soups in a large bowl. Season with Lawry's, Old Bay and black pepper to taste.
2. Pour mixture into one of the pie shells and cover with the other pie shell. Crimp the edges of the piecrust with a fork, and cut several vents in the top. Bake for 30 – 40 minutes,  or until golden brown. Serves 6.
Turkey, Sausage and Oyster Gumbo
I make this gumbo every year using the remains of our Thanksgiving turkey. The classic recipe originally hails from one of my all-time favorite cookbooks, "The  Plantation Cookbook, " published by the Junior League of New Orleans back in the early 1970s. It freezes well.
1 turkey carcass
4 tablespoons bacon grease
4 tablespoons flour
1 cup green onions, chopped
1 cup celery, chopped
4 tablespoons parsley, chopped
2 – 3 bay leaves
1/2  teaspoon thyme
1 cup chopped sausage,  hot, smoked (I use smoked turkey sausage.)
3 – 4 cups turkey meat from carcass
salt and pepper, to taste
1 pint oysters and liquid
1 tablespoon gumbo file
1. In a big heavy pot, cover turkey carcass with at least 8 – 10 cups of water and boil for about an hour, or until the meat falls off the bone.
2. Strain and reserve 6 cups of the turkey broth.
3. In a large cast iron skillet, make a roux by melting the bacon grease and stirring in flour. Cook and stir until it turns a rich dark brown, about 12 minutes.
4. Add onions, celery and parsley. Sauté for about 5 minutes.
5. Slowly add the turkey broth to the roux, stirring constantly.
6. Add bay leaves, thyme, sausage and turkey meat. Salt and pepper to taste.
7. Cook over low heat for about 1 1/2 – 2 hours.
8. Add the oysters during the last 5 minutes of cooking time. Stir in file right before serving.
9. Remove bay leaves and serve over hot rice. Serves approximately 8.
NOTE: If you are planning to freeze, don't add oysters and file until ready to reheat and serve.
---
text and styling by Sallye Irvine • photos by Elise Poché