Morrell Turner
Blog: Morrell's Armoire | Instagram
1. Repurpose favorite pieces in unconventional ways."Instead of a regular swim cover-up, opt for a patterned kimono, " says blogger Morrell Turner. Turquoise bikini (Helen Jon, Hemline). Kimono cover-up (La Bianca, Lucca). Bracelets and necklace (Hemline). Hat (Francesca's).
2. Solid basics present endless possibilities, and summer is the perfect time to go bold with color. "Add visual interest with a piece of statement jewelry." Blue frock (Elizabeth and James, Lucca). Statement necklace (J.Crew,  her own).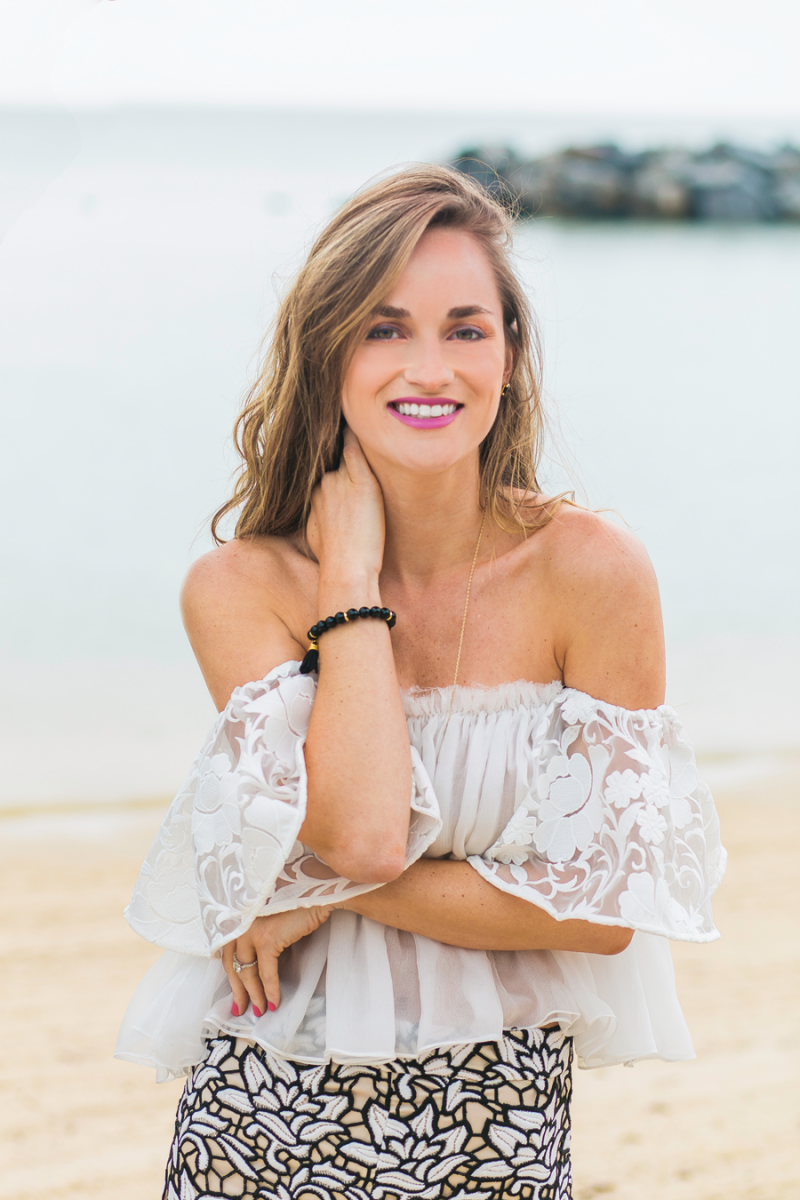 3. With the right combinations, you can be daring with shapes and fabrics. "Offset flowy tops with fitted bottoms for a balanced silhouette." Alice and Olivia patterned shorts (Lucca). Alexis Giacomo blouse (Lucca). Jewelry (her own).
4. Think outside the box: Pencil skirts aren't just for the boardroom. Details, such as patterns or ruffles,  can turn tailored attire into chic vacation wear. Use accessories and shoes to add a pop of vibrant color. Striped top and skirt (Elizabeth and James, Lucca). Heels (BCBG, her own).
Get to Know Morrell
Why did you start blogging? I've always wanted to be a model or fashion entrepreneur. My ultimate plan is to open my own store. Sharing my style is one of my favorite things to do!
How would you describe your look? Classic with a feminine, vibrant twist. Vintage Hollywood looks inspire me. But my style changes every day to reflect my mood.
How have you made your stamp on the fashion scene? I have more than 10, 000 Instagram followers. I was chosen as the official blogger of Mobile Fashion Week 2013 and have been invited to cover New Orleans Fashion Week this year.
What is your go-to fashion advice? Know who you are. What do you want to represent? I am girly, energetic and colorful. I live by the phrase, "You can have anything you want if you dress for it."
Which three summer pieces are always in your luggage? A sundress, nude wedges and a white tee.
​
Gracie Johnston
Blog: With Style a Little Grace | Instagram
5. Matching outfits are back! "Find a great pattern and go nuts. This breezy fabric is perfect for a tropical getaway." Navy and white palm leaf pattern tank and shorts (Karina Grimaldi, Sadie's). Lilly Pulitzer wedges (Sadie's). Beaded turquoise necklace (her own).
6. Pack one distinctive dress for a special occasion or your favorite outing. "I always splurge on one statement piece or outfit per season and build around it. This is a versatile find that I can dress up or down." Tribal print maxi dress (Mara Hoffman, CK Collection). Simple belt (CK Collection). Black tassel necklace (CK Collection).
7. Travel light without skimping on style. "This set is pajama-comfortable so it's perfect for when you stayed out in the sun a little too long that day. The thin material packs extremely well and leaves extra room in your suitcase." Printed tank and pants combo (Sadie's). Hat (Sadie's). Necklace (Sadie's). Bag (Tory Burch, CK Collection).
8. The maillot is making a comeback; no need to sacrifice style for modesty. "One-piece and high-waisted bikini options are better than ever." One-piece suit (Trina Turk, Sadie's). Sunglasses (her own).
Get to Know Gracie
When did you start blogging? Four years ago, when I got engaged. I wasn't doing anything with my journalism background, and I was itching to write again.
How would you describe your look? Classically Southern with a twist. I like to take classics and mix in a few trendier pieces. It's a very attainable style for a real girl on a budget.
Tell us about your blog. It is definitely growing. It was a huge moment for me when I hit 10, 000 views a month. I would absolutely love to turn my blog into a full-time career.
What's your best fashion advice? Basics are king in the wardrobe department. Make a list of everything in your closet and decide what pieces you are lacking. A white button-up, black blazer, a great pair of jeans and nude pumps will get you everywhere.
What three summer pieces are always in your luggage? A denim button-up, white jeans and my favorite maxi of the moment.
WHERE TO BUY
CK Collection • 320 Fairhope Ave., Fairhope, 990-9001
Francesca's • 3217 Bel Air Mall,  471-8044. Legacy Village,  9 Du Rhu Drive,  342-1959.
Hemline • 4356 Old Shell Road, Suite B, 287-6875
Lucca • The Wharf,  4776 Main St. Suite L101, Orange Beach, 224-4370
Sadie's • 5 S. Section St., Fairhope, 929-3222
---
text by chelsea wallace • photos by jennie tewell • makeup by mary carlton monach