Having grown up on the Gulf Coast and now residing here as an adult, I have enjoyed many bushwackers – they are the ultimate cool-down drink. This delicious, frozen, milkshake-like beverage originated in Sapphire Beach Village in the Virgin Islands. But it wasn't until Linda Murphy, the owner of the Sandshaker Lounge in Pensacola brought the recipe back from a vacation in 1975, that the bushwacker was introduced to the mainland. It has since become a drink icon along the Gulf Coast of Alabama and Florida.
Almost every bar and restaurant along the coast touts their bushwacker as the best, and each establishment likes to add something to their cocktail to make it a little different from the rest. The best thing about a bushwacker (and the most dangerous thing) is that sweet, chocolatey notes completely mask the taste of alcohol.
Based on my personal experience, bushwackers fall into one of two categories: ice based or ice cream based. The ones that are ice cream based tend to taste better and have a smoother texture. Ice-based bushwackers tend to be slushier and less smooth. But either type is extremely refreshing and delightfully cooling on a hot, humid summer's day in the South.
My mission was to find the best bushwacker on the Gulf Coast. My assistant and DD (my wife Kathy) and I scoured the countryside searching for the perfect bushwacker. This task caused me to suffer many hardships and several bouts of brain freeze, but I refused to give up. I continued my journey until I had sampled no less than 23 of the finest bushwackers money could buy. Four months and 25 pounds later, I discovered the almost perfect bushwacker.
Bushwacker Ingredients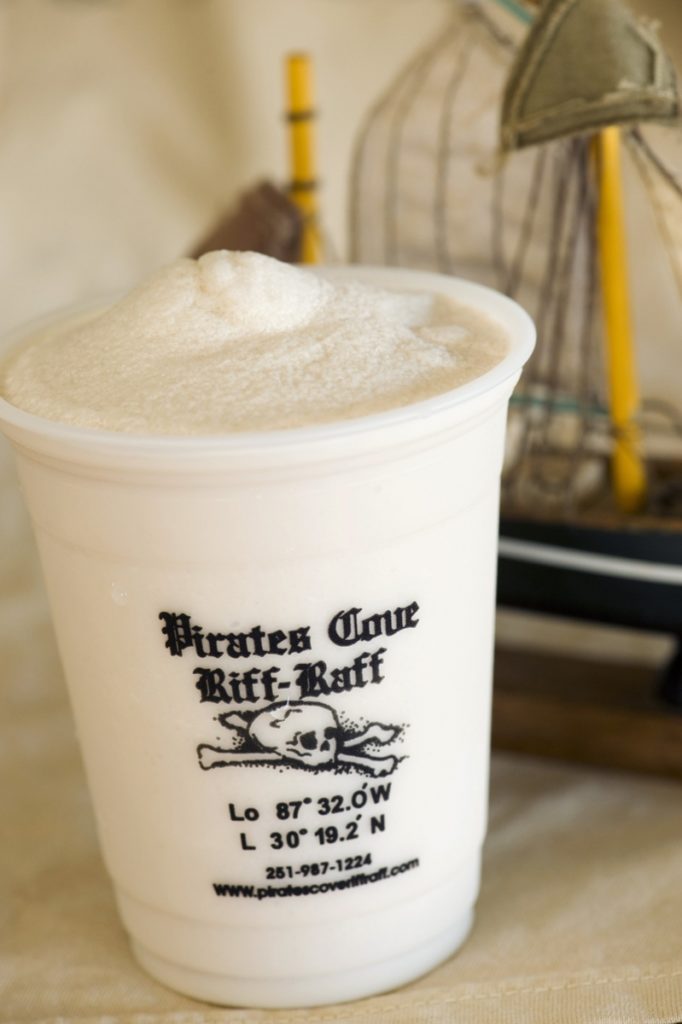 The following are essential ingredients that should be found in every bushwacker:
Rum: light, dark or spiced
Coconut flavoring: cream of coconut, Coco Lopez
Chocolate flavoring: Crème de cacao, chocolate syrup
Coffee liqueur: Bailey's Irish Cream, Kahlua
Milk product: Milk, Half & Half, Ice Cream
Ice
There are a number of other ingredients that have been found in bushwackers but are not required:
• Vodka
• Whiskey
• Amaretto
• Nutmeg
• Caramel syrup
• Whipped cream
• Cherries
• Ice cream mix
The latest trend along the Gulf Coast is to add Skrewball Whiskey to give the bushwacker a taste of peanut butter. Skrewball has an incredible peanut butter flavor. In fact, it is one of the few hard liquors I can drink "straight." However, adding whiskey to a bushwacker is not a good idea. It's like putting out a fire with gasoline. If you want a peanut butter taste to your bushwacker, I recommend adding a couple of tablespoons of peanut butter to the blender.
But if you insist on trying a bushwacker with Skrewball, please be sure and say these two words to your bartender or server: "no floater" or "no topper." The floater or topper is an ounce of over-proof rum poured on top of your bushwacker. This 151-proof alcohol (75% alcohol by volume) is not mixed into your drink but floats on the top. This makes your bushwacker incredibly strong and, unlike your normal bushwacker, the taste of alcohol is not as well disguised. It seems that sadistic bartenders and servers enjoy watching the end results of this deadly drink on unsuspecting, lightweight tourists.
The floater or topper not only increases the alcohol content of your drink, but it also increases the price. A topper will usually add $3 to $5 to the price of your bushwacker. Now, we are talking about a frozen drink running you $11 to $13. Let me add one final warning on the subject of floaters: Watch your friends. I have known "friends" to fetch bushwackers with added floaters, and then stir the extra alcohol into the drink and fail to mention this to the consumer. Sometimes, this prank leads to a semi-comatose vacationer who loses a whole day of their vacation.
Bushwacker Scoring System
In order to reduce the subjectivity of my judgment of the best bushwacker on the Gulf Coast, I developed an objective scoring system. I scored each bushwacker on five different metrics. The metrics were composed of Taste, Smoothness, Evidence of Alcohol (ETOH), Melt and Flavor.
Taste was probably the least objective of the five measurements. Bushwackers that I considered bland received a low score for this category.
As mentioned earlier, bushwackers with an ice cream base seemed to be smoother. The method used in blending the bushwacker can also affect smoothness. Blender quality is key. Personally, of the blenders I have experience with, I would rate the Vitamix as making the smoothest bushwacker. Ninja makes a nice bushwacker but not as smooth as the Vitamix. Also, the Margaritaville blender makes an acceptably smooth bushwacker. Naturally, I gave a low score on Smoothness to bushwackers that were slushy.
Bushwackers should not taste like alcohol. If any alcohol was detected, the bushwacker received a low score for Evidence of Alcohol.
The speed at which a bushwacker melts is a very important characteristic for this frozen drink. Consistency might be a word used to replace melt. A good bushwacker melts at a slow pace. You should get a mouthful of bushwacker with each sip. Some bushwackers melt too quickly. This may cause you to drink at a faster pace than you need to. Other bushwackers are too frozen and you need a spoon to eat it. Bushwackers are adult drinks and were not designed to be a frozen dessert.
A good bushwacker should have the perfect combination of coconut and chocolate flavor, and obtaining this perfect combination is more difficult than it seems. Bushwackers that scored low in this area either tasted too much like coconut or too much like chocolate.
Each area received a score between 1 and 10. The scores were added up for each area and then doubled so that the total score could be based on a 100-point scale. It seems that people are able to relate to this scoring system better than a 50-point scoring scale. An illustration is in order here. Suppose a bushwacker scored a 7 on Taste, 8 on Smoothness, 9 on Alcohol, 5 on Melt, and 8 on Flavor. If we add these scores together, we have a score of 37. Doubling this score gives us a final score of 74.
The Results
This is a good place to offer a full disclosure statement. I can honestly state that I have no relatives working or owning any of the bars or restaurants that I visited. However, I do know one of the bar owners. We attended the same high school. This relationship failed to have an influence on my ratings for her establishment since it received an average score. Furthermore, I can honestly state that I have no personal or financial interest in any of the bars/restaurants visited.
Before I begin to share the results, I want to proclaim that I have never consumed a bad bushwacker. There are no bad bushwackers. It's just that some are better than others. Then there are those that are really special, and those are the ones we will focus on. I assure you that you can patronize any of the places listed in this survey and thoroughly enjoy their bushwacker.
My sojourn began on January 21, 2021 and concluded on June 3, 2021. Anonymity was maintained throughout the endeavor. A whole bushwacker was consumed at each location. Sometimes, two were consumed. A score for the drink was calculated after each visit within 24 hours. There were a couple locations that I had originally planned on visiting that ended up not making the survey for various reasons.
Upon surveying the scores, the bushwackers fell into three tiers. The top tier scores ranged from 86 to 98. The second-tier group included scores from 76 to 84. The third and bottom tier of bushwackers comprised scores from 56 to 66. The full list of all of the bars and restaurants are included at the end of this article, along with my own bushwacker recipe. Now, we will take a look at the five bushwackers that made up the top tier.
Phillip's Top 5 Bushwackers
GT's, located down Canal Road in Orange Beach, is a newer restaurant offering great seafood. I sampled this bushwacker in late February, and, after drinking it, I noted that it was the best bushwacker that I had tasted up to that point. The combination of chocolate and coconut created a superb flavor. Great taste with very little evidence of ETOH. The melt was a little fast, so this area received the lowest score.
I just couldn't leave this bushwacker out of the top tier. It is probably one of the most unique of all the samples I tasted. It was so smooth it poured like thick cream. For some reason, it wasn't as cold as most other bushwackers, so you can drink this at a fast pace without the risk of brain freeze. However, it is extremely filling—one is probably all you can manage. This drink was selling like hotcakes on Pensacola Beach. My only criticism of this bushwacker is that it was incredibly sweet.
OSO is a restaurant/bar located at Bear Point Marina in Orange Beach. Bear Point Marina has been in existence as long as I can remember and that's a long time. OSO makes a mighty fine bushwacker, and I found it to be one of the smoothest. Its only fault was that the taste was slightly reminiscent of eggnog.
Big Daddy's Restaurant is located on the banks of Fish River in Marlow, AL. It's off the beaten path but well worth the trip. You'll find it halfway between Summerdale and Point Clear just off County Road 32. This bushwacker was more like ice cream than any of the rest. That seems a bit ironic since their recipe calls for ice cream mix rather than real ice cream. But all-in-all, a well-rounded bushwacker.
Where do I begin? I will start off by stating that this bushwacker never disappoints. It is always awesome. It received four scores of 10 out of the five possible. I gave it a nine on ETOH since it had just a minuscule taste of ETOH. If I wasn't so picky, I could have given it a 10 in that area too, and it would have scored a perfect 100 instead of 98. This magnificent drink comes in a good sized styrofoam cup that allows the frozen mixture to melt at the perfect rate. Just the right combination of chocolate and coconut, and smooth as silk. You just can't beat the bushwacker at the Pony.
Final Bushwacker Rankings
Restaurant/Bar
Pink Pony Pub – Gulf Shores
Big Daddy's – Fish River
OSO – Orange Beach
Crabs: We Got 'Em – Pensacola Beach, FL
GT's – Orange Beach
LuLu's – Gulf Shores
Shrimp Basket – Gulf Shores
Groovy Goat – OWA, Foley
Moe's Barbeque – Foley
Pirates Cove – Josephine, AL
Lucy's Surfers Bar – OWA
Sandshaker – Pensacola Beach, FL
Tiki Bar – Orange Beach
Sassy Bass – OWA
Acme – Gulf Shores
The Hangout – Gulf Shores
Cactus Cantina – Fairhope
Ed's Seafood Shed – Spanish Fort
Flora Bama Yacht Club – FL/AL State Line
Bahama Bob's – Gulf Shores
Flora Bama – FL/AL State Line
Fish River Bar & Grill – Fairhope
Murder Creek Distillery – OWA
Phillip's Bushwacker Recipe
Basic Ingredients:
4 oz Malibu coconut rum
4 oz Kahlua
2 oz Creme de Cocoa
4 oz half & half
4 tsp chocolate pudding powder mix
1 tsp vanilla extract
2 scoops of vanilla ice cream
Optional Ingredients:
2 oz vodka
2 oz spiced rum &/or 2 oz dark rum
2 oz Skrewball Whiskey or 2 tbsp peanut butter
Add all ingredients to a blender and fill the remaining blender space with crushed or cubed ice. Blend to desired smoothness. Yields 4 – 6 servings